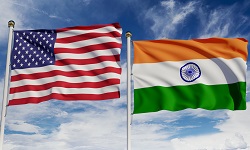 Barbara's Blog: Creating a Strategic Research Partnership with India
Last week, AAU President Barbara R. Snyder published a blog post on how the new AAU-led Task Force on Expanding United States-India University Partnerships offers a "unique and timely opportunity" for both the United States and India to "strengthen their research and education sectors." As President Snyder noted in the blog, India is one of the world's fastest growing economies, and has recently engaged in several efforts to boost educational attainment and scientific research, including opening the door for foreign collaborations with universities and setting up a new science funding agency. "More intentional cooperation between America's leading research universities and their Indian counterparts can bolster these initiatives, helping India continue to grow its scientific and educational enterprise in ways that benefit both nations," President Snyder wrote.
Many AAU universities already have ongoing collaborations with universities in India, and the task force will help expand these efforts and create pathways for a "true two-way exchange" by encouraging U.S. students and scientists to study and conduct research there. "As I talk to both AAU leaders and their counterparts in India today, I see a tremendous interest in deepening and expanding such research and educational collaborations," President Snyder noted, adding: "AAU's task force will bring a renewed focus on fields of critical and emerging technologies, energy and the environment, and public health and biotechnology, ultimately leading to long-term benefits for our nations' shared future."
ICYMI: AAU Names Members to Task Force on Expanding U.S.-India University Partnerships
---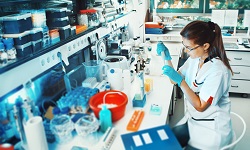 AAU Urges Appropriators to Prioritize Investments in Higher Education and Research in FY24 302(b) Discretionary Spending Allocations
AAU sent a letter last week urging the leadership of the House and Senate Appropriations Committees to prioritize investments in student aid, higher education, and scientific research in FY24 302(b) discretionary spending allocations. The letter noted that robust investments in these areas are needed to "bolster America's leadership in science and innovation" and to "strengthen our economic competitiveness, our health, and our national security."
Discretionary spending allocations establish the spending cap for each of the 12 annual appropriations bills in Congress; once the spending caps are established, appropriations subcommittees in the House and the Senate determine how the allocated funds are spent among the various federal agencies and programs within their jurisdiction.
AAU's letter asked Congress to provide sufficient 302(b) allocations "to effectuate the CHIPS and Science Act" and to reflect the "administration's recommended FY24 boosts in student aid – such as an $820 increase to the maximum annual Pell Grant as a down payment toward eventually doubling it." The letter also recommended investments in key federal scientific research and education agencies and programs, including the Department of Energy's Office of Science, the Institute of Education Sciences, NASA, the National Endowment for the Humanities, the National Institutes of Health, the National Science Foundation, and others.
---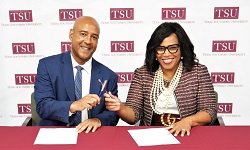 Rice University Latest AAU Member to Announce Partnership with HBCU Campus
Last week, Rice University announced that it has entered into a partnership with Texas Southern University, a historically Black institution, to "foster meaningful dialogue; seed new research partnerships; create additional opportunities for students, faculty and staff at both universities; and be a boon to their city, Houston."
Rice and TSU have been working together informally for decades; for example, the two institutions have collaborated on efforts to increase the number of STEM doctoral students of color and to advance scholarship in African and African American studies. The new agreement formalizes the two universities' relationship and paves the way for greater collaboration between the university's faculty and students. "The partnership will bring many benefits, contributing to the growth and success of both institutions and promoting greater equity and inclusion in higher education and beyond," said Rice University President Reginald DesRoches.
The partnership between Rice and TSU is one example of an AAU member establishing a partnership with an HBCU institution in its region to collaborate on research and other efforts. Other examples include Morgan State University and Johns Hopkins University in Maryland; Florida A&M University and the University of Florida; and North Carolina A&T State University and the University of North Carolina at Chapel Hill. AAU leaders and leaders of research-intensive HBCUs are exploring broader ways to collaborate as well.
---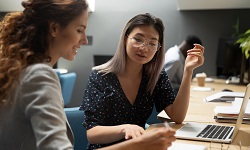 Four AAU Institutions Join National Effort to Help Close Achievement Gaps in K-12 Schools
Johns Hopkins University, the University of Michigan, New York University, and the University of Virginia have joined a group of 26 universities that have committed to use Federal Work Study funds and other resources to "increase the number of college students supporting school-aged children and youth in our nation's K-12 schools and out-of-school time programs." The effort seeks to close achievement gaps and address learning loss exacerbated by the COVID-19 pandemic. According to a Johns Hopkins press statement, the effort "advances the work of the National Partnership for Student Success, announced last year, where the Biden administration, working with the Johns Hopkins Everyone Graduates Center and AmeriCorps, pledged to help students and schools recover from the impacts of the pandemic and thrive by recruiting an additional 250,000 tutors and mentors over three years."
"We know the profound impact of the pandemic on K-12 students in Baltimore. They have lost months and years of academic preparation that will have lingering effects on their economic opportunity in the years to come," said Johns Hopkins University President Ron Daniels. "Our work-study students will be able to make a measurable and meaningful difference in the lives of future learners while also learning new skills and engaging with our neighbors and communities."
The Education Department is also calling on other universities to join the effort and to commit to using at least 15% of their Federal Work Study funds "for community service within the next two years."
---
Howard Hughes Medical Institute Recognizes 31 Exceptional Early-Career Faculty, Many at AAU Institutions
Last week, the Howard Hughes Medical Institute announced its inaugural Freeman Hrabowski Scholars cohort of "31 exceptional early career faculty who have potential to become leaders in their research fields and to create diverse and inclusive lab environments in which everyone can thrive." Faculty from 18 AAU institutions are represented in the cohort. "We aim to provide Scholars with the resources they need to pursue scientific breakthroughs and empower others to ask critical research questions. In this way, our Scholars are well positioned to make an indelible impact on the future of science," said HHMI President Erin O'Shea.

FEATURED RESOURCE: AAU Advisory Board on Racial Equity in Higher Education
---
News of Interest
CNN: Opinion: We Won't Win the CHIPS Race if Women and People of Color Stay on the Sidelines – In an opinion piece, Barnard College President and Dartmouth College President-elect Sian Beilock, Brown University President Christina Paxson, and AAAS Board of Directors Chair and Olin College of Engineering President Gilda A. Barabino discuss how higher education can empower more women and people of color to enter the STEM workforce. "Tapping into our full economic potential as a nation requires using every ounce of talent we have," they write.
CNBC: The Biden Administration Has Forgiven $42 Billion in Student Loan Debt for Borrowers in Public Service – The Department of Education announced last week that improvements to the Public Service Loan Forgiveness program have helped erase $42 billion in student loan debt for 615,000 individuals. The PSLF program "allows federal student loan borrowers who go into public service – such as teachers, nurses, government employees and more – an opportunity to have their debt forgiven after completing 10 years of service."
Forbes: University of Southern California Launches $1B Advanced Computing Initiative – The University of Southern California is launching a $1B initiative to "expand education and research in advanced computing." According to USC President Carol Folt, the "Frontiers of Computing" initiative will help provide a "solid grounding in technology" and ethics to students from all disciplines to help "create responsible leaders for the workforce of the future."
Higher Ed Dive: Show Me Your Budget, I'll Tell You Your Values – In an opinion piece, Education Secretary Miguel Cardona outlines the consequences of a recent congressional budget proposal, which "would slash education funding by 22%." According to Cardona, the cuts would, among other things, hurt "students from low-income communities," "derail our urgent response to the youth mental health crisis," and "make college less affordable and make borrowers worse off."
Silicon Valley: Opinion: How U.S. Can Build on Chips and Science Act Momentum – In an opinion piece, National Science Foundation Director Sethuraman Panchanathan and Rep. Ro Khanna (D-CA) discuss how the United States can take advantage of the momentum created by the passage of the CHIPS and Science Act to foster public-private partnerships to create good STEM jobs, strengthen our economy, and nurture American talent. They urge Congress to fund the NSF's budget at the levels authorized in the legislation and to increase overall public investments in research and development. "We have a generational opportunity to address these issues," they write.
---
Featured Research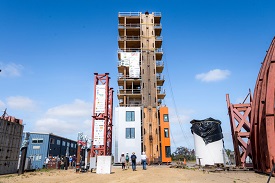 Engineers Shake Tallest Full-Scale Building Ever Constructed on UC San Diego Earthquake Simulator
Engineers at the University of California San Diego recently put a 10-story-tall wooden building to the test on an earthquake simulator. The shake table mimicked two recent devastating earthquakes; the building, which was "the tallest structure to ever be tested on a shake table" sustained no damage. The test's goal was to assess how high-rises made from "mass timber construction material perform in earthquakes" and to "provide data needed to help design buildings that are safer in strong earthquakes."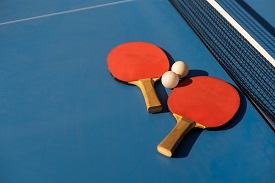 Playing Sports Against Robotic Opponents Makes Our Brains Work Harder
Researchers at the University of Florida scanned the brain activity of individuals playing table tennis against humans and against machines. Their analysis showed that the players' brains had to work much harder when playing with machines because machines provided no cues regarding their next move. The research has "implications for sports training" and suggests that machines may not yet be a complete replacement for human opponents. Simultaneously, understanding how our brain responds to cues could help improve future robots
---
From Our Feeds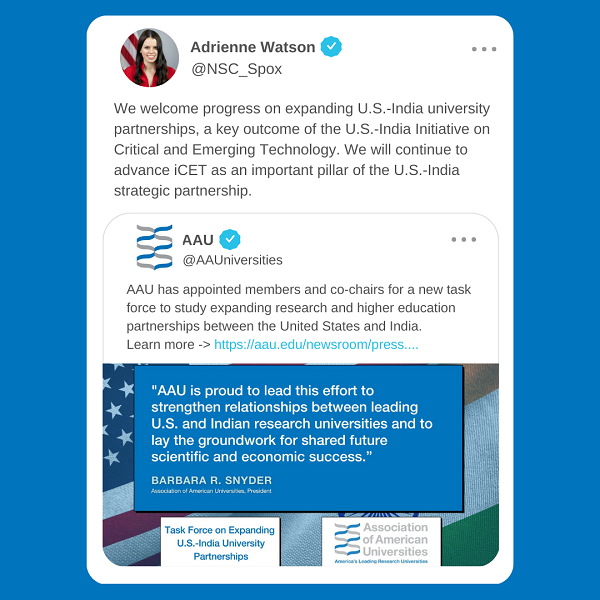 Earlier this month, Reps. Lloyd Doggett (D-TX), Mike Kelly (R-PA), Danny K. Davis (D-IL), and Adrian Smith (R-NE) introduced the bipartisan Tax-Free Pell Grant Act, which would provide hundreds of thousands of low-income students who receive Pell Grants with access to the American Opportunity Tax Credit.
Last week AAU, the American Council on Education, and 17 other higher education associations sent a letter to Reps. Doggett and Kelly endorsing the bill. As the letter noted, passing the Tax-Free Pell Grant Act would advance efforts to simplify the tax code and ensure that low-income students can better "navigate their tax obligations" and "access a tax benefit they qualify for and which many of their peers are utilizing." AAU looks forward to working with Congress to advance this important legislation.