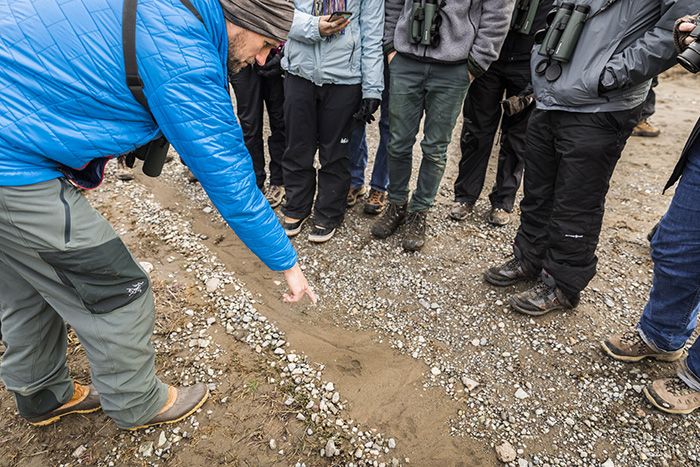 Students and professors from the College of the Environment made a classroom out of one of the world's most closely monitored ecosystems: Yellowstone National Park.
Through the shimmering heat waves of a midafternoon sunbreak, hundreds of yards across the silent expanse of the Lamar Valley, students can barely see three wolves through a spotting scope. The elusive animals are curled up in the snow, camouflaged against a backdrop of brown sage.
All week long, during a springtime experiential learning course in Yellowstone National Park, students from the University of Washington have been hoping to catch a glimpse of the iconic predator. Now they take turns sharing the scope, each getting a brief but precious look.
It's the class's last day in the park, and while this much-hoped-for sighting is the exclamation point on their pilgrimage, the experience has been about so much more than wolves.
Why Yellowstone?
A week of intensive fieldwork followed by a research project and presentation, the School of Environmental and Forest Sciences' course "Wildlife Conservation in Northwest Ecosystems" teaches UW students about the intertwined ecosystem of America's oldest national park.
Some students have already done several animal surveys at the UW. Others are just dipping their toes into research and have never even been to a national park. Leading them in the field are professors John Marzluff, a bird expert with a focus on ravens, crows and jays; Aaron Wirsing, who studies how large carnivores shape the behavior of their prey; and Beth Gardner, who uses mathematical models to monitor and manage wildlife, plant and fisheries populations. Together, they teach their students about the rigors of science, life in the field — and what their futures might look like.
Yellowstone has long been a bellwether for scientists to study how ecosystems work. Learning about both wildlife and humans here has given students an experience they'll bring back to their classrooms in Washington — and to their careers in the wide landscape beyond.
Experience the park
In the vignettes below, read more about who the students met in Yellowstone, the animals they saw and studied, and what they discovered about the challenges and rewards of careers in wildlife management.