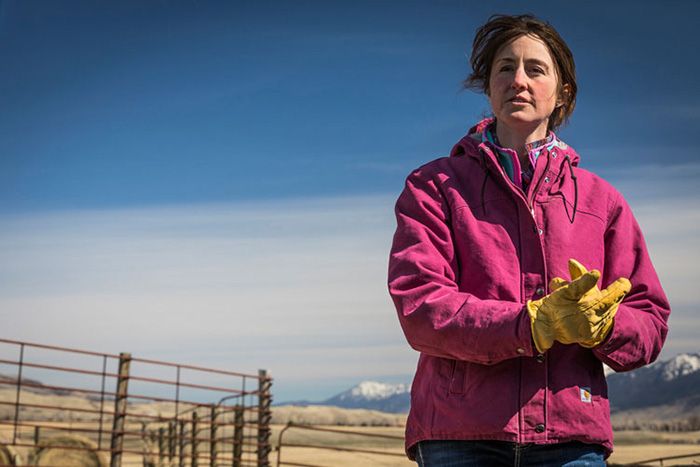 High up in Montana's Tom Miner Basin, rimmed by peaks that approach 10,000 feet, the Anderson Ranch is just a few miles north of the Yellowstone border. Inevitably, wild animals migrate in and out of the park — some making their homes on the ranch, some just passing through. The basin is also home to a growing collective of ranchers who work to coexist with wild animals. Hilary Anderson is one of them.
On a blustery day, she explains best practices for raising livestock on land that predators frequent: Fladry — brightly colored flags strung up on property borders — serves as a visual deterrent to wolves. Moving dead livestock away from a herd, or vice versa, is an example of carcass management, and it aims to put distance between living livestock and hungry scavengers. And finally, there's range riding: traveling the acreage via horse, demonstrating a human presence and keeping predators at bay.
Anderson also speaks to the value of working to find common ground among the basin's residents, a crucial step to overcoming widely different opinions on how to handle an increase in predator levels. Building trust, she explains, is invaluable.
"But how do you win people over to your side?" a student asks.
"By not making it a side," Anderson says.
The human landscape
Even the best management practices fail if they don't consider the needs of people living in the ecosystem. Park biologists and ranchers tell students directly: There are conflicts over how to manage parks for both people and wildlife. Many new researchers don't have that perspective, which limits how well they build trust with locals in the field — and which, in turn, can affect the success of their science.
Home ● On the Trail of Cougars ● Following Elk, Gathering Data ● Ravens in Search of a Meal ● Back Home in Washington ● Through the Eyes of Students