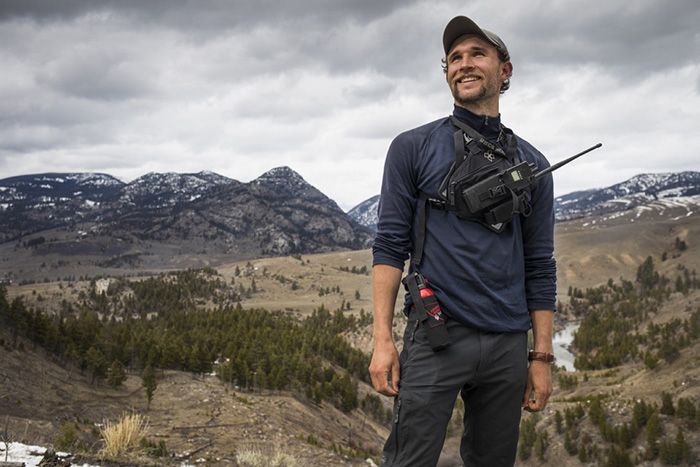 Nikki Furner, a UW junior, trudges through mud and snow back to the Hellroaring Creek trailhead. She and the rest of the class just met in the backcountry with Connor Meyer, '16, who took this very class in 2015 and now works in the park as a wildlife technician.
"When I was on this trip, we got to talk to some of the wildlife technicians, and we were able to help with some research," says Meyer. "This experience drove me to find a way to come back when I graduated."
After leading the students on a hike to the remnants of a cougar-killed elk, Meyer explained how he helps monitor cougar populations in the park. He also gave the class a glimpse into how they might track and gather data on wild animals someday.
"Going to Yellowstone with wildlife biologists is like going behind the scenes of a play," says Furner. She definitely sees a future doing fieldwork, she adds.
For students like Furner, learning about predators is one thing. But seeing — and tracking, listening, collecting data and asking questions of experts in the field — is believing.
Predators and ecosystems
Lessons from Yellowstone are often applied in our own state. Researchers who want to know how wolf recovery and grizzly reintroduction might influence Washington ecosystems can turn to what experts have learned from the park: What has worked? What hasn't? Where do conflicts between people and predators develop? When it comes to very wild places that can teach us how ecosystems work, Yellowstone is king.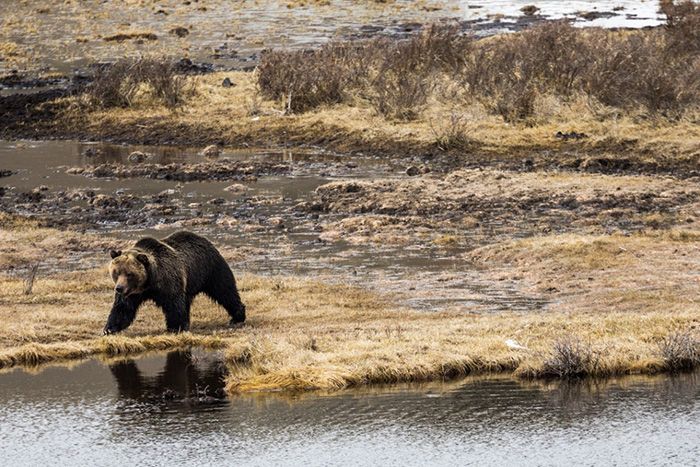 Grizzlies are omnivorous, feasting on everything from nuts, berries and roots to moths, rodents and moose. This grizzly is on its way to an easy snack: the carcass of a bison that drowned over the winter.
---
Home ● Following Elk, Gathering Data ● Ravens in Search of a Meal ● Finding Common Ground ● Back Home in Washington ● Through the Eyes of Students