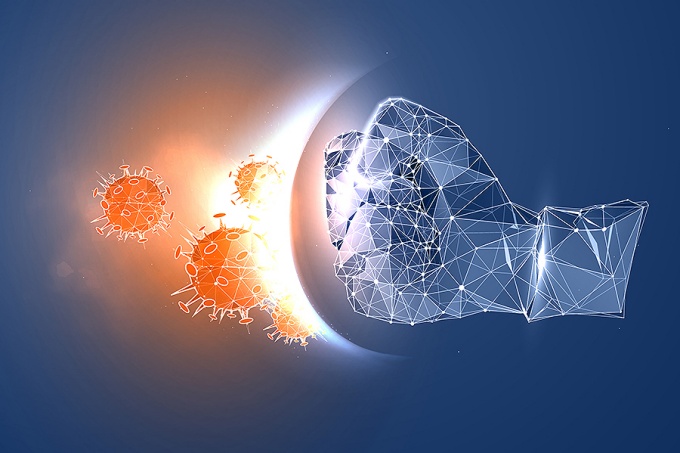 Public research universities spring into action in times of crisis. It's ingrained in the fabric of such institutions.
That's certainly been the case at UB, which has mobilized to an unprecedented degree to get Western New York through — and past — the COVID-19 pandemic.
"Throughout this pandemic, the University at Buffalo has generously shared its expertise and resources to help Western New York respond to, and ultimately conquer, this deadly virus," says Lt. Gov. Kathy Hochul, who serves on the leadership team of the WNY Vaccination Hub with Michael Cain, vice president for health sciences and dean of the Jacobs School of Medicine and Biomedical Sciences.
"UB has been a true community partner in this fight," Hochul says. "It is during times of crisis such as this that we are fortunate as Western New Yorkers to have a public research university right in our own backyard."
UB President Satish K. Tripathi says that throughout UB's history, the university has "risen to confront historical challenges. And this past year has been no different"
"I am so proud of our students, faculty, staff and alumni who have made profound contributions fighting the pandemic," Tripathi says.
'How can I help?'
At the earliest stages of the crisis, departments and individuals across UB knew there would be incredible need — and endless opportunities — to play a role. Tim Murphy, SUNY Distinguished Professor in the Jacobs School, recalls sitting in a meeting with UB scientists.
"Everyone was asking, 'How can I help? What can I do?' To a person, they all wanted to find a way to apply their skills to fighting this virus," he remembers.
Early in the pandemic, there was hardly any capacity to do testing. So a group of leading medical school faculty provided expertise, as well as the essential reagents that allowed Kaleida to increase its COVID-19 testing last spring.
Also from the start, UB faculty experts played an essential role in providing science-based insight and analysis to local and national media outlets, weighing in on everything from safe dental visits to nursing home conditions to, these days, the vaccine. Infectious disease expert Thomas Russo became such a familiar face in the national media that The Buffalo News dubbed him "Buffalo's Dr. Fauci."
Understanding the spread
Since March 2020, the Erie County Department of Health and local hospital systems have relied on the work of UB's Institute for Healthcare Informatics (IHI) to better grasp the pandemic's trajectory in Western New York. Together with area partners and colleagues from around the university, the IHI has successfully developed and adapted existing epidemiological models to the local COVID-19 epidemic.
"Their modeling informed our department's preparations and provided context for our public health response," says Erie County Health Commissioner Gale R. Burstein.
That wide-ranging collaboration continues to the present, with the most recent models capable of reflecting the impact that vaccinations and new variants of the virus will have on the spread of COVID-19 in Western New York.
Serving on the front lines
More than 1,000 UB physicians, nurses, public health professionals and other health care providers have been serving on the front lines, treating and caring for COVID-19 patients in local hospitals. And many are helping administer COVID-19 vaccines to eligible patients.
On the volunteer front, students in the School of Nursing are working with COVID-19 patients at the Veterans Affairs Western New York Healthcare System. Medical students delivered meals to Buffalo Public Schools families. Researchers turned labs into face mask mini-factories and donated them to local health care providers and charities.
Innovating new treatments
UB physicians have launched groundbreaking clinical trials to investigate new COVID-19 treatments, and a Jacobs School researcher was part of the international team that published the first guidelines for treating severe cases.
Data collected from research in Western New York patients, led by pulmonology expert Sanjay Sethi, helped lead to the Food and Drug Administration's emergency approval last fall of remdesivir. Another pulmonology expert, Manoj Mammen, is the local principal investigator on the National Institutes of Health-funded convalescent plasma trial at Buffalo General Medical Center.
Meanwhile, scientists in UB's basic science labs have pivoted their research in an effort to understand how the novel coronavirus works and how to treat it.
UB biomedical engineers are endeavoring to make more powerful vaccines by turning the coronavirus protein into a nanoparticle. Another UB team is using computational approaches to suggest already-approved drugs that may inhibit SARS-CoV-2, the virus that causes COVID-19, while still others have developed a biosensor platform to accelerate the discovery of new antiviral drugs.
And researchers in the School of Pharmacy and Pharmaceutical Sciences are working with local partners to provide Western New York patients with access to innovative COVID-19 clinical studies.
Ensuring health equity
As was the case nationally, Buffalo's underrepresented communities were hardest hit by the pandemic. UB faculty have worked alongside partner organizations in these neighborhoods to address health disparities, helping Western New York become one of the few regions nationally that has reduced COVID-19 deaths among African Americans.
School of Nursing researchers are collaborating with the African American Health Disparities Task Force and other local partners to help adults in low-income, racial- and ethnic-minority neighborhoods cope with pandemic-related stress.
Urban planning experts have sought to strengthen the local food system by creating a food map showing where in the region underrepresented communities could access food.
And researchers with UB's Community Health Equity Research Institute have brought a multidisciplinary approach to addressing the social harms to underrepresented populations that resulted from the pandemic.
"UB's Community Health Equity Research Institute is going to go down in history as the quintessential approach in how you tackle a problem on the ground from the ivory tower," says Pastor Kinzer Pointer, co-convener of the African American Health Equity Task force. "The university said, you know, we can do this, and then did it."
Access to vaccines
Now, as supplies of COVID-19 vaccines increase, UB is playing a key role in the local execution of a New York State initiative to provide safe, efficient and equitable access.
UB leaders in health care, management and logistics are collaborating to ensure the smooth operation of the Vaccinate Western New York hub, one of 10 vaccination hubs across the state established by the New York State Department of Health. A vaccination site on the South Campus, opened by the state earlier this year, is vaccinating 1,000 Western New Yorkers daily.
In addition, UB health sciences students are administering vaccinations to patients across Western New York through rotations with clinical partners.
"Each day, we are getting closer to crossing the finish line and ridding our region of COVID-19," says Cain. "So many at UB have dedicated themselves to fighting this virus, and I am heartened to know that their contributions will have played a vital role in helping Western New York return to normalcy."
This story was originally published by the University at Buffalo