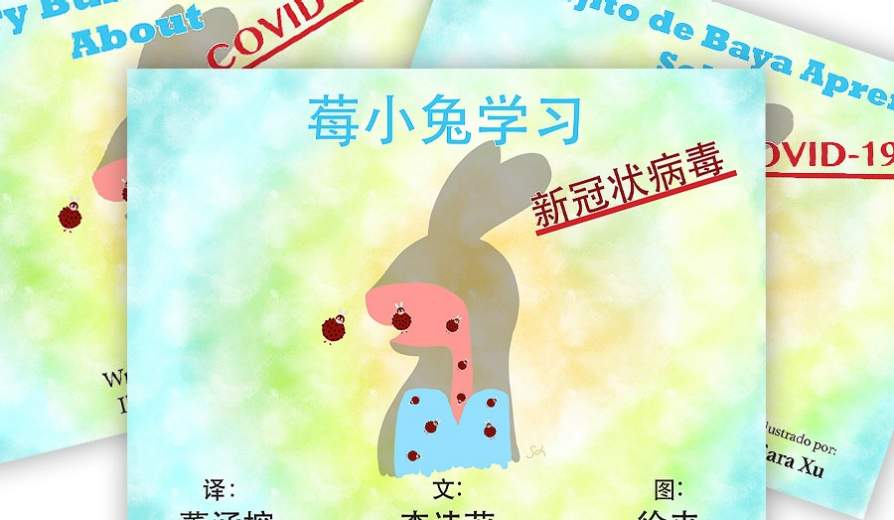 BUFFALO, N.Y. – How should children learn about COVID-19? Two University at Buffalo medical students created an adorable, original character named Berry Bunny to explain coronavirus to kids in a clear, colorful and easy-to-understand story, complete with illustrations and activities.
So far, their story, "Berry Bunny Learns About Covid-19" has received more than 750 visits from people in in 36 states and 16 countries. It is also featured on a list of free COVID-19 resources published by the New York City Department of Education.
The authors, Natalie Tjota and Sara Xu, are third-year students in the Jacobs School of Medicine and Biomedical Sciences at UB.
Their story is available in English, Spanish and Chinese versions, with the translations provided by the authors' friends and fellow Jacobs School classmates Kaity Tung (Class of 2021) and Hillary Jaramillo (Class of 2023).
"During a video chat I was having with my two nephews back in March, with COVID-19 clearly becoming something that would be affecting all of our lives in one way or another, I wondered how much they knew about the virus," Tjota says of her nephews, ages 7 and 4. "I started to think about how they and other children their age were learning about and coping with changes brought by coronavirus."
Tjota, who graduated from the University of Rochester with a BS in biomedical engineering and a BA in East Asian studies, drew from prior experiences while developing the book.
"As an undergrad, I organized workshops for the local Girl Scout troops to come to campus and learn about engineering," she says.
"Coincidentally, UB hosts a similar annual program called Girl Scouts go to Medical School that I was able to help organize last year. We put together activity stations and a little guide book to teach the girls about the different systems in the human body.
"I put my experience planning the Girl Scout workshop and drive together to present information to kids about coronavirus in our project."
"We are very fortunate to have creative and caring students who are willing to help educate young students in such a complicated subject," says David Milling, senior associate dean for student and academic affairs in the Jacobs School.
"Service learning is an important part of what we do. The Jacobs School has been involved with the New York State Mentoring Program for two years now, and this project fits in very well with what we are doing in this program," Milling says.
"Their effort to teach younger students about the topic of this virus also shows who Natalie and Sara are as medical students and who they will be as physicians."
In drawing illustrations for the story, Xu created Berry Bunny as a way to tell a friendly story about coronavirus, a decidedly unfriendly topic, to young students.
"I thought about children's books I've read," says Xu, who is from Rochester and holds a BA in East Asian studies.
"Many authors choose to use animals to tell stories. It's one way, I think, for younger readers to more easily see themselves in the role of the characters," she says.
Adds Tjota: "There is, also, a need for younger students to have information directed toward them at their level. And on the topic of coronavirus, I think it is especially important."
Xu, who is working toward an MD with the goal of pursuing a career in psychiatry, says she tutored grade school-aged students while she was at the University of Rochester.
"I think kids understand a lot more than we often give them credit for," she says. "It's important that we tell the truth and provide facts, even as we make the delivery more child-friendly.
"I also think that this is a difficult topic for everyone to understand ─ not just kids but adults as well. And our story format, not being text-heavy, with illustrations, could work well as a teaching tool for everyone about coronavirus. Berry Bunny is a friendly story, but I also see it as a truthful source of information," Xu says.
This story was originally published by University at Buffalo.