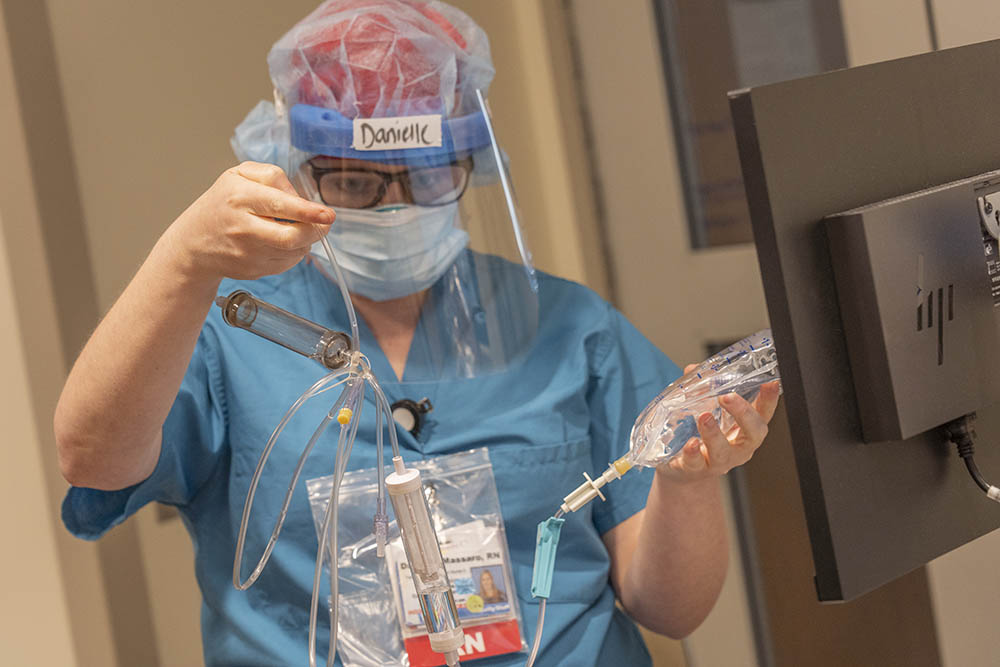 Recent scientific evidence has shown that the coronavirus may remain infectious as an aerosol for three hours or longer. Although the exact means of transmission remains a mystery that's still being investigated, medical professionals say it's likely that airborne transmission via aerosols is a significant factor in human-to-human spread. In an effort to improve the safety of healthcare workers, an interdisciplinary team of physicians, engineers, paramedics and students at Stony Brook University has developed a new patient particle containment chamber (PPCC) that can play a key role in containing the COVID-19 virus.
"Since COVID-19 is predominantly a pulmonary disease, moderately to severely ill patients often require some form of airway intervention," said Lauren Maloney, clinical assistant professor, Department of Emergency Medicine. "Secretions coming from the upper and lower airways have been found to contain high viral loads. Therefore, airway interventions that generate aerosols, such as ventilations with a bag-valve mask, endotracheal intubations and others, put healthcare providers at increased risk for viral exposure."
This risk of exposure is further complicated by a widespread concern about the availability of and access to appropriate personal protective equipment (PPE). In March, a Taiwanese anesthesiologist developed the Aerosol Box, a transparent acrylic box to be placed over a patient, with an open side facing the chest and two holes through which a healthcare provider can insert their hands in order to perform airway interventions. This device was rapidly adopted by hospitals internationally even without adequate evidence about its effectiveness, due in large part to an urgent need and dissemination via social media.
However, difficulties with the Aerosol Box soon became apparent. It was restrictive, it created tears in healthcare providers' PPE, interfered with the use of video laryngoscopes and was subject to glare from overhead lighting. It also has an extremely limited ability to adapt to the physical characteristics of either the healthcare provider or the patient.
In response to the urgent need for an effective, reliable and practical way to safely perform airway interventions on patients with COVID-19, Maloney and her team set out to design such a device, along with a test that would validate its capabilities.
"Our primary objective was to create a barrier device that would reduce the transmission of airborne particles generated during airway interventions that was portable and could be assembled from readily available and inexpensive components that are unlikely to be in short supply during the pandemic," said Maloney, adding that the device had to reduce aerosol transmission by at least 90 percent and be easy to clean and compatible with common EMS stretchers.
She, along with Christopher Page, clinical associate professor, Department of Anesthesiology, and Wei Yin, associate professor and undergraduate program director, Department of Biomedical Engineering (BME), came up with the idea for the chamber after seeing a request for proposal for interdisciplinary seed grant funding for COVID solutions.
"It seemed to be written for what we've been doing for the past several years," said Maloney. "We have an R25 NIH educational grant which brings together undergrad BME students and medical students to learn about the biodesign, or medical device innovation process, via shared clinical experiences so they learn a common language. The three of us were essentially the initial research team."
Maloney's team submitted the grant proposal and then used the funding to support the undergrad team they teach via the College of Engineering and Applied Sciences Vertically Integrated Program (VIP), which brings students across all majors together to work on projects that extend beyond a single semester or even academic year. With the VIP students, the team worked remotely via Zoom to investigate current solutions and intellectual property, and then develop and refine the PPCC. As the initiative developed, the VIP team added a medical student and several paramedics.
"One of the coolest things was getting the initial shape of the PPCC after tinkering with actual Tinkertoys®, adapting to real limits in access to the usual rapid prototyping tools on campus using the Tinkertoys, and learning how to teach an engineering class remotely via Zoom," said Maloney.
She said the overall process enabled undergrads, medical students and paramedics who otherwise might never be involved in the biodesign process to get immersed in something meaningful, where they saw a clinical need literally develop in front of their eyes."The COVID-19 pandemic has brought out the talents and creativity of our medical residents, students and other faculty and students campus-wide in order to find ways to better contain and fight the infection," said Kenneth Kaushansky, MD, dean of the Renaissance School of Medicine at Stony Brook University and senior vice president for the health sciences. "The development of the particle chamber is a great example of this ingenuity that could prove to be instrumental in the care of patients for this pandemic or in other emergent clinical settings in which infection control needs to be at its best
"The success and impact of this project exemplifies the vision behind our new Vertically Integrated Projects program — students and faculty working side-by-side to break down disciplinary silos and find ingenious solutions to important societal problems," said Fotis Sotiropoulos, Stony Brook's interim provost and dean of the College of Engineering and Applied Sciences. "It is engineering-driven medicine, experiential learning and creative problem solving at its very best."
"They saw this go from sketches to prototype, to disclosing a new invention, to writing, submitting, and revising a manuscript, to publishing an article and understanding different publishing license types when thinking about copyrights," Maloney said.
Stony Brook's PPCC consists of a standard shower liner draped over a modified octagonal PVC pipe frame and secured with binder clips. 3D printed portals are used to secure plastic sleeves to the liner wall. A weighted tube seals the exterior base of the chamber with the contours of the patient's body and stretcher.
"While necessity may be the mother of invention, especially when faced with a highly contagious pandemic, we still had to determine whether the device could do what we needed it to do," said Maloney. "Given the speed with which COVID-19 traversed the globe, traditional innovation timelines have been markedly shortened. Even so, we still have to think about what would need to be done to meet regulatory safety standards."
That meant testing, which Maloney and her team would also have to develop themselves.
They built a cube-shaped support structure using poplar boards, and then lined the cube with easel paper, creating a contamination evident chamber. An investigator then sprayed a can of black spray paint within the chamber in all directions for 90 seconds, and the paint was allowed to dry. This served as the control with which to compare the performance of the PPCC. The chamber's paper was changed, the PPCC was placed within it, and an identical test was run. ImageJ software, a Java-based image processing program developed at the National Institutes of Health and the Laboratory for Optical and Computational Instrumentation, was then used to determine the surface area covered by black paint.
Without the PPCC in place, the total surface area of the chamber covered by the paint was 2,312 square inches. With the PPCC in place, less than 1 square inch of surface area outside the PPCC was covered with paint, and that was limited to only the floor surface of the chamber. This amounted to a contamination reduction of more than 99 percent when using the PPCC.
"We have shown that our device successfully addresses many of the issues of prior devices," said Maloney. "However, the chamber will need to undergo formal compliance testing, similar to what is done for laboratory ventilator hoods. We need to be able to report its efficacy with precision.
The PPCC provides plenty of space for unhindered airway interventions such as using a handheld video laryngoscope or airway adjuncts. When not in use, it can be collapsed and stored easily. Reusable components are easy to clean and disinfect. And the sleeve portals make it extremely unlikely that gowns will be torn.
The device was created and tested entirely at Stony Brook University Hospital. The total cost per aerosol containment chamber was $63.71, including the cost of shipping for products purchased online and local sales tax. Maloney noted that that cost does not include labor or the 3D printing materials that were donated to the team. The end result is a device she described as a promising solution to help protect both hospital and out-of-hospital providers during airway interventions.
"This is a viable and affordable option during surges of patients," said Maloney. "While current constraints prevent the device from being formally tested, initial pragmatic evaluation has shown promising results. Although the device may not solve all current concerns about healthcare provider safety against respiratory viral infections, the PPCC provides an additional, more versatile option to help limit transmission of COVID-19 during high-risk airway interventions."
A paper on the device titled "A COVID-19 Airway Management Innovation with Pragmatic Efficacy Evaluation: The Patient Particle Containment Chamber" has been published in the October issue of the Annals of Biomedical Engineering. The project was funded by a grant from the 2019–2020 State University of New York Research Seed Grant Program.
This story was originally published by Stony Brook University