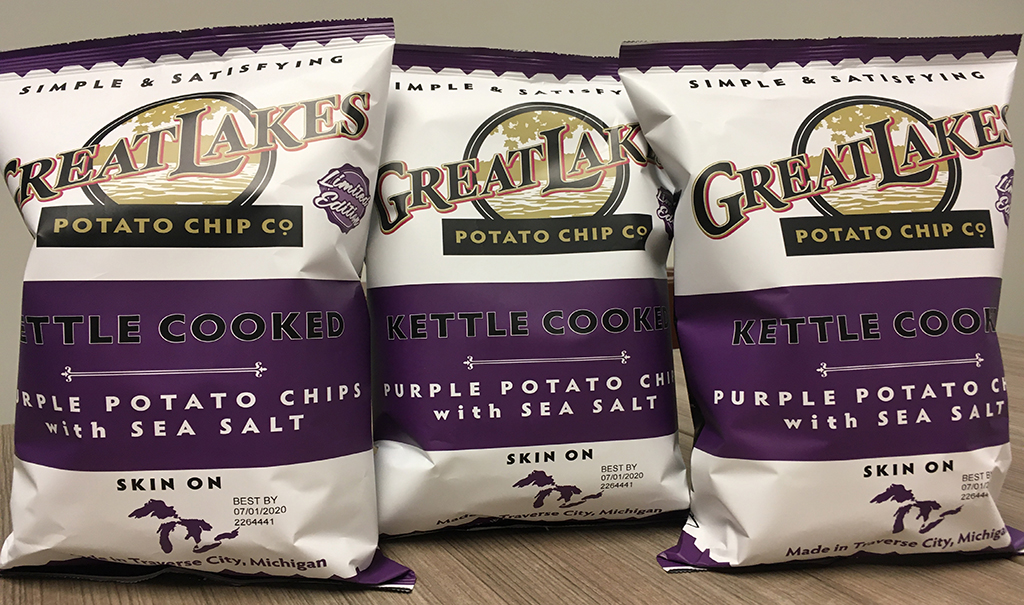 A new breed of potato is mutually beneficial to farmers, consumers and happens to be purple.
Purple potato chips could be on shelves at a grocery store near you this holiday season, thanks to a collaboration between Michigan State University researchers and Traverse City-based Great Lakes Potato Chip Co.
The chips are made from the Blackberry potato, the latest of more than 30 varieties developed by Dave Douches, director of the MSU Potato Breeding and Genetics Program. The Blackberry potato took 20 years to breed, is disease resistant and filled with antioxidants.
"I always saw that there was a need in the specialty market for a good purple-pigmented flesh variety of potato," Douches said. "There were some old varieties around in the past that I felt didn't really serve the market well, so we made an effort to try to improve on that.
"We were trying to find ones that had a round shape rather than a long shape, and also ones that had some disease resistance, as well as a deeper purple flesh color."
Chris Girrbach, president of Great Lakes Potato Chips, and Douches work with Iott Farms in Kalkaska, Mich., to grow and harvest the Blackberry potatoes used for chip processing.
"Since we're a small producer, it's a little easier for us to do something like this," Girrbach said.
Girrbach said the purple potato chips serve as a thank you to the communities and Michigan agriculture partners who help support Great Lakes Potato Chips.
"Michigan growers are awesome," Girrbach said. "MSU, in particular, puts a ton of research into potatoes; they work so hard to do stuff like this. I hope people see how fun the research can be and how important growing it is."
You can get the limited edition purple potato chips online and at Kroger, Meijer, Spartan Foods, Sam's Club and Costco.
For more information on Great Lakes Potato Chip Co., visit here. 
By Alex Tekip, Layne Cameron, David Douches
This content was originally posted by Michigan State University.