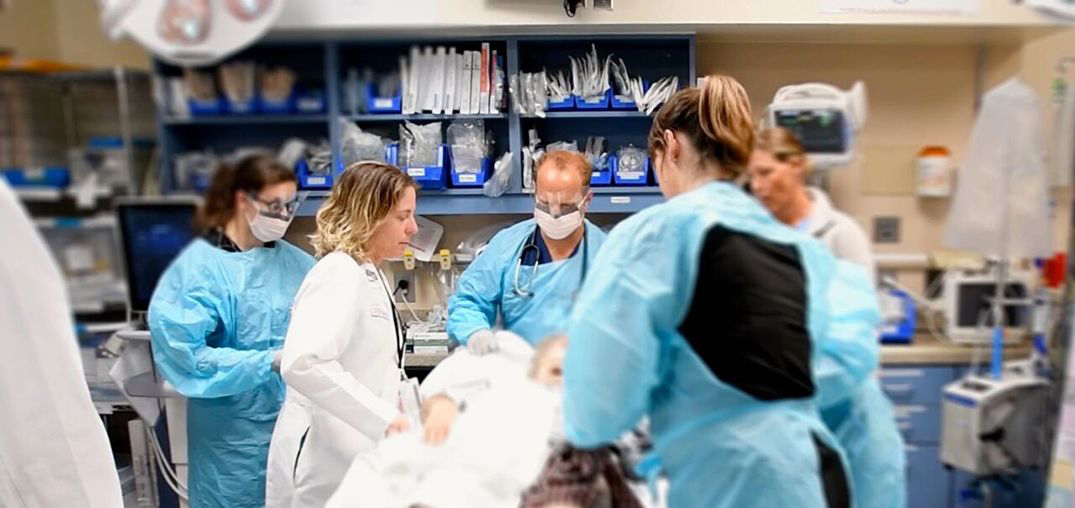 Marie Crandall lives a reality not many people experience: America's gunshot wound epidemic from the perspective of an urban trauma center. She's seen enough horrors. Now the veteran trauma surgeon wants to put herself out of a job.
Crandall works at the intersection of medicine and public health, seeking results that inform public policy. Her mission: find and advocate for evidence-based solutions to gun violence.
"Stopping a bleed is really low hanging fruit — we need to understand that most gun violence victims come from communities that really need help," she said.
When Crandall and I talked for the first time, she was frustrated, sad and hopeful all at once. Her voice sounded weary at times, but not her resolve. It was a week after a white-hot late-August weekend in Jacksonville, Florida, that saw a triple shooting after a Friday night football game at Raines High School followed by a mass shooting at a gaming tournament downtown — all within 48 hours.
The shootings shook the city where I was born and lived as a small child. But, for Crandall and the trauma team at University of Florida Health Jacksonville, where eight victims total were taken following the shootings, gunshot wounds are an everyday occurrence.
The Raines High shooting that left one teenager dead and two others with bullets in their limbs quickly faded into the news of Florida's most recent mass shooting. The nature of mass shootings attracts attention, but the endemic, daily gun violence we hear less about kills approximately 30,000 people annually. And at UF Health, Crandall said two trends stick out among pediatric gunshot patients: Most victims are children of color from high-crime, impoverished neighborhoods; and the number of intentional gunshot wounds inflicted upon children is rising. Crandall's research backs this up.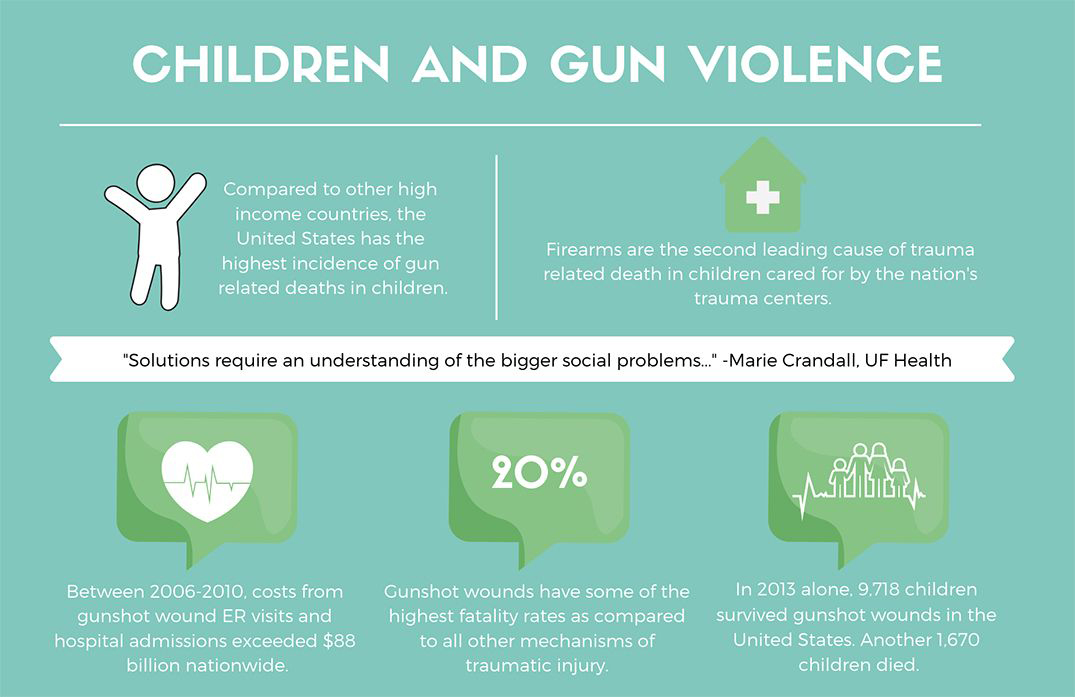 Facts are based on sources cited in Marie Crandall's upcoming study in the Journal of Pediatric Surgery. Infographic by Jillaine Henry
---
For the first time, Crandall and colleagues have directly linked gunshot injuries in children and teenagers with neighborhood poverty over a 20-year period. Regardless of efforts by law enforcement and legislation, the risk of firearm injury persists when poverty goes unaddressed, the research team demonstrated in a study of gunshot wounds in youth treated by the research hospital from 1996-2016. (The study is expected to publish in the Journal of Pediatric Surgery in early 2019.)
Study authors found that intentional gunshot wounds in pediatric patients treated by the hospital are increasing, pointing to a possible national trend, Crandall said. While these findings sound bleak, it's also strong evidence in support of community-building solutions to gun violence, she told me.
The study found that most of UF Health's pediatric gunshot patients come from Jacksonville's most violent zip code, 32209, where Raines High is located. Study authors used a geographic information system to map areas of highest incidences of gunshot wounds. The maps showed consistent clustering of gunshot wounds occurring in known high-crime, impoverished neighborhoods.
Two decades of gun violence prevention programs and crime suppression efforts in Jacksonville have included increased policing in known violent areas as well as programs targeting at-risk individuals, such as gang members and repeat offenders. Jacksonville's methods include Shotspotter, which uses strategically placed sensors to detect gunfire and alert police. Chicago recently renewed its own Shotspotter for $23 million.
While the number of shootings treated by UF Health varied by year, the neighborhoods where incidents occurred did not change, indicating that disadvantaged communities remain at risk despite police efforts. Study authors expect to find similar results when they look at gunshot wounds in adults treated by the hospital over the same period of time, which they plan to do next, Crandall said.
"When you focus on the individual instead of the community, that's a person by person strategy and that works for the individual but doesn't address the overall causes to help the entire community," Crandall said.
Crandall and study co-authors call for community-wide approaches to solving gun violence, such as investing in communities by addressing urban blight, improving public education, and creating community-based violence prevention programs to reduce shootings and change attitudes about violence. The study's pinpointing of gun violence in high-crime neighborhoods where low-income housing is clustered also supports previous studies that show deconstructing and dispersing low-income housing reduces gun violence.
But these approaches do not work in a vacuum. Crandall emphasized that police efforts and neighborhood-level solutions are most effective when police, hospitals and communities work together towards common goals.
And we cannot ignore access, she said — these efforts should be paired with concerted legislation action for "sensible licensing" of firearms, which she said includes background checks, decreasing access to high-velocity weapons, age restrictions, and restricting licenses for people with domestic violence offences, prior criminal convictions and certain mental health histories.
"These are things that we would do for almost any other noncontroversial topic," she said. "From a physics perspective, faster bullets do much more damage when they hit things and that's what high-velocity weapons do."
The effects of chronic stress brought on by institutional racism and poverty needs more research, Crandall told me. The constant stress and fear of physical violence and injury in high-crime, poor neighborhoods she described as "incalculable."
"The constant stress of poverty — not having enough money for education and healthcare and welfare — takes an extraordinary psychological toll. We don't have the perfect way to measure it yet, but we know it's there and it contributes to gun violence," she said.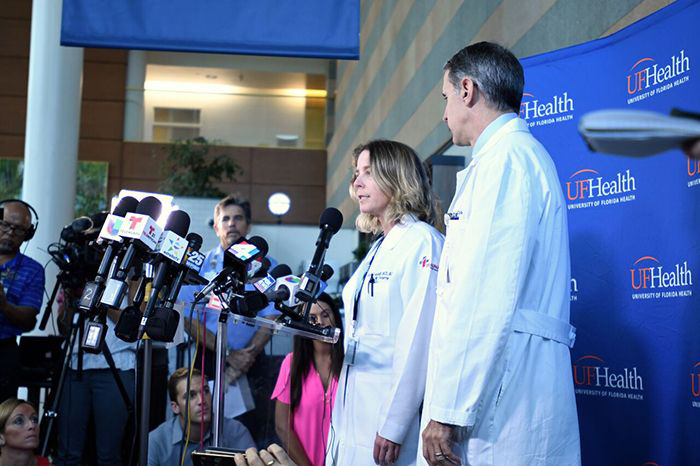 Crandall speaks to media at a press conference following the back-to-back shootings. Photo courtesy of UF Health Jacksonville
---
When Lorenzo Lawrence was growing up in the 32209, his grandmother had a rule: Be home before the streetlights come on, or sleep on the porch. She was strict, but he says she kept him off the streets.
Now he rides those same streets in an ambulance as a paramedic-firefighter with the Jacksonville Fire and Rescue Department. He has specific addresses of notoriously violent low-income housing memorized. It's not unusual for him to respond to multiple gunshot victims during a 24-hour shift, and his ambulance makes frequent stops at UF Health.
He witnesses in the field what Crandall sees in the data and on the operating table.
"Seems like it's getting hotter in the city every year," he said, not referencing the weather.
I met Lawrence on a Sunday about a month after the back-to-back shootings. We drove to Raines High, where Joerod Jamel, 19, was shot and killed in August. A makeshift memorial sat next to a tree near the football field: teddy bears, rain-stained letters and dozens of candles.
We drove past shotgun houses stacked side-by-side and low-income housing projects surrounded by high, metal fencing with a single entrance and exit. "It's like a trap," Lawrence said. "They box us in — one way in, one way out."  But it doesn't feel like there's any way out for those living inside, he said.
As we rode through the 32209, Lawrence pointed out drugs deals on street corners and gang graffiti on gas stations, run-down buildings, the house he grew up in and a recently renovated cemetery.
I spotted another memorial in Grand Park, one of the most violent neighborhoods in Jacksonville, in the most violent county in Florida, a state leading the country in mass shootings. More candles for a person shot dead in the street.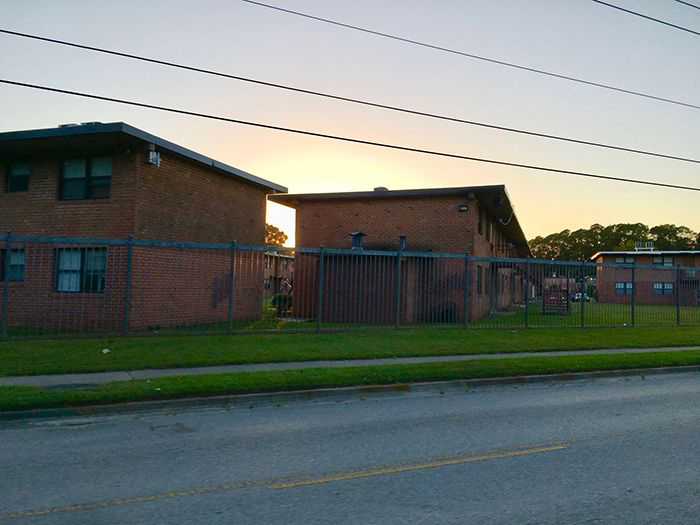 Low-income housing projects in Jacksonville's 32209 zip code, the most violent area in the city. Photo by Michael Hubbard
---
Crandall grew up in a Detroit working-class family. "Just because of that I was around people who often found injury in their lives," she said, whether it was from violence or on-the-job accidents.
Those experiences led to an interest in trauma surgery at an early age, she said. Initially, her career revolved around simply taking care of each patient, saving lives when she could. But as she gained experience, a pattern emerged. First, at medical school at the University of California, Los Angeles, then during her surgical residency at Rush University and Cook County Hospital in Chicago, and as an attending surgeon at Northwestern Memorial Hospital.
"People were shot and nobody thought about preventing gunshot wounds the way they did car crashes and motorcycle crashes," she said. "So, I thought, 'I want to prevent this. If I could put myself out of a job with prevention, that would be great.'"
Crandall hopes she'll see a different story unfold in Jacksonville. This is what drives her, along with her desire to serve the underserved.
"I get at-risk youth. I understand and empathize with that patient population because it was everybody I knew," she said, "and it was who I could've been if it wasn't for luck, people loving me, good health and whatever."
That mission to prevent senseless death and disability became an essential part of her career. She knows gun violence is not like the movies. When someone gets shot, they don't always get up. And even if they live, the wound can disable them for life. So even when she faced a weekend that could have felt like a setback, she continues to look for solutions to an epidemic that's killed 35,000 children nation-wide since 1999.
"This is what happens to children," she said, "and it's just heartbreaking. Families are torn apart when kids get injured or killed. It's something you can never really get over."
Her research pinpoints big, difficult problems that are ingrained in our society. She sees kids die in her community from tiny, metal pieces propelled by deadly tools. She's fought an uneasy battle from the operating room to repair the constant stream of damage they cause. She's closed tissues shredded by their force on bodies as young as 2 years old.
So, she's not here for easy. She's here for solutions. 
By Stephenie Livingston
How Can Cities Reduce Gun Violence? Invest In Low-Income Neighborhoods was originally published on the University of Florida website.