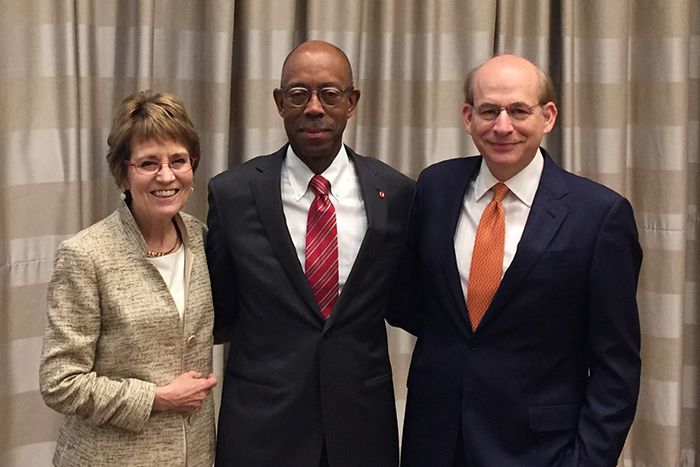 The Association of American Universities (AAU) today elected The Ohio State University President Michael V. Drake as chair of its board of directors. His one-year term begins today. The election took place at the association's semiannual meeting in Washington, D.C. Dr. Drake succeeds Rice University President David Leebron, after serving as AAU vice chair for the past year. 
As chair, Dr. Drake will represent AAU in discussions with federal policymakers, help develop national policy positions, and play a significant role in determining the association's agenda during the coming year. He will also serve as a spokesperson for the association, particularly on issues that affect research universities.
"Dr. Michael Drake will be an excellent chair," said AAU President Mary Sue Coleman. "He's shown outstanding leadership for Ohio State and the state of Ohio and serves as an example for all of our universities as they fulfill their missions in research, undergraduate and graduate education, economic development, and community service. A two-time AAU university leader and a medical doctor, Dr. Drake offers a unique perspective and an adept ability to articulate the value of research universities, and we expect he'll help AAU do the same at the national level." 
"Our nation's universities are at the forefront of teaching, learning, and research that change lives and build our most vibrant communities," said Dr. Drake. "A college degree is the clearest path to the American Dream, and I look forward to the opportunity to continue to help advance our great institutions of higher learning."
Dr. Drake has served as president of Ohio State since 2014. In addition, he served as chancellor of the University of California, Irvine from 2004–14. He also served as Distinguished Professor of Ophthalmology and Education. Dr. Drake is an alumnus of Stanford University (BA) and University of California, San Francisco (MD), holds three honorary degrees, and is an elected member of both the National Academy of Medicine and the American Academy of Arts & Sciences. 
---
Founded in 1900, the Association of American Universities comprises 62 distinguished institutions that continually advance society through education, research, and discovery.
Our universities earn the majority of competitively awarded federal funding for academic research, are improving human life and wellbeing through research, and are educating tomorrow's visionary leaders and global citizens.
AAU members collectively help shape policy for higher education, science, and innovation; promote best practices in undergraduate and graduate education; and strengthen the contributions of research universities to society.
Please visit us at www.aau.edu and follow AAU on Twitter, Facebook, and LinkedIn.