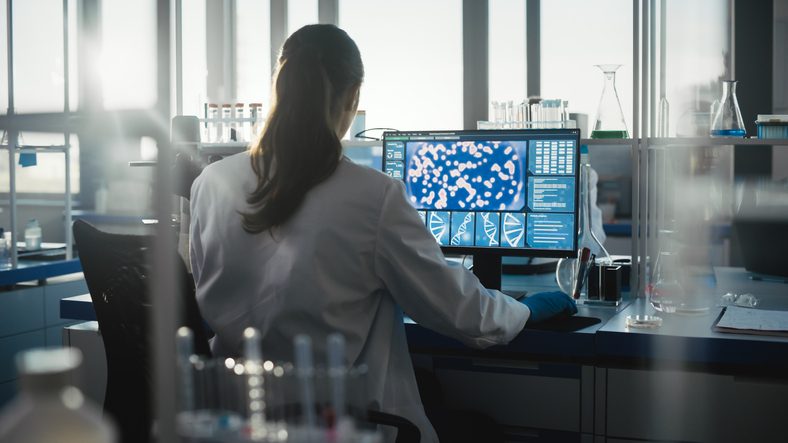 As Congress Finalizes USICA and America COMPETES Legislation, Polling Shows Americans Broadly and Strongly Support Funding Research to Maintain Our Scientific and Economic Competitiveness
 
As I noted in
a recent blog post
, Congress is currently hammering out differences between each chamber's version of legislation designed to keep the United States competitive on the global stage when it comes to scientific and economic innovation. One key aspect of this is maintaining the flow of international talent that comes to our country to engage in study and research and, in many cases, to settle down and spend an entire career contributing, invaluably, to their adopted country. We continue to urge the congressional conference committee to include the provisions of this legislation that would encourage the world's best and brightest to continue coming here.
Another crucial portion of this legislation is the increased investment goals it sets for scientific research and modernizing the infrastructure needed to support that research; you can read more about them in this letter we sent to Congress earlier this year. Other nations threaten our decades-long global leadership in science and innovation, and U.S. public opinion is decidedly in favor of investing more to keep our edge.
According to the National Science Board's The State of U.S. Science and Engineering 2022 report, China's average annual increase in funds expended on research and development was 10.6% from 2010-19, while the corresponding U.S. figure was only 5.4%. During the same period, the U.S. share of all the world's expenditures on scientific research and development declined from 29% in 2010 to 27% in 2019 – while China's share increased from 15% to 22%.
Americans understand that this is a problem. In a set of polls conducted by AAU this past March and April (see details on methodology below), a representative sample of U.S. adults showed significant support for increased investments in research to maintain our scientific leadership. In an era of polarization, not only was the overall level of support strong, but it was broadly bipartisan.
Almost 9 in 10 Americans (88%) say it is important to them that the United States be the "global leader in scientific research and technology." Conversely, only 8% of Americans believe this is "not too important," and 3% "not at all important." Large majorities also said they view foreign countries outcompeting us in research funding as a grave and credible threat. Americans also believe that "The fact that America's foreign rivals are beginning to out-compete us in funding science, medicine, and applied research is a national crisis that policymakers should respond to." Four in five (80%) say they find this statement believable, with only a small minority (16%) finding it not believable.
And Americans broadly agree on the solution: significant federal funding for research. When asked what Congress should do about federal funding for scientific and medical research, 46% of the public supports an increase, 11% a decrease, and 31% prefer to keep funding the same as it is now (with 13% saying they "don't know"). While Democrats and independents are more likely to voice their support for increasing research funding, Republicans are also more supportive than opposed; only 15% think funding for research should be decreased, while 30% of Republicans support increasing it.
The American public understands how crucial it is to meet this moment in history by increasing funding for scientific research. We encourage the members of the congressional conference committee working on the Senate-passed U.S. Innovation and Competition Act (S. 1260) and the House-passed America COMPETES Act (H.R. 4521) to listen to them. It is vital that the final agreement not only set ambitious research funding goals, but that Congress also make a down payment with actual appropriations to help realize those goals.
NOTE: The studies mentioned above were conducted by SSRS on AAU's behalf on its Opinion Panel Omnibus platform. The SSRS Opinion Panel Omnibus is a national, twice-per-month, probability-based survey. Data collection was conducted from March 18 to March 21 among a sample of 1,003 U.S. adults for wave one, and from April 1 to April 4 among a sample of 1,009 U.S. adults for wave two. The survey was conducted via web and telephone and administered in English. The margin of error for total respondents in waves one and two was +/- 3.8 and +/- 3.5 percentage points, respectively, at the 95% confidence level. All SSRS Opinion Panel Omnibus data are weighted to represent the target population of U.S. adults ages 18 or older.