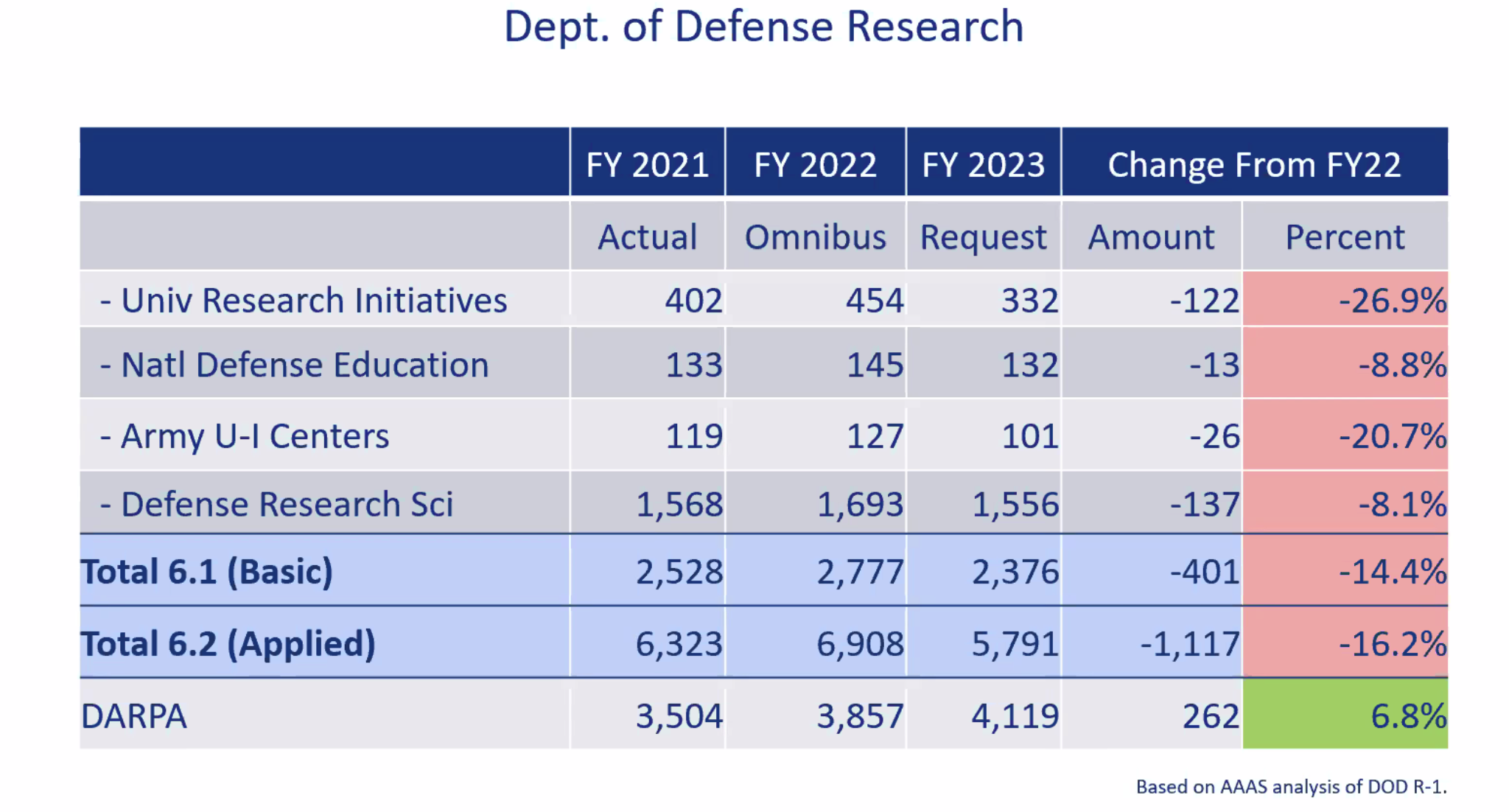 AAU urges Congress to provide at least $2.929 billion for DOD 6.1 basic research, $4.119 billion for DARPA, and $20 billion for DOD S&T in FY23.

Department of Defense (DOD)-funded basic research has contributed significantly to our nation's economic and national security. DOD relies on technological innovation as a force multiplier, and cutting-edge advances have helped make our military the best-equipped and most effective in the world. Addressing complex military challenges requires the development of innovative technologies that result from sustained investments in basic research (6.1) performed at American universities.
In addition to aiding our nation's defense, DOD's basic research programs maintain a domestic workforce of scientists and engineers through government-university partnerships. Research grants and contracts support cutting-edge research performed by renowned faculty and graduate students alike. The National Defense Science and Engineering Graduate (NDSEG) Fellowships program also helps attract and retain top U.S. citizens for study in fields vital to addressing national security challenges.
Department of Defense basic and applied research underpins the innovative health treatments and technologies that help save lives on the battlefield and speed recovery from injuries.

Consistent with recommendations from the National Defense Strategy Commission, AAU recommends Congress provide the following FY23 DOD funding levels by program element (PE):
| | |
| --- | --- |
| Army Defense Research Sciences (PE 00601102A) | $392,455,000 |
| Army University Research Initiatives (PE 00601103A) | $97,500,000 |
| University & Industry Research Centers (PE 00601104A) | $134,888,000 |
| Navy University Research Initiatives (PE 00601103N) | $185,392,000 |
| Navy Defense Research Sciences (PE 00601153N) | $554,826,000 |
| Air Force Defense Research Sciences (PE 00601102F) | $374,501,000 |
| Air Force University Research Initiatives (PE 00601103F) | $198,647,000 |
| DTRA Basic Research Initiatives (PE 00601000BR) | $12,538,000 |
| Defense-Wide Basic Research Initiatives (PE 00601110D8Z) | $81,438,000 |
| National Defense Education Program (PE 00601120D8Z) | $153,907,000 |