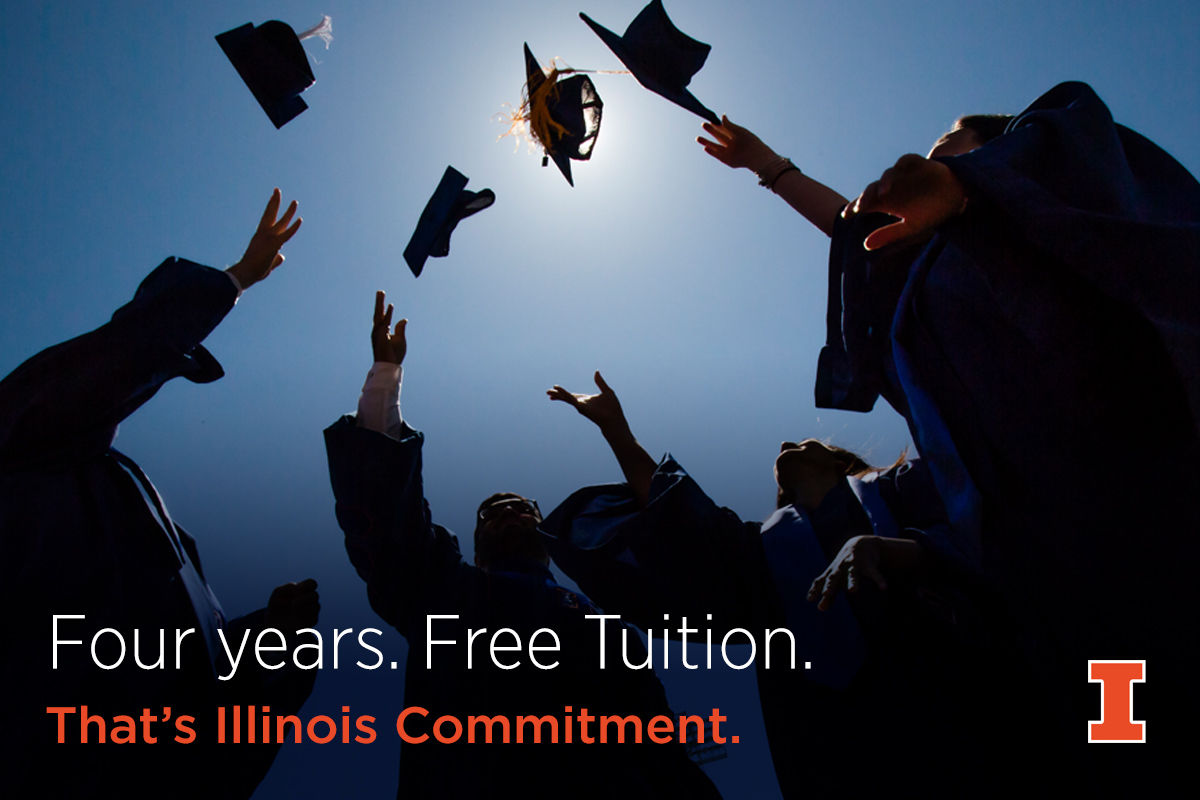 CHAMPAIGN, Ill. — A new financial-aid program aims to make attending the University of Illinois at Urbana-Champaign more affordable for middle-income families in the state of Illinois.
Illinois Commitment will provide financial awards to cover the tuition and campus fees for in-state students whose family income is less than $61,000, the current median family income in Illinois.
The program will be open to freshman and transfer students beginning with the entering freshman class in fall 2019. Through a combination of institutional, federal and state aid, including Pell Grants and Monetary Award Program grants, freshman students who meet the program's criteria will have the financial aid necessary to cover the cost of tuition and campus fees for up to eight semesters of continuous enrollment on the Urbana campus. Transfer students will be covered for up to six semesters of continuous enrollment.
"We established Illinois Commitment to ensure that even more high-achieving students in our state have affordable access to the kind of life-changing educational experience you can only find here at Illinois," said Robert J. Jones, the chancellor of the Urbana campus.
"We're acutely aware that a number of students in our state who could be part of the Illinois family never even consider applying, simply because they don't believe that they could afford to attend the Urbana campus," Jones said. "As a public university, we must see to it that talented students of all economic backgrounds in the state of Illinois have access to the University of Illinois at Urbana-Champaign. With Illinois Commitment, we're taking a bold and necessary step to simplify the financial-aid concept and open the door to an Illinois education for more families in our state."
Each year, too many bright, talented and qualified Illinois residents look at a single cost-of-attendance number for the Urbana campus and don't even begin an application, said Andreas C. Cangellaris, the vice chancellor for academic affairs and provost at Illinois.
"For first-generation college students or low- and moderate-income students, our concern is not whether they accept an offer of admission to Illinois. Our concern is whether they even apply to Illinois in the first place," Cangellaris said. "Although we try to help students understand that considerable aid is available, it doesn't always translate into applications. As a consequence, many low- and moderate-income students are dissuaded from applying to Illinois from the start. Illinois Commitment provides a new pathway to an Illinois degree."
Illinois Commitment was created after listening to students about why they were choosing to attend college out of state, said Kevin Pitts, the vice provost for undergraduate education at Illinois.
"In-state students repeatedly told us that cost and the lack of a scholarship were the primary reasons why they decided to decline our offer of admission," Pitts said. "We are currently investing $90 million in institutional aid to lower the cost of attendance for approximately 43 percent of undergraduate students. Illinois Commitment represents a significant additional investment to encourage the best and brightest students in the state of Illinois to enroll at the flagship campus, regardless of their family income."
Ultimately, Illinois Commitment will help reduce student loan debt, Pitts said.
"Our graduates are already well below the national average in student loan debt, and Illinois Commitment will reduce the debt load of future graduating classes at the Urbana campus even further," Pitts said.
The program will not affect the federal and state aid available to other Urbana campus students, including those who don't qualify for the program, nor will it affect other merit-based scholarship money a student may have earned.
"We are committed to ensuring access and affordability for all of our students," Pitts said. "A number of need- and merit-based scholarship programs will continue to be available for students who don't qualify for Illinois Commitment."
Illinois Commitment makes the U. of I. a realistic postsecondary option for many high-achieving students throughout Illinois who may have previously thought it was out of reach for financial reasons, said Erinn Murphy, the college and career counselor at Carbondale Community High School in Carbondale, Illinois.
"The program illustrates the U. of I.'s dedication to supporting – in a very real way – college education for qualifying in-state students, and I expect that in-state applications submitted this year by eligible students will increase.
"Illinois Commitment has the potential to be a complete game-changer for students who meet the criteria and are accepted into their program of choice."
This was originally published by University of Illinois at Urbana-Champaign on August 27, 2018.