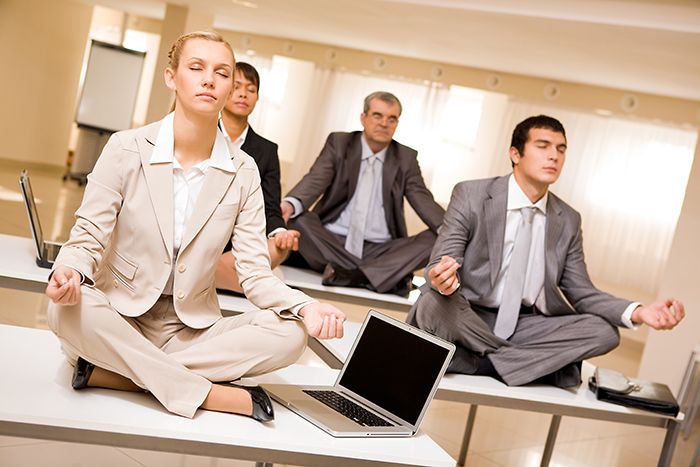 Although organizations spent more than $8 billion in 2016 for programs to reduce employee sick days, encourage healthier lifestyles and cut medical expenditures, researchers have found that, after one year, the impact of these popular workplace wellness programs is negligible.
In order to provide fresh data on these programs, University of Chicago Harris School of Public Policy Associate Professor Damon Jones, along with University of Illinois faculty members David Molitor and Julian Reif, designed and implemented the Illinois Workplace Wellness Study. The randomized study covers 12,500 individuals and divides them into a control group and a treatment group.
"Ultimately, in the first year of the study, we found virtually no difference in health spending between the control group and the treatment group. There was no difference in sick leave, there was no difference in salary or job separation. In fact, gym visits were nearly identical between the two groups and there was no real difference in running participation," Jones noted.
The results of the study run counter to previous analyses, which have shown that the popular programs, which cover more than 50 million American workers, do provide a reduction in healthcare costs and absenteeism.  Jones, however, finds that previous studies suffered from selection bias:  since participation in workplace wellness is voluntary, those employees who choose to join tend to have better health and lower medical costs before enrollment than those employees who sat out.
Workplace wellness has grown rapidly in the past few years, from a $1.8 billion industry in 2011 to the $8 billion total for 2016. The programs, which are specifically encouraged by the Affordable Care Act (ACA), are designed to increase employee self-awareness about health, encourage preventive care and discourage unhealthy behaviors such as inactivity and smoking.
Interestingly, the Illinois Workplace Wellness Study researchers also found that incentives can be successfully used to increase participation, but that incentives reach a point of diminishing returns.  And, the treatment group was more likely to feel that management did put an emphasis on the health and safety of their workers.
"The first portion of our study was an initial screening, and we offered monetary incentives to encourage participation. We found that upping the completion award from zero dollars to $100 increased completion by 12 percent," explained Jones. "But we also found that raising the incentive even further did not increase participation and we just ended up giving more money to people who were already participating."
Additional data gathered shows income has an effect on participation, as those with the lowest salaries and those with the highest salaries were the least like to join. Plus, those who exercised already were among the most likely to join, while smokers were among the least likely. 
The researchers are further considering whether offering incentives for wellness programs leads those employees who benefit the most from them – those who are already fairly healthy and have lower medical costs – to stay with their employer and continue earning rewards. As a result, the programs could act as screening device for healthier employees whose health, absenteeism and productivity costs should be lower over time.
The Illinois Workplace Wellness Study will continue into 2020, and the researchers are hoping to continue to track outcomes until then, which could lead to more expansive or different conclusions.
"What Do Workplace Wellness Programs Do? Evidence from the Illinois Workplace Wellness Study," Damon Jones, David Molitor and Julian Reif, NBER Working Paper Series, Working Paper 24229.
New Research Finds Workplace Wellness Programs Deliver Little to No Impact was originally published on the University of Chicago website.