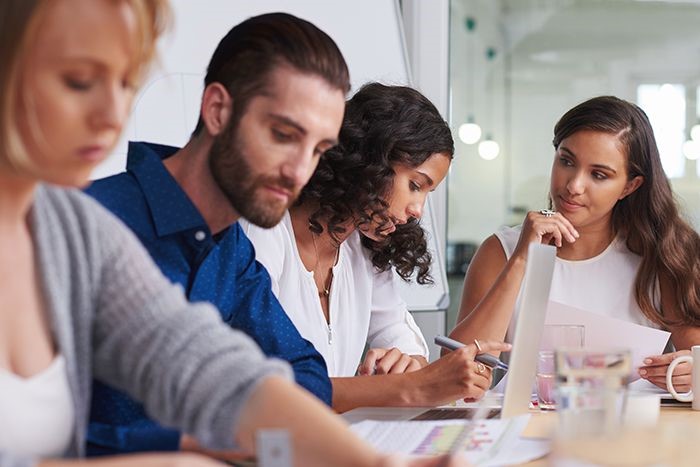 Mobile sensors for workplace productivity? Activity trackers for meetings? It's the future of mobile sensor technology and two University of Minnesota faculty are making it possible, ushering in a new era of productivity and efficiency in the workplace.
 
Deniz Ones, professor of psychology at the University's College of Liberal Arts and Mustafa al'Absi, professor of behavioral medicine at the University's Medical School, join a six-university team which will use the $13.8 million project to develop and test mPerf, a system of mobile sensors and software that can be used to objectively assess everyday job performance. The project was funded by the Intelligence Advanced Research Projects Activity's (IARPA) Multimodal Objective Sensing to Assess Individuals with Context (MOSAIC) program.
 
Al'Absi will lead the team's stress assessments. "Stress affects everything in our life from heart disease to obesity and addiction, but it also affects how we perform or not perform," said Dr. al'Absi, director of the Behavioral Medicine Laboratories and an expert in stress research. "It is our goal to forge ahead in discovering new ways toward understanding how our performance and decision making skills are affected in stressful situations." Ones will lead the team's field studies in measuring and predicting job performance.  
 
Current workforce evaluation tools, such as interviews, cognitive assessments and questionnaires, do not always capture how an individual performs on a day-to-day basis. It is hoped that the sensors will more accurately measure the behavior of people in various situations and provide insights that ultimately improve work performance and productivity.
To develop and evaluate its models, the mPerf team will collect data from several hundred employees from multiple organizations in the U.S. and abroad. mPerf researchers will develop unique sensor-based markers and will then apply data analytics to create a library of sensor-based indicators to measure employee characteristics (e.g., personality, ability) and work performance.
 
The six-university team will be led by Santosh Kumar, Professor at the University of Memphis and director of the NIH-funded Center of Excellence for Mobile Sensor Data-to-Knowledge. The team includes some of the nation's top researchers in work performance (Professor Ones), interpersonal communications (Eugene Buder, Memphis), stress (Dr. al'Absi), sensor design and signal processing (Emre Ertin, Ohio State), mobile sensing (Tanzeem Choudhury, Cornell), mobile computing (Deepak Ganesan, UMass Amherst and Mani Srivastava, UCLA), and machine learning (Benjamin Marlin, UMass Amherst).
"Through this project, we hope to develop new approaches to assessing employee talent as well as important workplace behaviors and outcomes, including performance, satisfaction and stress," said Ones. "The innovative potential this study holds for the world of work is akin to moving from horse buggy to self-driving vehicles."
 
"A project like this is exciting because we can bring this data to the people in the best way possible because we are all affected by work performance," said al'Absi.
 
Find out more about mPerf here: http://mperf.md2k.org.

About IARPA's MOSAIC program:
MOSAIC is a new program looking for new ways to measure and predict individual job performance using unobtrusive, passive and persistent sensor-based measurements. Its goal is to improve the Intelligence Community's capabilities to evaluate its workforce throughout their careers. For more information, go to https://www.iarpa.gov/index.php/research-programs/mosaic.
Researchers to Develop Mobile Sensor Technology, Improve Job Performance was originally published on the University of Minnesota Twin Cities website