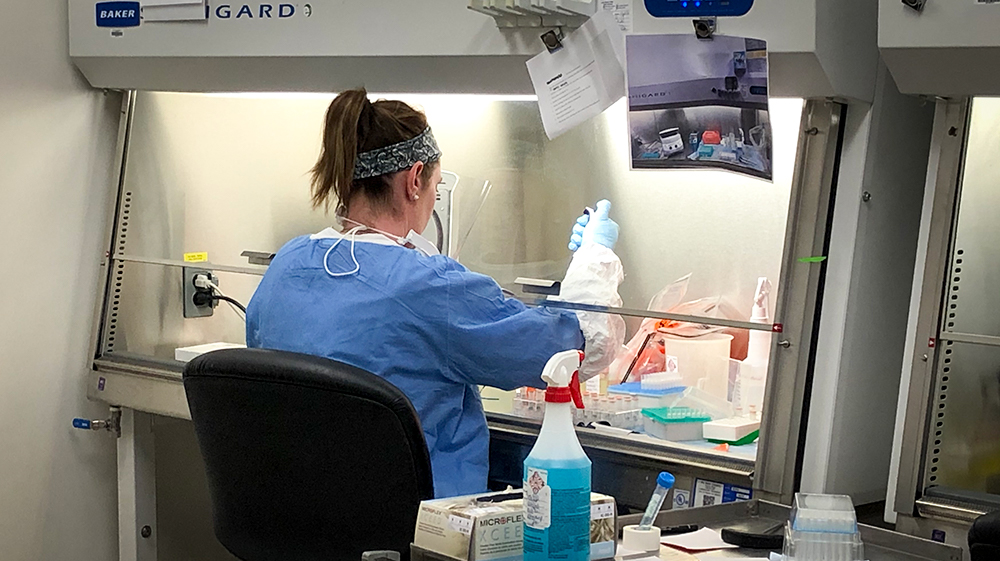 Since the onset of COVID-19 in the U.S., leaders across the country have struggled with the ability to test for the infection. Problems with the first test kits offered by the Centers for Disease Control and Prevention created a back-log, so that by the time new kits were deployed to 94 public health labs in the U.S., the demand had overwhelmed the testing sites.
Thankfully, the U.S Food and Drug Administration approved special emergency rules, saying it won't stop manufacturers or labs from developing their own testing processes in an effort to bring in more qualified experts to meet testing needs. Within days, leaders from the University of Minnesota Medical School transformed two research buildings to create the state's fourth on-site testing facility, now, with the fastest turnaround results in Minnesota.
"We realized that we could not wait for the commercial manufacturers to come through with test kits that would be used in our microbiology lab," said Anthony Killeen, MD, PhD, professor in the Department of Laboratory Medicine and Pathology. "We decided we were going to set up our own assay." 
That assay, or testing procedure, formed under the leadership of Sophia Yohe, MD, an associate professor in the Department of Laboratory Medicine and Pathology. With her experience as the medical director for M Health Fairview's Molecular Diagnostics Lab, she volunteered to lead the charge.
"Within about five days, she had an assay up and running," Dr. Killeen said. "It was an incredible accomplishment for her to get such a complicated assay up in a very short time, facing severe shortages of key supplies, such as reagents and equipment."
Finding the Perfect Location
Nestled in the neighborhood of TCF Bank Stadium lies the University's Biomedical Discovery District. Two buildings—the Microbiology Research Facility (MRF) and the Cancer and Cardiovascular Research Building (CCRB)—are now home to the equipment and personnel leading some of the state's COVID-19 on-site testing.
"We needed a place that had biosafety cabinets available for use," Dr. Yohe said. These cabinets play a critical role to safely work with and inactivate the virus. Because the University stopped many non-essential research studies to abide by the state's "stay at home" order, lab space, including a handful of these cabinets, became available at MRF.
"Because we knew the U of M Genomics Center (UMGC) inside CCRB was going to manage the downstream PCR (polymerase chain reaction) step of the assay, we thought using these two continguous buildings as the testing site would make it a little easier to transition that workflow," Dr. Yohe said.
Establishing the Assay
Within six days of finalizing the location, Dr. Yohe and her team had completed the first test of COVID-19. The assay involves a small group of technicians and researchers, some redeployed from the Molecular Diagnostics Lab and the University's Advanced Research and Diagnostics Laboratory.
Most of the samples, which are specialized swabs from the mouth, nose and throat of patients, arrive from the M Health Fairview system to MRF. There, a technologist logs them into their system for tracking. Another technologist, then, takes the samples to the biosafety cabinet for inactivation before a third technologist begins extracting RNA, which provides COVID-19 with its genetic instructions.
"After that, Dr. Kenny Beckman's team in UMGC target specific areas of the RNA and amplify it to see if the virus is present or not," Dr. Yohe said. "Generally, if we receive the samples in the morning, which were collected from the day or evening before, we can process those samples and get the results out that evening. There's been some long days. We're getting smoother with the process, so they tend to be coming out a little bit earlier as time goes by."
While the team turns around results faster than other testing sites in the state, the amount of tests it can complete is limited to just 64 tests per day. Dr. Yohe says it's because of the nationwide shortage of testing and extraction supplies.
"If we're planning for a 30-day window of testing, assuming that we receive no other supplies, we can do 64 tests per day for the next 30 days," Dr. Yohe said.
Testing in the Coming Weeks
To assist the on-site testing efforts, the Medical School allocated $250,000 to purchase additional equipment needed to test not only for COVID-19 but also for special markers in COVID-19 patients that tell doctors the best way to treat them.
"We're expanding our ability to measure cytokines, which are inflammatory markers that are greatly elevated in some patients who have a serious infection from COVID-19," Dr. Killeen said. "There are some drug therapies that are useful in patients with increased cytokine levels. We hope to be able to identify which patients are most likely to benefit from these drugs."
The group also seeks support from the Minnesota legislature after applying for funding from the state's COVID-19 response bill. Until then, Dr. Killeen says their team will continue to be "nimble."
"This is an example of the University's ability to innovate rapidly," Dr. Killeen said. "This was not a six-month process; this happened within days. It shows how nimble the University can be when we face an emergency situation like we are in, right now, with COVID-19."
This story was originally published by The University of Minnesota.