A team of senior engineering students are getting a chance to learn firsthand how to use some of their skills and also help the environment. For their capstone project, the five students assessed the energy efficiency of Montgomery House and have identified a set of retrofit options, which, if implemented, could save as much as $3,000 in energy costs annually.
The spacious house overlooking Occom Pond was built in 1924 and serves as the residence of visiting Montgomery Fellows.
"The Montgomery Fellows Program was created with the undergraduate student population in mind. So, it made sense to reach out to undergraduates to get their input on how the house might be upgraded to meet the energy demands of our current moment," says Steve Swayne, the Montgomery Fellows Program director.
The students—Sophie Edelman '22, Kaulana Kanno '23, Harrison Munden '23, Nate Roe '23, and Adelina Sederman '23—conducted an energy audit of the house in the fall. This included a blower door test to identify air leakage, analyses of the status of insulation through measurements, and an estimate of the amount of heat escaping through the walls.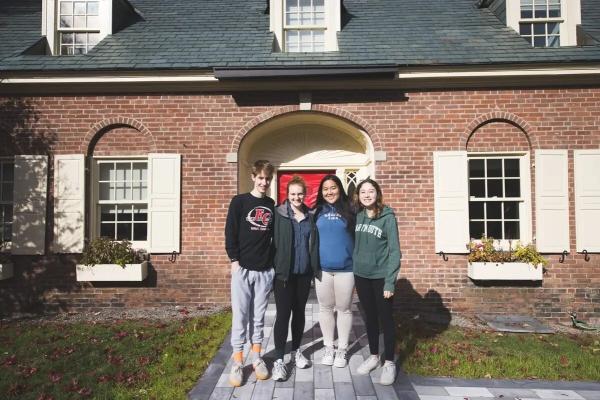 The team found, for instance, that a lot of warm air is escaping through the chimneys. "Sealing up the chimney flues stood out to us as a way of reducing the amount of air that is leaking and easily improve the envelope of the house," says Edelman.
They also assessed the house's current energy consumption by combing through electricity and fuel oil billing records. "They have sussed out things that we did not know about the house," says Swayne, who is struck by the students' thoroughness.
Among their discoveries are a case of crossed wires due to which heating and cooling systems currently run simultaneously; fixing it will save energy right away.
Based on their investigations, the team is compiling a report of retrofit recommendations to improve the house's energy efficiency. They propose adding insulation to the basement and attic, improving air sealing, and upgrading light fixtures and heating systems. Although such upgrades would require an initial investment, the students estimate that their suggestions will save more than $3,000 a year in energy costs.
"It will be exciting to see some of these changes get implemented over the next five or so years," says Edelman. She believes that Dartmouth can be a role model for the region in implementing a clean energy transition.
"It's one thing to learn about energy efficiency in the context of a classroom. It's entirely another to take what you have learned and attempt to apply it in the real world," says Rosi Kerr '97, Dartmouth's director of sustainability, who served as an adviser on the project.
Students have to grapple with the tradeoffs and complexities that are inherent in such renovations, such as preserving the aesthetic of the house while working to improve energy efficiency, she says.
As part of the project, the students also seek to increase awareness of the importance of weatherization and air sealing in northern New England, given its long, cold winters. They are designing a poster that will be on display at the Arthur L. Irving Institute for Energy and Society later this month.
"The Montgomery House engineering capstone project is a wonderful example of a project that allows students to use our campus as a laboratory," says Kerr. "By doing this project, our students are putting a big, national challenge like energy efficiency into focus, here in the local, campus context."
This story was originally published by Dartmouth on March 10, 2023.