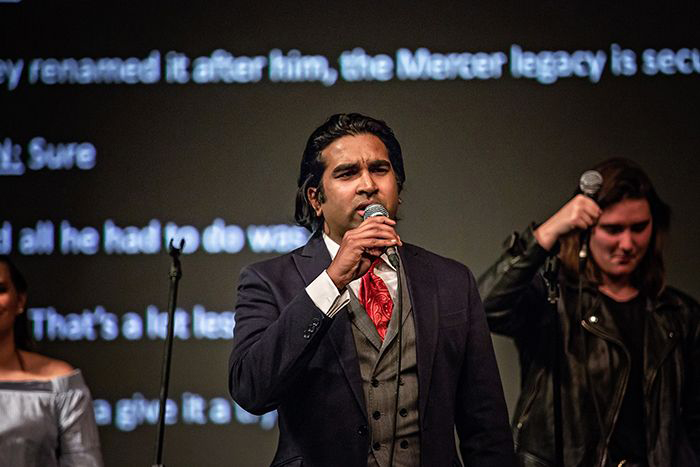 The Indiana University Center for Rural Engagement will host a variety of new arts and cultural offerings in the Indiana communities of Huntingburg, Nashville and Salem this winter and spring.
Expanding upon programming launched this fall, the center is collaborating with the IU Arts and Humanities Council to deliver cinema screenings, theater and musical performances, exhibits, creative writing workshops and artists-in-residence programs in partnership with local artists and residents. These events are part of larger community plans to increase local access to arts and cultural opportunities.
"The Center for Rural Engagement and the Arts and Humanities Council welcome the opportunity to continue work with Huntingburg, Nashville and Salem -- three communities with different visions and shared enthusiasm around the arts," said Kerry Thomson, executive director of the IU Center for Rural Engagement. "As we work together to create programming that resonates with each community, we are also developing strategies to increase local capacity around artistic and cultural assets."
Events include Hamiltunes, a sing-along musical experience based on the hit Broadway show "Hamilton" performed by the Jacobs School of Music and the Singing Hoosiers; pop-up cinema screenings of "The Little Woods," "Roma," "Cold War," "Eddie the Eagle" and "Amazing Grace," in partnership with IU Cinema; touring exhibits of faculty and student work and professional practice sessions from the IU School of Art, Architecture + Design; elder art workshops and folk art exhibitions with Traditional Arts Indiana and the Mathers Museum of World Cultures; creative writing workshops and readings; and the IU Theatre touring revue.
In addition to arts events, the IU School of Public and Environmental Affairs Master of Arts Administration students and faculty have launched capstone and site-specific practicum projects addressing key strategic planning needs for each partnering community.
The IU Center for Rural Engagement improves the lives of Hoosiers through initiatives that discover and deploy scalable and flexible solutions to common challenges facing rural communities. Working in full-spectrum community innovation through research, community-engaged teaching and student service, the center builds vision, harnesses assets and cultivates sustainable leadership structures within the communities with which it engages to ensure long-term success.
IU Center for Rural Engagement Launches New Rural Arts Series Offerings in Three Communities was originally published on the Indiana University website.