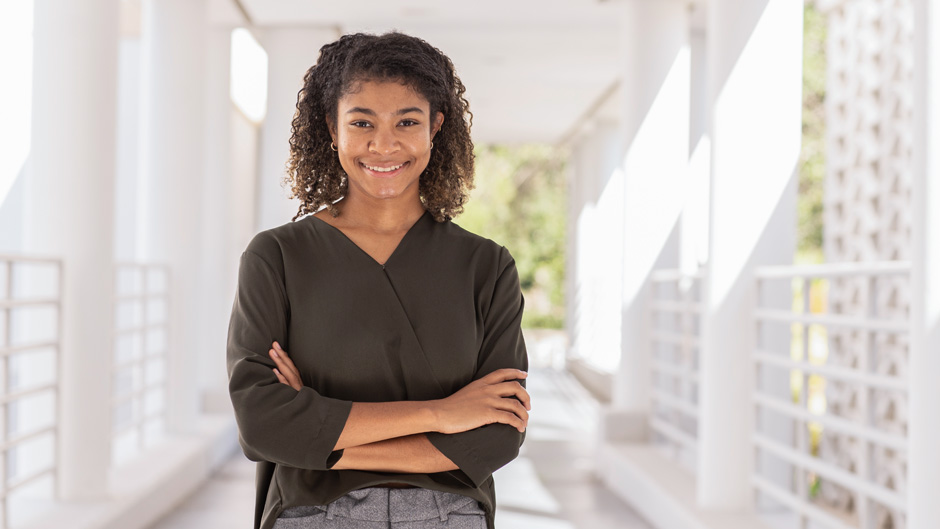 When engineering senior Joy Jackson learned that neuroscience researchers struggle to get a good EEG signal from people with textured hair, she created a device to help bridge this gap in health care research.
Growing up in Memphis, Tennessee, Joy Jackson was well aware of the historical inequalities in the United States. 
But what Jackson did not realize is how extensive some of those disparities still are, seeping into areas like health care and even affecting the ability to diagnose neurological conditions. 
Two years ago, Jackson, a biomedical engineering major at the University of Miami, was chatting with assistant professor Andrew Dykstra about his research when he mentioned a problem that neuroscience researchers often encounter. He explained that electroencephalograms, or EEGs, that medical professionals and researchers use to measure electrical brain activity—and to identify conditions like epilepsy, sleep disorders, dementia, brain tumors, and Alzheimer's disease—often are not as effective at reading the brain signals of Black patients, or anyone with thick or textured hair, because it is difficult for the electrodes to attach to the scalp properly.
As a result, studies on brain-related conditions often do not include data from Black patients, or the less optimal data is discarded, Jackson learned.
"It was something that was completely unknown to me before he brought it up; but once he did, it really struck a chord," said Jackson, who is now a senior. "It didn't sit right with me. Number one, because I'm African American. But also because it was the first time I was hearing about it. This was something that I don't think had the attention it needed and deserved, so I really wanted to do something about it." 
Even more concerning, Jackson discovered that many neurological conditions—like epilepsy and Alzheimer's disease—often impact Black people more frequently than other populations. So, an earlier diagnosis could help these individuals get treated sooner. 
"It is crucial for scientific technology to be designed in a way that includes all the communities it is meant to serve," her team wrote in a report detailing the project for the National Institutes of Health (NIH).
Jackson began researching and found just two articles that highlighted the issue. Then, she set to work designing a device that could help the electrodes adhere better to the scalp, ultimately with the aim of getting a better brain wave reading. With the guidance of her mentor, Jorge Bohorquez, a biomedical engineering professor of practice, and knowledge gleaned from her classes, Jackson designed the tiny HairWare unit in a software program called SOLIDWORKS. And soon 3D printed some of the first few versions at the Otto. G. Richter Library. 
"Fortunately, being someone this could affect, I could try a lot of the designs on myself," she pointed out. "I also tried it on friends with curlier hair than me, to make sure it worked on many different hair types." 
The prototype, which has undergone five different iterations, looks like a small plastic hairclip with a detachable housing that fits in the middle of the clip and holds the electrode in place. After conducting some preliminary tests, Jackson received some promising data, and she will be presenting the HairWare device this week at the eMerge Americas Conference in Miami Beach. But it's not ready for commercialization yet, she said. 
"I definitely don't think it's finished," she said. "I want to have a lot more concrete data to show that it does what it's supposed to do."
Through the journey to create HairWare, Jackson also recruited two friends to help her—Kailyn Hayes, a neuroscience student, and Chika Nwosu, a biology major. They helped her understand some of the causes and symptoms behind different neurological conditions, as well as the science behind what an EEG is reading. And they guided her on some design revisions. Last fall, the team earned an honorable mention in the 2022 NIH DEBUT Challenge and traveled to San Antonio, Texas. Her professors are glad Jackson put in the effort to create HairWare. 
"It was inspiring to see Joy work on a high-impact problem that has been largely ignored by medical researchers," said Bohorquez. "She was passionate about investing her own time to come up with a new device that could address a nationwide health disparity by improving brain-related care for African Americans." 
While she still wants to do more testing on the HairWare, Jackson said she is proud of the progress made in the past two years and hopes to see it utilized by medical providers one day. She already has earned a provisional patent so that she can continue working on HairWare while in graduate school at Georgia Tech. Soon, she will be working on a non-provisional patent. She also said working on HairWare has helped her incorporate the skills she has learned both in labs and classes at the University. 
"Going from that conversation to having a device in my hands has been a surreal experience, and this experience helped me take the information I've learned from classes and apply it to a real-world topic," she said. "It's also helped me become more confident that I have the skills to get a project like this done."
As a biomedical engineer, Jackson is eager to create other solutions that may offer more equitable health care. Specifically, she wants to make critical medical devices more accessible to all patients, like insulin pumps and epinephrine pens. The latter is used to reverse severe allergic reactions, and both items can be too expensive for most people.
"I'm interested in making devices that are accessible, affordable, and applicable to large demographics. When I think of cost, I reflect on my own health care needs," said Jackson, who must carry an EpiPen for her food allergies, which costs about $350 for a generic version and must be replaced yearly. "I'm thankful to be in a position where I can replace my EpiPen when I need to without worry, but I'm sure many can't say the same due to the cost."
This story was originally published by the University of Miami on April 17, 2023.