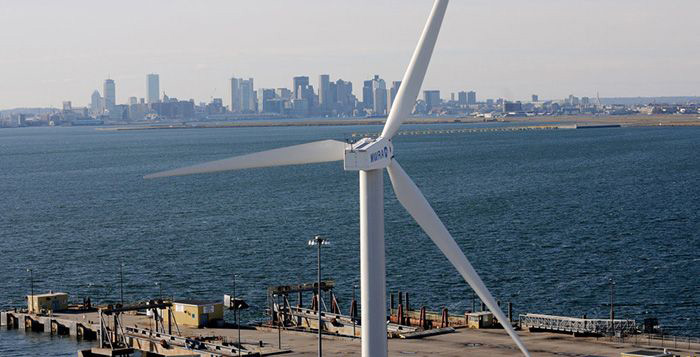 A January 29, 2019, report based on research led by the Boston University Institute for Sustainable Energy (ISE) reveals the massive strides that Boston will have to make in order for the city to reach its goal of carbon neutrality—having a zero net carbon footprint—by 2050.
The recommendations serve as a plan to mitigate global climate change, which has noticeably impacted Boston and the Northeast's weather conditions in recent years. It's not only a bold step forward in addressing climate change in Boston, but the report could serve as a framework for other cities and regions to map out the specific actions required to reduce emissions far and wide.
Locally, the "Carbon Free Boston" report advises that the city's policymakers and residents will have to adhere to a drastic action plan that calls for big changes to Bostonians' current ways of life, such as retrofitting most of the city's building stock with energy-efficient features and for all vehicles on the road to be electric-powered. Yet, despite the up-front investment that will take, the report also revealed that there will be a big payoff in the future.
"One of the key takeaways is that we can eliminate most greenhouse gas contributions and that the deep energy retrofits [required to do so] will pay for themselves over the lifetime of investment," says Cutler Cleveland, BU professor of earth and environment and principal investigator for the report. If all goes according to the report's guidelines, Cleveland says, "utility bills for the city as a whole will be $600 million dollars lower."
"We've always known energy efficiency is an untapped opportunity," Cleveland says. He calls the potential for $600 million in annual savings a "tremendous social benefit that could be a massive stimulus" for the city's residents.
In 2017, when Mayor Marty Walsh announced the goal of a carbon-neutral Boston by 2050, he asked the Boston Green Ribbon Commission (GRC) "to really take a look" at what it would take to achieve carbon neutrality. In turn, the GRC searched for a research group to take the lead on data collection and analysis.
"We came around to the ISE at Boston University as having the most nuanced and in-depth approach," says Amy Longsworth, director of the Boston Green Ribbon Commission.
"Boston University researchers have long been invested in understanding climate change and promoting sustainable energy; their work has informed our Boston University Climate Action Plan, which was adopted by our board in December 2017. It is tremendously gratifying to see that work being strategically applied citywide," says Boston University President Robert A. Brown.
The detailed report, based on two years of work by the ISE in close collaboration with stakeholders from the GRC and the city of Boston, contains specific options for improving energy efficiency and reducing carbon emissions across Boston's buildings, transportation, waste, and energy sectors.
"The ISE was chartered to be a University-wide 'think and do' tank," says Peter Fox-Penner, BU Questrom School of Business professor of the practice, markets, public policy, and law, and director of ISE. He says that its mission was to have impactful engagement with policymakers and industry to enable a future of sustainable energy. "In that sense, this project was so in keeping with our whole charter and whole mission to do excellent research and change the world with it."
Chris Cook, Boston's chief of environment, energy, and open space and commissioner of parks and recreation, says an important thing to note is that in contrast to other generic guidelines for reducing carbon emissions, the report's guidelines are specific to Boston itself. And rather than envisioning the use of still-developing technologies, it shows how the city can achieve carbon neutrality by 2050 through already-existing technologies.
"With great opportunities, there will be great challenges," Cook says, acknowledging the magnitude of changes that the report calls for.
But based on interactions that the city has with the students of its public schools, Cook is optimistic that the next generation will rise to the occasion. "The upcoming generation are going to be the decisionmakers before 2050, and there is a deep commitment [among them] to climate mitigation. I think they're going to be pushing us to move faster."
Cook says the city has already independently "been the recipient of advocacy from students" asking for their school buildings to be "decarbonized." The set of expectations he sees from Boston's young people, Cook says, are "nothing short of impressive."
By Kat J. McAlpine
Eight Ways Boston Could Become Carbon Free was originally published on the Boston University website.