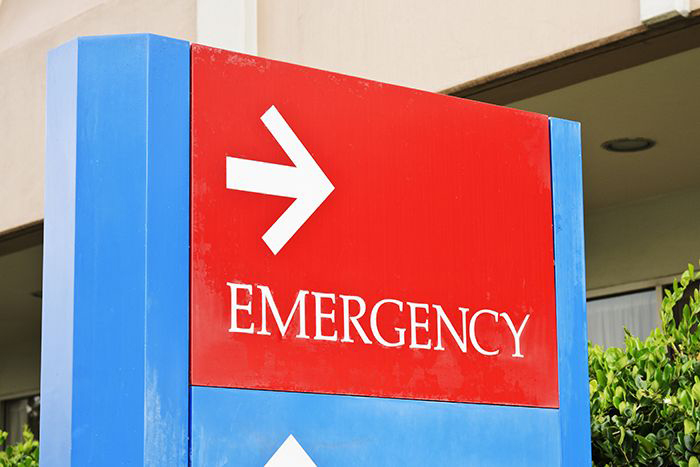 An innovative, cost-effective program at more than a dozen hospitals in Western New York provides medication-assisted treatment to opioid use disorder patients in emergency departments (EDs) and rapidly transitions them into long-term treatment at a community clinic, all within about 48 hours.
The Buffalo Medication Assisted Treatment & Emergency Referrals (Buffalo MATTERS) program, designed to expand emergency access to medication-assisted treatment, was developed by emergency medicine physicians at the Jacobs School of Medicine and Biomedical Sciences at the University at Buffalo.
Now operating in 13 hospitals in Western New York, the program is serving as a model for similar programs that other regions and states want to develop.
Funded initially as a pilot project by the John R. Oishei Foundation, the program was recently awarded $200,000 from the Blue Fund of BlueCross BlueShield of Western New York to expand throughout the eight counties of Western New York.
The plan is to use the new funding to introduce the program into six additional hospitals in the region by providing training to ED providers and recruiting community clinics to agree to treat patients discharged from the ED.
The program emerged from the growing awareness in 2014-15 that more needed to be done for the increasing numbers of opioid abuse disorder patients being seen in area EDs, where resources were being stretched as never before.
In 2015, more than 800 people died from overdoses in the eight counties of Western New York.
Area EDs were following the same standard of care as other hospitals around the nation, such as giving patients non-narcotics for symptom control, which are often not especially effective, and a list of clinic phone numbers where they could seek treatment.
Safety net
"Emergency departments are the safety net for the medical system, so they are a critical point of entry for these patients," said Joshua J. Lynch, DO, clinical assistant professor of emergency medicine in the Jacobs School, a physician with UBMD Emergency Medicine and the program's founder.
"When patients come to us in withdrawal, we need to be able to help control their symptoms and quickly transition them to community clinics," he continued. "We knew we weren't doing a great job on either one, but there weren't many good alternatives out there."
Buprenorphine in the ED
Then in 2015, Lynch and his colleagues read a paper published by physicians at Yale University. It reported that patients going through withdrawal who were given the opioid treatment buprenorphine in the ED and provided with a clinic appointment were more likely to still be in treatment a month later and to have reduced their opioid use.
"When we saw that, we wanted to do it here," Lynch said. He began to encourage colleagues to undergo the training providers need to administer buprenorphine, a controlled substance. After providers got the training, Lynch and his colleagues developed a standardized approach for evaluating and managing patients.
A member of the Erie County Opioid Task Force, Lynch then approached clinic directors to see if they would agree to see a few patients each week who had started buprenorphine in the ED either at Buffalo General Medical Center or Millard Fillmore Suburban. Both are teaching hospital partners of the Jacobs School and part of Kaleida Health.
"I was doing this on a case-by-case basis," said Lynch, who was making each call to each clinic director every time a patient agreed to start treatment.
The need for a more systematic approach was clear.
"It wasn't sustainable," said Brian Clemency, DO, associate professor of emergency medicine at the Jacobs School, who began partnering with Lynch. "We needed a framework."
Removing logistical barriers
Clemency, an expert in prehospital care, knew that most EDs in the region didn't have the resources either to implement a medication-assisted treatment program or rapidly transition patients to community clinics. But he knew they would be able to help many more patients if the barriers — many of them logistical — could be removed.
To begin with, they requested that Mercy Flight dispatchers, who are on the job 24/7, maintain a master clinic schedule for ED patients willing to be treated.
"So at three in the morning, I can make an appointment for a patient in the ED to start getting treatment at a clinic that's convenient for them," said Clemency. "And when the clinic opens up in the morning, the fax with all the patient's information is there."
The willingness of clinics to modify their policies in order to participate was a key factor. The program began with only three clinics, but as more clinics came on board, it became easier to get their buy-in, Clemency noted.
There are now 27 clinics in the Buffalo metropolitan area that collectively leave open 64 slots per week exclusively for treating ED opioid use disorder patients, usually within 48 hours of being discharged.
Patients are responding. "The patient in withdrawal who drives to the emergency room because they know they need help is typically looking for a way to get better," said Lynch. "When you hand them a list of 64 clinic appointments with 27 different locations they can choose from, they get interested."
More information about Buffalo MATTERS and a list of participating hospitals and organizations can be found at https://buffalomatters.org.
By Ellen Goldbaum
In Buffalo Emergency Departments, A Better Way to Treat Opioid Use Disorder was originally published on the University at Buffalo website.