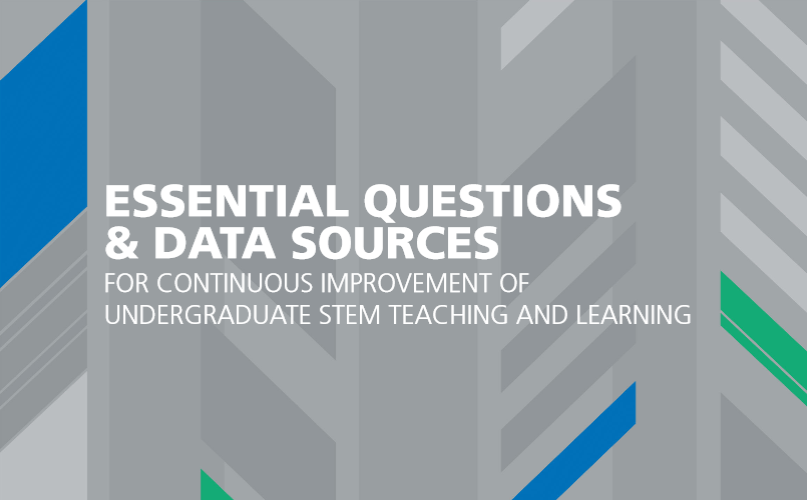 The Association of American Universities (AAU), which in 2011 launched an initiative to improve undergraduate STEM education, today published a report titled Essential Questions and Data Sources for Continuous Improvement of Undergraduate STEM Teaching and Learning. The report provides a set of key questions designed to engage institutional leaders and faculty members in discussions about teaching and learning.  The report also profiles data sources and analytical tools available to answer these questions and inform decision-making, as well as provides guidance to address common challenges in evaluating the quality and effectiveness of undergraduate education.
Essential Questions & Data Sources report is a complementary resource to the Framework for Systemic Change in Undergraduate STEM Teaching and Learning. This earlier report provides a set of key institutional elements to be addressed to enact sustainable change and showcases innovative institutional efforts implementing elements of the Framework.
"We hope this report will serve as a useful resource for research universities as they continue to work at improving the effectiveness of undergraduate STEM teaching and learning," said AAU President Mary Sue Coleman. "We are very proud and excited to support evidence-based reform efforts to improve undergraduate STEM education."
---
Founded in 1900, the Association of American Universities comprises 62 distinguished institutions that continually advance society through education, research, and discovery.
Our universities earn the majority of competitively awarded federal funding for academic research, are improving human life and wellbeing through research, and are educating tomorrow's visionary leaders and global citizens.
AAU members collectively help shape policy for higher education, science, and innovation; promote best practices in undergraduate and graduate education; and strengthen the contributions of research universities to society.