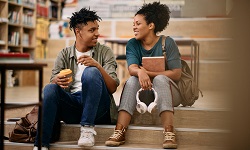 Double Pell Alliance Urges Congress to Increase Maximum Annual Pell Award to $13,000
The Double Pell Alliance, which includes AAU, sent a letter to leaders of the House and Senate Appropriations Committees last week asking them to "make bold new investments in the Pell Grant program, with the goal of increasing the maximum Pell award to $13,000."
Introduced nearly 50 years ago, the federal Pell Grant program has helped millions of low- and middle-income Americans afford a college education. As the alliance's letter noted, the program is vital to the "more than seven million low- and middle-income students – including nearly 60 percent of Black undergraduates and almost half of Latino undergraduates" who use Pell Grants to help cover the costs of college.
Congress recently increased the annual maximum Pell Grant award to $7,395, but as the letter explained, the award has lost much of its original purchasing power and currently "covers the lowest share of costs in the program's 50-year history." The letter emphasized that "raising the maximum Pell award to $13,000 is an effective, targeted way to make college more affordable and lower student debt burdens for millions of students."

ICYMI: Barbara's Blog: It's Time to #DoublePell
---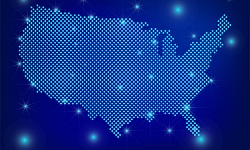 United for Medical Research Releases Report on NIH's Role in Sustaining the U.S. Economy
United for Medical Research, of which AAU is a founding member, released its annual report on how research funding from the National Institutes of Health supports jobs and economic activity throughout the country. The NIH is the federal government's medical research agency; biomedical and health research funded by the NIH through its 27 institutes and centers has led to countless discoveries and innovations that have improved the health of all Americans. According to the new UMR report, "NIH's Role in Sustaining the U.S. Economy," every $1 spent by the NIH in research funding in FY22 generated $2.64 of new local economic activity.
UMR found that, in FY22, NIH research funding "directly and indirectly supported 568,585 jobs" and the income generated from these jobs, along with research-related expenditures, produced "$96.84 billion in new economic activity nationwide." UMR also released state-level data on NIH's economic impact; every state received NIH funding in FY22. These numbers demonstrate the need for continued investments in the NIH. Thanks to bipartisan support, UMR noted, the NIH's budget has increased each year since FY16, and this growth has helped the agency "regain critical ground lost during a long period of stagnant funding."
---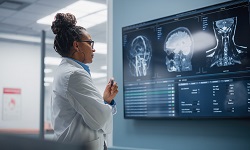 Coalitions Ask Lawmakers to Increase Funding for Education, Science, and Medical Research in FY24
As the FY24 budget process gets underway, higher education and science coalitions are asking lawmakers to grow the government-university partnership and to increase funding levels for key federal research and education agencies:
Earlier this month, the Coalition for National Science Funding, which includes AAU, sent letters to House and Senate science appropriators requesting at least $11.9 billion in funding for the National Science Foundation in FY24. The NSF is a major source of federal funding for basic research in science and engineering at research universities.

The letters noted that the CHIPS and Science Act, which passed last year, authorized $15.7 billion for the NSF in FY24 and directed the agency to lead efforts to transform the innovation ecosystem and address growing workforce needs. But the letters noted that, even before the launch of CHIPS-authorized programs, the "NSF was unable to fund more than $2 billion worth of research proposals rated 'very good or higher' each fiscal year." The letters emphasized that Congress must fund the NSF in order for new efforts to be successful and for the agency to strengthen the U.S. research enterprise.
 
Nearly 400 members of the Ad Hoc Group for Medical Research, including AAU and many AAU member institutions, joined a statement recommending that Congress provide at least $50.92 billion for the National Institutes of Health in FY24.

The statement emphasized that the NIH needs "increases that exceed inflation by 4-6%" and noted that there is bipartisan support for spending 2% of the United States' gross domestic product on research and development. The statement noted that increasing funding would expand "the NIH's capacity to make tangible progress against the wide range of diseases and conditions facing families and communities nationwide."
 
The Friends of Institute of Education Sciences, a coalition of 41 higher education organizations and universities including AAU, sent a letter earlier this month encouraging House and Senate appropriators to provide at least $900 million for the Institute of Education Sciences in FY24. IES provides scientific evidence to the Department of Education to help shape education policy. Its research and evaluations support student learning as well as student and teacher success nationwide.

The letter noted that, despite recent increases in funding, the agency "has been forced to curtail funding new research proposals," has been "unable to run competitions in education research and special education research," and has "delayed the administration of important statistical surveys." The recommended funding level, the letter noted, "would bolster the necessary education research and data infrastructure to address emerging and persistent challenges in education."
---
News of Interest
 
Higher Ed Dive: Walking the Free Speech Tightrope: How to Balance Competing Voices with Campus Safety – In an opinion piece, University of California, Davis Chancellor Gary S. May writes about the importance of free expression and what he has learned "about navigating the complexities of free speech in today's fraught climate." May writes about how free speech "remains at the heart" of universities' missions and outlines steps universities can take to tackle free speech challenges on campus.
Courier Post: Rutgers Building $567 Million New Medical School, Research Facility in New Brunswick – Rutgers University is building a new campus that will house a medical school and a translational research facility featuring "a variety of labs to advance the work of 80 research teams." Rutgers President Jonathan Holloway said that the campus – Rutgers Health at the HELIX – "will transform and affirm to the world the core value of Rutgers' research and medical education enterprise."
Inside Higher Ed: Rice Defends Affirmative Action While Supreme Court Cases Are Pending – Leaders at Rice University, including President Reginald DesRoches, released a letter defending the university's affirmative action efforts. The Supreme Court is expected to issue a decision later this year on the legality of the use of affirmative action in university admissions. "We write to you today to affirm Rice's commitment to uphold diversity, equity, and inclusion as a core part of our educational experience and research mission, and our commitment to excellence," they wrote.
The Chronicle of Higher Education: How to Combat Tribalism on Campus – In an opinion essay, Vanderbilt University Chancellor Daniel Diermeier writes about how universities can help guide students through constructive debate on campus and break down the us-versus-them mentality that taints so much of our public discourse.
CNN: Mental Health Struggles Are Driving More College Students to Consider Dropping Out, Survey Finds – A new survey by Gallup and the Lumina Foundation conducted in fall 2022 found that "more than 40% of students currently enrolled in an undergraduate degree program had considered dropping out in the past six months, up from 34% in the first year of the COVID-19 pandemic."
---
Featured Research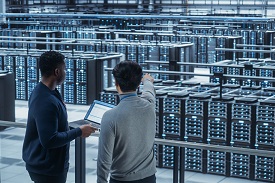 Reducing the Carbon Footprint of Data Centers
Data centers are widely recognized as energy hogs, consuming massive amounts of electric power to cool down servers that generate heat. Now new research from the University at Buffalo School of Management has produced a successful model that can help reduce data centers' energy consumption by managing how computing jobs are distributed to servers. The model could help companies "reduce their environmental impact" and "save millions of dollars in energy costs each year."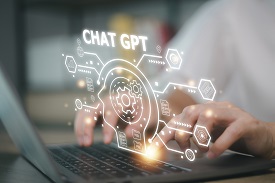 Human Writer or AI? Scholars Build a Detection Tool
Computer scientists at Stanford University have created a tool to distinguish between text written by humans and text generated by artificial intelligence chatbots, such as ChatGPT. DetectGPT can currently successfully identify authorship 95% of the time. The researchers are still finetuning the tool and eventually hope "to provide the public with a reliable, actionable prediction as to whether a text – or even a portion of a text – was machine generated."
---
Stat of the Week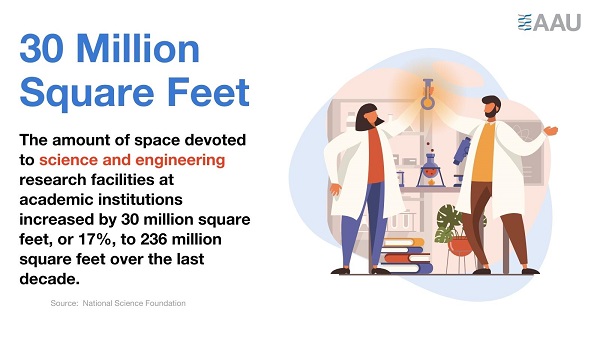 Science and Engineering Research Space at Academic Institutions
New data from the National Science Foundation show that the space devoted to science and engineering research facilities at academic institutions grew by 17%, or 30 million square feet, over the last decade.
According to The Chronicle of Higher Education, which analyzed the data, "academic institutions had 236.1 million square feet of science and engineering research space in the 2021 fiscal year, the most recent data available, up from 202.2 million square feet in the 2011 fiscal year." The Chronicle also found that 20 institutions, out of which 16 are AAU members, accounted for 26% of all research space.