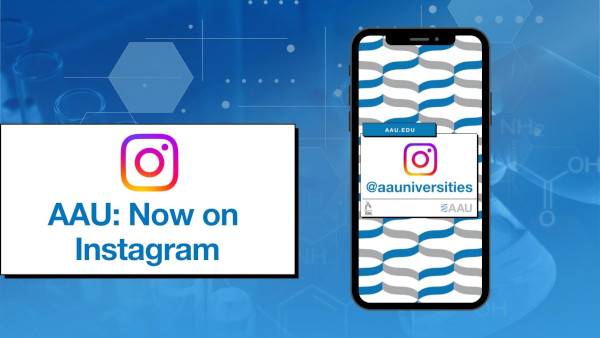 Follow AAU on Instagram
AAU is now on Instagram, where you can find stories about the amazing discoveries, breakthrough cures, and more happening across the country through the work of America's leading research universities. Follow us today at @aauniversities!
---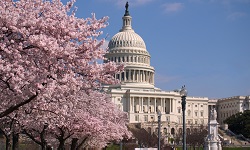 AAU Participates in Annual Humanities Advocacy Day
Earlier this month, AAU staff and interns participated in the annual Humanities Advocacy Day organized by the National Humanities Alliance. Every year, Humanities Advocacy Day brings together delegations from across the United States to make the case on Capitol Hill for increases in federal funding for research and education in the humanities. A humanities education provides individuals from all disciplines with the critical thinking and problem-solving knowledge and skillsets needed to address complex health, security, climate, and societal challenges. The humanities also prepare individuals for full participation in a modern democracy.
AAU staff and others visited various congressional offices and advocated for increased FY24 funding for the National Endowment for the Humanities, the Department of Education's international education programs, and other federal humanities programs. AAU staff also emphasized the importance of humanities learning and education and highlighted the vibrant humanities work happening at America's leading research universities in partnership with the NEH.
---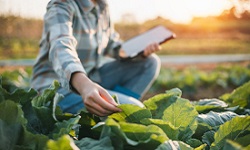 AFRI Coalition Requests at Least $500 Million for Agricultural and Food Research in FY24
The AFRI Coalition, which includes AAU, sent a letter to the leadership of the House and Senate Agriculture Appropriations Subcommittees requesting no less than $500 million for the Agriculture and Food Research Initiative in FY24. AFRI is the nation's leading competitive grants program supporting research and education in food and agriculture. Researchers working at universities across the country use competitive AFRI grants to work on issues such as nutrition and health, food safety, climate adaptation and resiliency, and more.
"This funding level for the program is needed to invest in crucial areas aimed at addressing our nation's most urgent and pressing food, agriculture, and public health challenges," the AFRI Coalition said in its letter. The coalition also emphasized the need to bolster funding to enable further investments in basic research and development and noted that "roughly 70 percent of AFRI proposals that are deemed worthy by expert review panels are not funded, simply because of insufficient funding." Appropriating additional funding, the letter said, would both "ensure our global competitiveness and national security" and help "attract, retain, and develop the next generation of scientists from diverse backgrounds."
---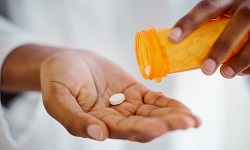 NIH Rejects Use of "March-in" Rights to Lower Prostate Cancer Drug Price
The National Institutes of Health announced last week that it will not force Pfizer Inc. and Astellas Pharma Inc. to lower the price of their prostate cancer drug Xtandi by seizing government patents.
A 2021 petition had asked the NIH to use powers granted to the agency under the Bayh-Dole Act to sidestep patents on Xtandi in order to help lower the cost of the drug. The 1980 Bayh-Dole Act grants federal agencies a limited right to "march in" and to require owners of a patent developed through federally funded research to grant additional patent licenses to others. Congress approved this provision of so-called "march-in" rights to address concerns that companies would license university inventions solely to prevent their development and entry into the marketplace. Xtandi was developed at the University of California, Los Angeles with research grants from the NIH and the Department of Defense. The drug was later licensed by one of the chief inventors at UCLA.
In a letter explaining the agency's decision to not use march-in rights, NIH Acting Director Lawrence Tabak said that NIH analyses had found Xtandi to be "widely available to the public." Tabak further noted that, due to the lengthy process of exercising march-in rights, the NIH did not "believe that use of the march-in authority would be an effective means of lowering the price of the drug." Tabak also noted that UCLA, as the patent owner, had thus far not failed the requirements for bringing Xtandi to practical application as required by the Bayh-Dole Act.
Last summer, AAU joined a letter asking Health and Human Services Secretary Xavier Becerra to reject calls to use march-in rights to control high drug prices. The letter emphasized that, while the higher education community fully shares "the widespread public concerns about the high costs of prescription drugs," there is no clear evidence that using march-in rights under the Bayh-Dole Act "will have any actual impact on reducing drug prices." On the contrary, the letter noted, using march-in rights to force companies to relicense patents would dissuade the private sector from investing in and commercializing university discoveries. "The inevitable result would be that some valuable and potentially lifesaving research outputs would not move beyond the lab," the letter noted.
---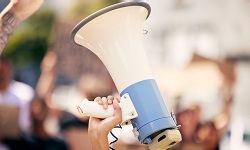 AAU, Associations Submit Comments on Department of Education's Proposal to Rescind Portions of Previous Administration's "Free Inquiry Rule"
AAU, ACE, and seven other higher education associations recently sent a comment letter expressing strong support for the Department of Education's proposal to rescind a portion of the previous administration's "free inquiry rule" that prohibits public colleges and universities from denying a religious student organization "any right, benefit, or privilege that is afforded to other student organizations at the institution" because of its "beliefs, practices, policies, speech, membership standards, or leadership standards." Institutions not in compliance with the rule risk losing access to direct or state-administered grants from the federal Department of Education.
The associations' letter noted that the original regulations had caused "confusion for institutions," contained "exceedingly vague" language, and inappropriately foreclosed "legally permitted decision-making by public colleges and universities." The letter emphasized that higher education institutions "are committed to upholding the First Amendment and all of its guarantees, including its protection of religious freedom," and that rescinding these specific regulations would not diminish those guarantees.
The associations also responded to a request for information by the Department of Education on the overall 2020 free inquiry rule. The response noted that the associations had "previously expressed grave concerns" about the regulations and that "those concerns have not abated." The associations emphasized that the 2020 regulations "undermine rather than support institutional efforts to foster environments that promote open, intellectually engaging debate on diverse topics on campus," and urged the department "to rescind these deeply troubling and problematic regulations as soon as possible."
---
News of Interest
 
Fortune: A Group of College Students Are Sending a Rover the Size of a Shoebox to the Moon – Nearly 300 students at Carnegie Mellon University have pitched in on a project that would send a "shoebox-sized rover" called Iris to the moon. Iris will fly to the moon in May on a private rocket and will spend close to 50 hours on the moon's surface. CMU students will also help control and operate Iris from the university's Moonshot Mission Control.
U.S. News & World Report: U.S. Colleges Face Loss of Racial Diversity if Race-Conscious Admissions Banned – A new study released by Georgetown University's Center on Education and the Workforce says that, without being able to consider race in college admissions, "enrollment of minority groups at selective colleges will likely stall or decline – even if the schools give more weight to factors such as class." The U.S. Supreme Court is expected to rule this summer on the legality of race-conscious admissions.
Science: White House Science Adviser Welcomes More Agile Research Agencies with 'Big Bold Goals' – In an interview, White House Office of Science and Technology Policy Director Arati Prabhakar said that one of the biggest challenges facing scientists right now is to prove "that democracy still works." She discussed how ARPA agencies, such as the Advanced Research Projects Agency for Health and the Defense Advanced Research Projects Agency, can help provide "solutions to very hard problems." She also spoke about the importance of basic research; research security; and the challenges to maintaining U.S. leadership in science.
Forbes: One in Four High School Seniors Rule Out Colleges Based on State Politics and Policies – A new survey from the Art & Science Group shows that "one in four high school seniors ruled out prospective colleges because of the politics, policies or legal situations in the states where the colleges were located." The survey found that 31% of students identifying as liberal said they would reject colleges located in states with conservative politics; similarly, 28% of students identifying as conservative said they would reject colleges in states with liberal politics.
Inside Higher Ed: Spring Enrollment Steady, But Not for All Institutions – Preliminary data from the National Student Clearinghouse Research Center shows that community colleges experienced an enrollment increase of 2.1% this spring compared to last year. Undergraduate enrollment also went up at private four-year institutions (+0.8%) and at for-profit institutions (+2.2%). Undergraduate enrollment declined, however, at four-year public universities by 0.9%.
---
Featured Research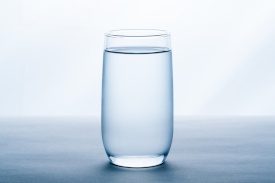 UChicago Researchers Find Way to Extract More Water from Air
Researchers at the University of Chicago and other universities have created an optimized material that helps an existing device pull 50% more water from air than it was able to previously. The team, which included scientists from the University of Minnesota, collaborated with the University of California, Berkeley "to ensure the material was synthesizable at a relatively low cost," and is now working to scale up production. This breakthrough discovery could "help soldiers in combat in arid areas or civilians in water-scare regions."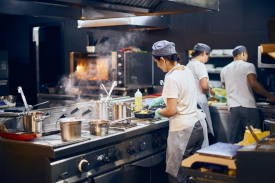 Even in Small Businesses, Minimum Wage Hikes Don't Cause Job Losses
A University of California, Berkeley economist has co-authored a study that shows that "restaurants, retail stores and other small businesses, long thought to be vulnerable to increases in the minimum wage, generally do not cut jobs and may actually benefit when governments raise minimum pay." The study found that higher wages help employers fill job vacancies, retain workers, and reduce turnover. It further found that, while some restaurants do indeed pass on higher costs to consumers, higher prices did not turn customers away.
---
From Our Feeds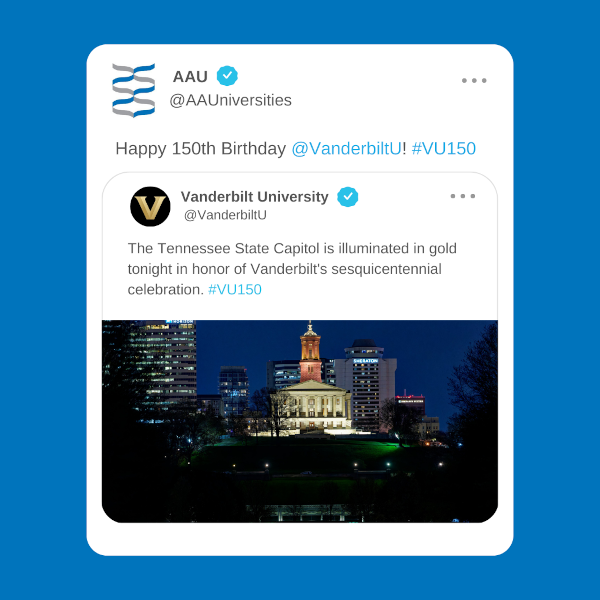 Vanderbilt University is celebrating its 150th birthday this year. The Tennessee State Capitol was illuminated in gold earlier this month to help kick off the university's sesquicentennial celebration.