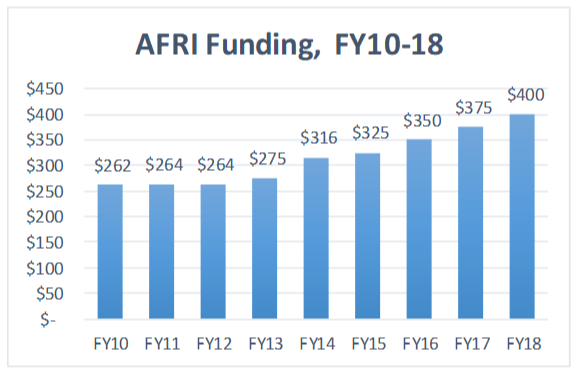 AAU urges Congress to provide at least $420 million for the Agriculture and Food Research Initiative (AFRI) in FY19.
Established in 2008, AFRI is a competitive grants program that supports high quality science to address some of our nation's most pressing challenges. Researchers working at universities across the country are tackling tough problems and developing innovative solutions. Recent successes include:
Developing better methods to clean produce to eliminate dangerous pathogens like Listeria, Salmonella, and E.Coli;
Identifying more than 150 regions of the cattle genome that can be associated with resistance as well as susceptibility to Bovine Respiratory Disease in both beef and dairy cattle; and
Discovering an innovative way to reduce runoff, keeping water clean by strategically planting strips of native prairie plants within corn and soybean fields.