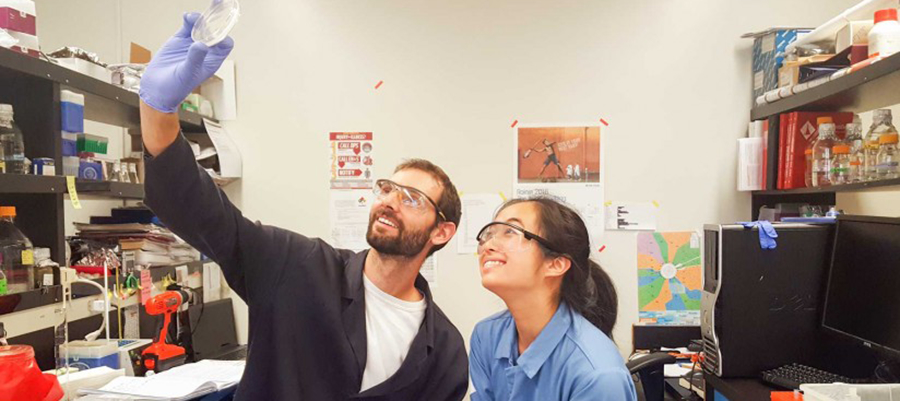 The Bridge Institute at the USC Michelson Center for Convergent Bioscience is building a dynamic, atomic-resolution, computational model of the human body to understand and improve the human condition.
"We want to move away from the silo-driven approach to a more collaborative and team-oriented approach toward solving wicked problems," said Raymond Stevens, Provost Professor of Biological Sciences and Chemistry, professor of neurology, physiology and biophysics, and chemical engineering and materials science, and director of the Bridge Institute. "We want to show the next generation of students that it is both productive and fun to collaborate in science."
The Bridge UnderGraduate Science (BUGS) Program, which recently completed its second year, aims to change the way research is taught to undergraduate and high school students, increasing collaboration among the next generation.
The program welcomed 29 undergraduates and 15 students from nine different high schools to participate in custom, individualized research projects over the summer. Mentors from 14 research laboratories at the institute guided the students through research techniques and problem solving.
Undergraduate researcher Stephanie Loekman worked with scientists collaborating with the NASA Space Biology Program on a new research project at the intersection of pharmaceutical sciences and human space exploration.
Loekman praised the patience and skill of mentor Johannes (Jan) van Dijk, who taught her the right way to clutch a pipette.
"Jan has taught me everything I know. He trained me, polishing me like an Olympian," she said. "He made sure I understand that every single thing I do affects my results."
Cross-disciplinary research
Loekman believes the type of cross-pollination fostered by BUGS is imperative to advancing scientific understanding.
"BUGS is a great way to get a holistic view of science. You really share your knowledge and I think that's beautiful."
Paying tribute to BUGS, USC Provost Michael Quick said, "We cannot survive the 21st century if we do not innovate our way out of it. Training the next generation by giving them hands-on understanding of what it means to do science at the cutting edge is the most important thing a research university can do."
Van Dijk agreed.
"BUGS gives students real-life insight into actual research and the research world," he said. "It allows them to apply proper laboratory conduct and techniques to real research that has unexpected results and provides a link between theory and practice."
Next year, the program plans to increase enrollment to 100 participants. Loekman said she would definitely urge undergraduates to apply.
"BUGS provides a forum to discuss science while paying you to do what you love and learn about what others love, too. It opens up the possibility of so many different scientific paths, and you don't have to do the research yourself in order to understand them all. That's the beauty of BUGS."
Information provided by the University of Southern California