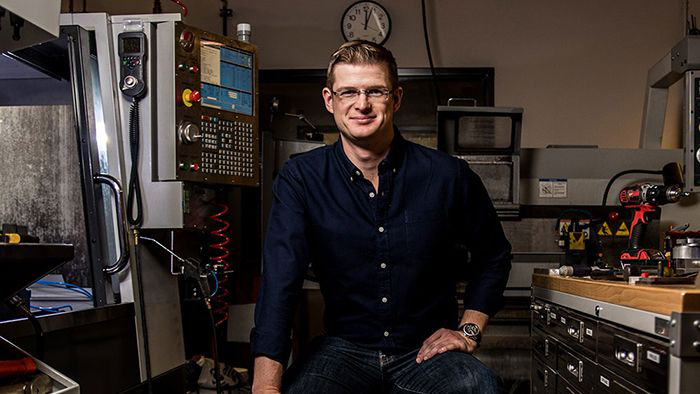 Now just six months away from graduation, senior mechanical engineering student and Marine Corps veteran Matthew Curtis is well on his way to leaving Texas A&M University with not just a degree, but a potential business as well.
Through the SuSu and Mark A. Fischer '72 Engineering Design Center and other entrepreneurial organizations on campus, Curtis has refined his design for a more effective tourniquet, inspired by his service in the military.
"I could never really pursue the idea until I came here and had access to the resources and opportunities at the university," Curtis said. "I probably could have come up with something, but it certainly wouldn't be where it is today without those resources."
Curtis was among the most recent recipients of the James J. Cain '51 award in the J. Mike Walker '66 Department of Mechanical Engineering this fall, as well as the Cynthia "Cindy" '92 and John Survil '84, and Bebe and Bruce Glasgow '73 scholarships.
The California and Washington native enlisted in the Marine Corps out of high school with plans on making it a career. After serving for four years, he returned to California to help his father, who was recovering from ankle surgery, run his business.
During that time, Curtis began to research universities and decided to study engineering. After considering several schools across the country, he selected Texas A&M.

A self-described hobbyist mechanic, Curtis was drawn to study mechanical engineering because of his natural inclination to work with his hands as well as the discipline's flexibility. He said the broad professional opportunities the department offered upon graduation were greatly appealing to him, and have already begun to serve him well in his development of a new tourniquet.
I could never really pursue the idea until I came here and had access to the resources and opportunities at the university.
Building on an idea he first had while deployed in Afghanistan, Curtis' vision for a new tourniquet is specifically aimed at creating a product that is both more durable and that can be applied in an easier, faster way – in part to reduce the human challenges associated with what is often a high-stress situation.
"In a stressful situation, your ability to concentrate and perform fine motor movements decreases drastically," Curtis said. "As much as possible equipment should compensate for that, which means it should be as simple to apply as possible so that you don't have to think about what you're doing."
Although there is still work to be done in perfecting the device, Curtis said he is confident in the effectiveness of his design. Thanks to input from fellow veterans and peers, as well as medical and industry experts, Curtis said he has been able to further refine his product to address even more challenges than in some of his earlier designs.
In addition to his academic and entrepreneurial activities, Curtis is also involved with the Peer Advisors for Veterans Education organization through Texas A&M's Veterans Resource Support Center, where he helps fellow veterans in the transition from the military to college life.
Rodney Boehm, director of engineering entrepreneurship, got to know Curtis this spring while teaching a course on startups for engineers and during a three-week study abroad trip to Italy for an engineering ethics course.
Boehm described Curtis as "a very focused student, with a great idea, who listened to constructive input and was driven to see his project to completion," and said their shared time abroad was particularly illuminating.
"During those three intense weeks, I came to better appreciate his leadership and thoughtful discussions in class," Boehm said. "He stands out because of his drive, maturity, leadership and passion."
Following his graduation in May 2019, Curtis plans to pursue a Master of Business Administration as he works to grow his business and further develop his tourniquet technology.
For students seeking to follow in his footsteps, Curtis encourages them to spend time with hands-on projects and activities as much as possible so that they can walk away from their undergraduate career with an understanding of engineering in both a practical and theoretical sense.
"Connect what you're learning in the classroom with real-world examples," Curtis said. "Just do the work, and you'll be OK."
Learn more about Matthew Cutis and the Lead by Example campaign.
By Steve Kuhlmann
Student Veteran Uses Engineering Education, Military Experience In Pursuit Of Innovation was originally published on the Texas A&M University website.