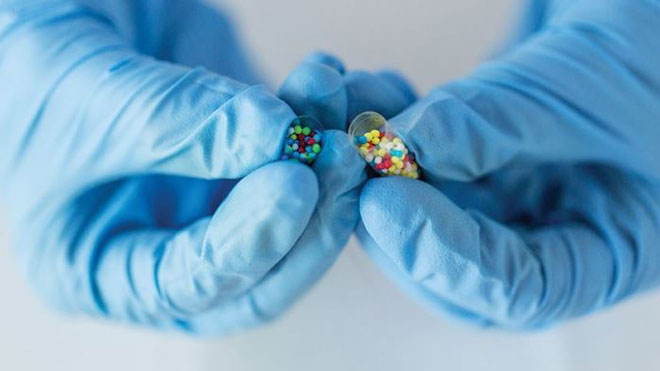 Some day, not too far in the future, devastating diseases may be treated with drugs built from specialized synthetic molecules, thanks to the research of recent UO graduate Muhammad Khalifa.
Khalifa worked for three years as a budding medical biochemist in the lab of professor Michael Haley. His exceptional work was recognized last July with the publication of a scientific paper with his name listed first—ahead of more senior members on the project and indicative of Khalifa's central role.
The paper documents a new approach for making analogs of compounds that show promise for treating disease, but actually can't be used because they are toxic. An analog is a specially constructed molecule that has an underlying structure similar to another but with different chemical and biological properties. In this scenario, analogs would have the desired positive effect, but no toxicity.
In the paper, published in the international journal Tetrahedron Letters, Khalifa's team detailed how it's possible to make a class of analogs called "amidines" that are important to the development of drugs.
"The molecules we synthesized are not going to become drugs directly," said Khalifa, a Portland native who earned a bachelor's degree in biochemistry last year. But they will contribute to the process of creating drug formulations.
"I think the important part of the paper is that we found a neat new way to make molecules that we are interested in," he said. "As a chemist, you are always building your way to molecules that have never been made before. Any kind of new wrench or other new tool in the toolbox can potentially become useful for you."
Tinkering with the Process
Khalifa's process centers on the early steps when scientists tinker with the basic building blocks for creating amidines.
Chemists have historically created amidines in acidic solutions, but that was not ideal for the type of analogs that Khalifa wanted to create. Instead, Khalifa used a basic, or alkaline, solution, which the building blocks of his amidines tolerated more easily. His approach also produced higher yields of the molecules in less time.
The new approach, Khalifa said, could be useful for making safer pharmaceuticals to treat myotonic muscular dystrophy, an inherited muscular wasting disease, as well as malaria and other tropical diseases.
To be listed as first author on an academic paper is an honor reserved for the person whose contributions were the greatest in a project. Khalifa did 90 percent of the work, including writing the paper, said Haley, who holds the title of Richard M. and Patricia H. Noyes Professor of Chemistry.
Khalifa had entered the UO with his eyes on medical school. "I wanted to be in pre-med because I was really interested in science," he recalled. "I had assumed at the time that people who liked science became doctors. By the time I got into my sophomore year, I realized that it wasn't quite that way—there were many other paths to take—and I decided that a PhD in research is the one I wanted."
From Newbie to Valued Team Member
Khalifa (right) turned to biochemistry. He got into Haley's lab—before even enrolling in an introductory course in organic chemistry—only because Haley saw promise in him.
"Normally, I do not accept undergraduate students into the lab unless they have already taken the organic chemistry lecture-and-lab sequence," Haley wrote in a recommendation for one of Khalifa's graduate-level fellowship applications. "However, Muhammad's enthusiasm to start his research career made me change my mind. I am glad I did . . . Muhammad went from being a complete newbie to a valuable member of the team."
To gain that status, Khalifa stepped up when his lab supervisor left the UO and another key student departed from the program. Instead of "throwing in the towel," Haley said, Khalifa took on an independent project to pursue the research on amidines.
Haley and Andy Berglund, also a researcher in the Department of Chemistry and Biochemistry at the time, had been developing molecules that might be effective against myotonic muscular dystrophy. Khalifa joined the project during his sophomore year.
Berglund was intrigued by pentamidine, a drug already approved by the US Food and Drug Administration to fight pneumocystis, a deadly lung disease. This medication repairs genetic defects in mice that lead to myotonic muscular dystrophy, but equivalent levels of the drug in humans are toxic.
Upon the departure of his two senior-level lab mates, Khalifa agreed to take the lead on finding a way to make analogs of pentamidine, based on efforts with amidines that his supervisor had wanted to pursue. In the end, the work provided a road map to six new analog possibilities.
His project became his senior thesis for the Clark Honors College, the subject of several professional presentations, and the paper in Tetrahedron Letters, a weekly research journal that covers organic chemistry.
"It was really exciting because it was something I worked on during my undergraduate career," Khalifa said. "And it does have relevance to the larger scientific community."
Scintillating Senior Thesis
His 50-plus-page senior thesis scored in the top 10 percent of those submitted in 2014 in the honors college and was considered the best ever seen by Louise Bishop, an associate professor of literature who was associate dean of the college when Khalifa defended his work.
"Muhammad effectively—even scintillatingly—articulated his chemistry project in a fashion that made sense to a nonspecialist," Bishop said. "Muhammad was flawless in answering questions about his topic, both to nonspecialists and to specialists, because he had so digested, lived with, his project and its import."
Khalifa's research experience at the UO wasn't limited to biochemistry, however—he also studied the local practice of mushroom hunting (or at least, he tried to). Now pursuing a doctorate in pharmaceutical sciences at the University of Wisconsin at Madison, Khalifa says every undergraduate student should seek out a research experience.
"When you get to a place like the University of Oregon, there is so much happening," he said. "It's a large school where there is research going on. It doesn't really matter what your discipline is. You don't have to be interested in being a hard-science student who wants to be a doctor to start doing what you want to do now. You can get involved in research in just about every department at the UO."
The payoff? "Whether that shows you that you definitely don't want to do research or that you definitely do, I think exploring the possibility is a key piece for finding your place or your niche."
Information provided by University of Oregon