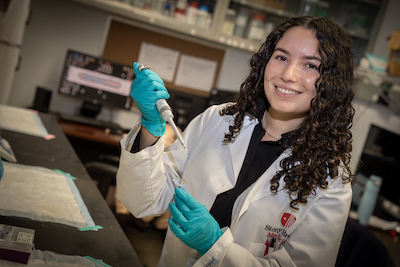 Nadine Areikat '23 — the URECA Researcher of the Month for December — is double majoring in biology and psychology and is completing her biology honors thesis on "Characterization of Apoptosis During Murine Fracture Repair" under the mentorship of Dr. David Komatsu, Department of Orthopedics, Renaissance School of Medicine. Surprisingly, she met her faculty mentor through a freshman 102 seminar course on science fiction that Dr. Komatsu was teaching, and she subsequently joined his research laboratory in Spring 2020.
"For me research was really a pillar in my education; it was such an integral component of learning at Stony Brook University," said Areikat.
Areikat participated in the URECA Summer Program in 2021. In summer 2022, she participated in the selective NIH Summer Internship Program working with Dr. Paul Hwan of the National Heart, Lung and Blood Institute. Areikat has presented research posters at multiple venues, from URECA poster symposia on campus to professional conferences in San Diego, California, and Tampa, Florida. 
On campus, Areikat has been active as president of the Doctors without Borders Student Chapter (20-22); as a representative of the Undergraduate Biology Advisory Board (2020-present); as a mentor with the INSPIRE program (Include New Students through Peer Introduction to Research Experience); and as a teaching assistant. She was also a resident assistant (2020-21) and an undergraduate fellow. 
Areikat aspires to be a physician specializing in emergency medicine. She has worked as a COVID-19 tester, gained experience as a medical assistant with the Heart Associates of Long Island, and has interned and shadowed with the Stony Brook Medicine Emergency Department. Additionally, she worked as an EMT with Mamaroneck Village EMS from 2017-2020.
Read the interview with URECA Director Karen Kernan.
This story was originally published by Stony Brook University on December 2, 2022.