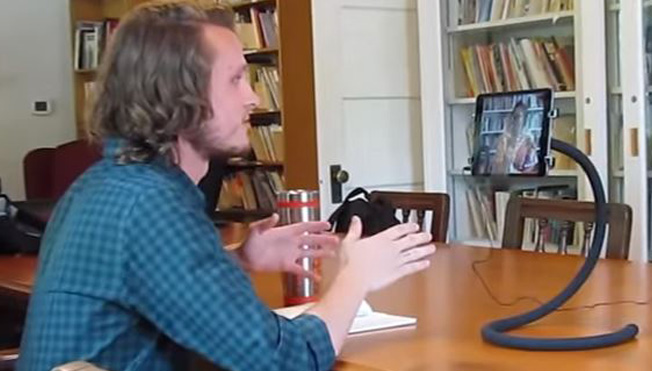 You can count Jeff Lauber as one of the many Hawkeyes who have been bitten by the travel bug.
"After high school," he explains, "I took a year off to travel and work, and I saw other parts of the world for the first time. I was addicted to traveling after that first trip, and the experience of being immersed in other cultures and languages made me interested in studying and working in them. So that was how I decided to major in International Studies."
After Lauber returned to the US, he attended a community college in Minneapolis for one year before "feeling like [he] wanted more options and opportunities" out of his college experience. Ultimately, it was the International Studies program that made his decision to transfer to the University of Iowa an easy one.
Once on campus, it didn't take long for Lauber to seek out an international niche.
"When I started [at Iowa], I began looking for opportunities to apply some of my newfound knowledge in a real-world, global setting." Talking with his academic advisor, he learned that the world-renowned International Writing Program (IWP) was looking for an intern to work with their Fall Residency Program, which aligned well with his interests in both international organizations and creative writing. After applying for and accepting the position, Lauber planned to finish the year-long internship and move on to something else.
"But," he says, "I loved working at the IWP enough that when I was offered to stay longer and work more in-depth with the Distance Learning Program [another IWP initiative], I took the opportunity." This time, he and his mentor Susannah Shive (IWP Distance Learning Coordinator) decided to structure his internship as a research fellowship, narrowing the focus and making the opportunity more comprehensive. In the spring of 2015, they applied for funding through the Iowa Center for Research by Undergraduates and Lauber was selected as a Research Fellow for both the upcoming summer and following academic year.
The IWP's Distance Learning Program creates online courses and exchanges in creative writing and literature for aspiring writers around the world. One key aspect of this programming is MOOC development (Massive Open Online Courses). MOOCs are available to anyone who wishes to enroll; there is no cost to participants and there are no application requirements.
The challenge, Shive explains, "is to design and implement teaching structures that support interactive learning in an asynchronous format at a large scale, in such a way that both beginning and experienced writers will benefit from the course." A key issue for the team is making the MOOCs as accessible as possible.
Lauber's role is to research and apply methods to both reach and adapt to the IWP's global audience. This encompasses two major components: course design and outreach. "For course design, I am looking at the course platforms and content to see how we can make it more accessible in areas of the world that have generally low internet connection or usage. When it comes to outreach, I organize live programs for our MOOCs. For example, earlier this year, I worked to set up a few live workshops around the world for our poetry writing MOOC--most successfully we had an English Language Fellow in Kazakhstan run a workshop for around 20 students in the city of Pavlodar, which ran for seven weeks."
While it might be exciting to work on such a global scale, it is not always easy.
"Naturally, I realize that I can't fix the technology issues of the entire world," Jeff admits. "But knowing if an accessibility issue is resolved can be difficult. When I set up a low-quality version of a video on a course, for example, I can look at the size of the video and then the internet capabilities of a city somewhere in the world--but I can't know for sure if the video will actually stream well in that city until someone reports a problem with it."
Outreach offers different challenges. "When I was initially researching outreach methods for organizing live workshops in other countries," Lauber recalls, "I contacted a lot of people without really knowing what would come out of it. There were a lot of outreach attempts that came back with nothing."
Lauber appreciates the obstacles, though. "When I did come across the opportunity to have the English Language Fellow in Kazakhstan lead a workshop for students there, it was not only rewarding to have a successful outcome for my work, but it also changed how I'm structuring future outreach attempts. Reaching out to English Language Fellows abroad wasn't something we had even considered, but that one positive outcome gave us the idea to reach out to more of them. For me, that was enlightening in the sense that it made me more confident to try applications for my work--even if they don't all come back in such a success, they might at least give me new ideas for how to improve on my work and come back with more success stories next time."
Such determination hasn't gone unnoticed. "Jeff has quickly proved himself an inventive and dedicated team member," Shive says. "I was confident that he would make a success of the project of researching and creating an accessibility platform for our MOOCs, and to date his work has been innovative, thoroughly researched, and reliable. His professionalism is unwavering, and his ability to balance creative goals with practical constraints is outstanding."
For students in the creative arts and humanities, as Shive explains, it can be difficult to "figure out how to capitalize on a passion for writing and literature in order to build a satisfying professional career, or to even take the first steps into that career. I think it's important for undergraduates to gain exposure to programs that may help them figure out how they will eventually make professional use of their creative interests and talents."
The IWP has certainly created such an opportunity for Lauber, an aspiring writer and journalist with "lots and lots of travel plans." Online education is becoming much more widely used in universities around the world, but few have the large-scale, international focus that the IWP's MOOCs do, and it is this global focus that excites Lauber the most.
"I've learned so many great and valuable things in my studies," he says, "but this research has allowed me to take what I've learned and apply it to something that feels more real. The applied knowledge that comes from being involved in a project like this is the most valuable experience I will have here [at the University of Iowa], and is something that will serve as a greater benefit to me in the future than if my studies stood alone."
"As each MOOC goes live and is publicized," Shive says, "thousands of participants make use of the results of Jeff's research."
For an undergraduate student and currently stationary traveler, that is quite the global impact.
Information provided by University of Iowa