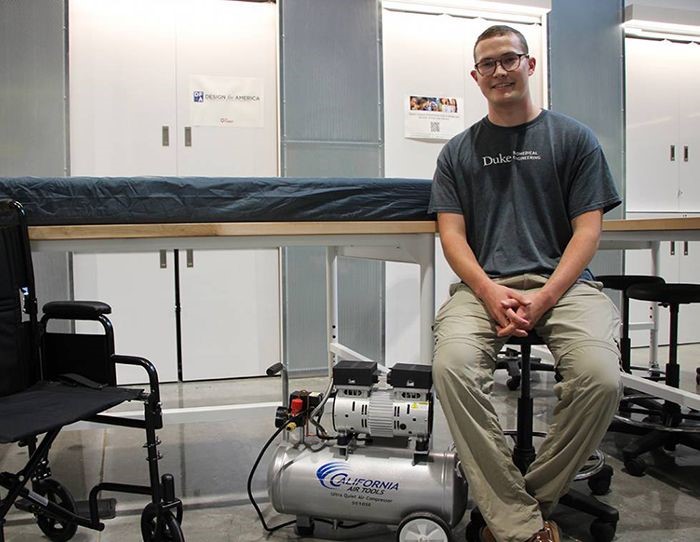 Sam Fox, a rising senior studying biomedical engineering at Duke, had an idea that would help with patient bed-to-wheelchair transfer. With the help of two entrepreneurial programs at Duke, by the end of the summer that idea will transform into a device that he can present to customers and investors.
Fox came up with the idea during spring 2016 and spent the summer refining it. When he returned to Duke in the fall, he felt confident enough in his idea to apply for two programs that would help him turn it into a tangible product: The Duke Startup Challenge, co-hosted by the Duke Innovation & Entrepreneurship Initiative and the Fuqua School of Business, and Duke I&E's Melissa & Doug Entrepreneurs.
He was accepted into both programs and has since spent time doing research and talking to customers to figure out what they want.
But even the ideation process took time, Fox said. He initially wanted to create a hammock-like device to help wheelchair users shower. But then one of his biomedical engineering professors connected him to an occupational therapist at Duke Health, and conversations with her made him realize there was a different problem that needed to be solved: transferring patients from beds to wheelchairs.
The current technology, Fox explained, involves getting a sling underneath the patient and using a hoist to transfer him or her into the wheelchair. But the process is slow, labor-intensive and comes with risk of injury to the patient and the caregiver.
Fox is working on an alternative technology that will use inflatable tubes that can be rolled under the patient before moving him or her laterally. He envisions the process as safer because the patient is never suspended in the air, as well as faster and more efficient.
Fox's project is coming to life in The Foundry, an interdisciplinary makerspace on campus geared toward engineering, energy and entrepreneurial projects. The Foundry has been a valuable space for Fox because it has the open table space he needs for his prototyping materials and because it offers locker space to store his project.
"Sam has been a great community member, and I've enjoyed watching him make progress here," said Lauren Stulgis, manager of The Foundry.
Fox is in the "intensive prototyping" stage, trying to turn a proof-of-concept idea into a device that will be testable in the field. To aid him in these efforts, Fox hired a part-time summer intern, rising biomedical engineering sophomore Venezia Leone.
"Both the Duke Startup Challenge and Melissa & Doug Entrepreneurs have helped me to gather feedback and develop my idea," Fox said. "Both programs have been valuable because they push me to answer the main questions investors will ask when I begin raising money."
But Fox already has some funding – he received the 2017 Duke BME Prize through the Duke Startup Challenge. The $5,000 prize is given to the best Duke Startup Challenge team with biomedical engineering students as a part of its leadership and is meant to to encourage students to use biomedical engineering to pursue entrepreneurship.
Although Fox knows he still has a difficult path ahead, he now feels confident that he can get a good answer to any questions that may arise. He said the Melissa & Doug Entrepreneurs program has helped him build a valuable network of mentors.
The help he has received from professors in the Pratt School of Engineering has also been critical to his work. Fox has consulted professors during every step of his project, especially his academic adviser, Robert Malkin.
Malkin said he and Fox have talked about everything from hiring interns to working with outside engineering companies.
The industry Fox is trying to enter is perfect for innovation, Malkin said, both because the existing technology has widely recognized problems and because there is a growing market for this type of technology.
Fox is also scheduled to take an independent study this fall with Roger Nightingale, an associate research professor in the biomedical engineering department, allowing him to receive course credit for working on the device. With Nightingale as his mentor for the design process, Fox will have access to the software tools he requires, and Nightingale will help Fox devise a mechanism to allow users to tilt a wheelchair safely when moving patients.
"He has a cool idea with a cool product, and I'm excited to help him out in any way I can," Nightingale said.
By Kate Jansen
Biomedical Engineering Senior Turns Idea into Device to Improve Mobility was originally published on the Duke University website.