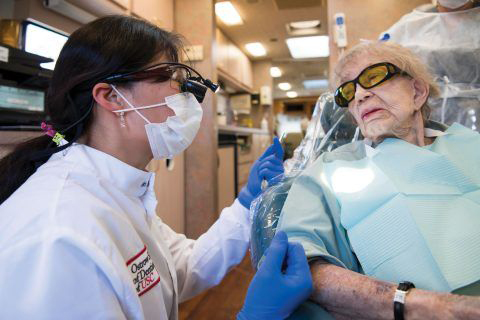 Overcoming past trauma
Gloria Schwed, a 95-year-old Hollenbeck Palms resident, is deathly afraid of the dentist. "When I was very young, 10 or so, a dentist pulled a molar without anesthetic," she recalled. "Another dentist hit an artery in the roof of my mouth, and I lost eight cups of blood. I've had a rather difficult time."
During certain treatments, which have included extractions and a partial, Schwed requested to be sedated, which can be complicated given her age.
Stephanie Alarcon, who treated Schwed at the Special Patients Clinic, used different techniques to treat Schwed safely and comfortably.
"Because her anxiety is so high, we've used an oral sedative, and that has worked really well," Alarcon said. "We've also meditated with her, and that lowered her blood pressure significantly. It's difficult for her to stay in the chair because she has back and shoulder pain, so using a pillow helps."
Alarcon saw a change in Schwed's demeanor during her most recent appointment.
"We took impressions, and Gloria was very pleasant. Afterward she said, 'Oh that was easy," Alarcon recalled. "I loved that appointment. I've been seeing her awhile, and I feel like we've developed a trust. I hope that continues."
Schwed agrees that her anxiety has improved. "[The students] do their best to calm me and pay attention to my fears," she said. "They're just so friendly, and they go slowly, explaining each step."
When it comes to being a good provider to the geriatric population, Hou said students must learn to consider more than patients' dental and medical needs.
"You have to care about the patient and be empathetic," she said. "It's about being a good listener."
When Hou shows students around Hollenbeck Palms, the tour often includes a stop to chat with Beals.
"[Lisa] likes me, and she feels that I have an input that would be of benefit to the students she brings by," he said. "They have treated me like a king, and at such a nice level, it's like we're buddies."
By Jamie Wetherbe
Dental Students Gain Valuable Experience with Burgeoning Group: Older Patients was originally published on the University of Southern California website.