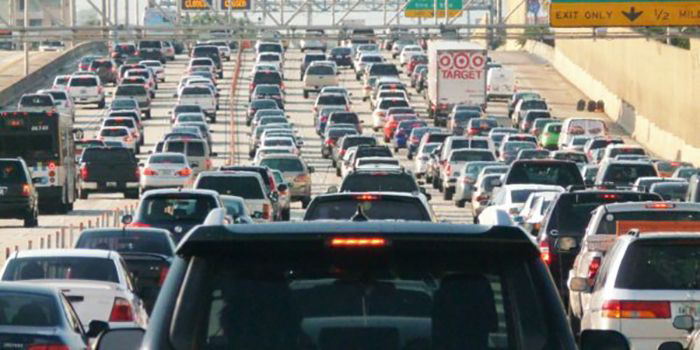 Being trapped in LA gridlock is a nightmare any Angeleno knows all too well.
However, a new app created in just 24 hours by Daniel J. Epstein Department of Industrial & Systems Engineering student Jake Beaudin and his team will offer creative solutions to the tedium of LA traffic.
The app, goodmoov, was proposed at the recent HackLA Mobility hackathon, which it won. Beaudin and his team were recently invited to discuss their app at the Consumer Electronics Show in Las Vegas during January, with the support of Daimler AG and moovel. In July, Daimler and moovel will also fly the team to Europe's Leading Technology Festival, the Tech Open Air Conference in Berlin, Germany, where they will demo the app.
HackLA Mobility challenged participant teams to spend 24 hours devising a solution to traffic problems in LA, asking them "How do we get to a future without traffic?"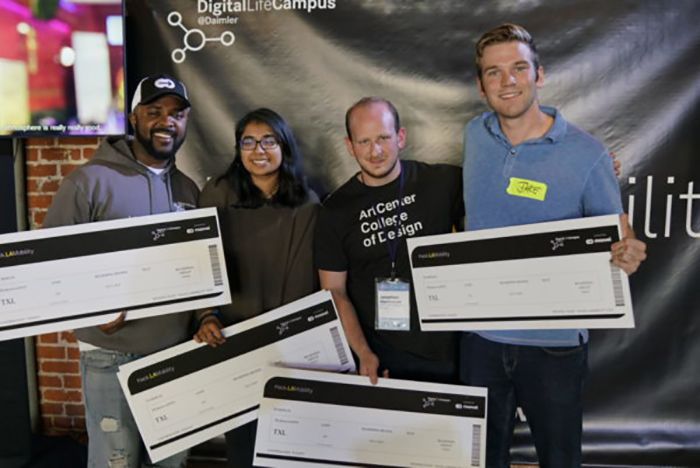 Jake Beaudin (right) and the goodmoov team, (L-R) Revell Bell (Claremont Graduate University), Pooja Nair (ArtCenter College of Design), Jonathon Markowski (ArtCenter College of Design).
---
The average LA commuter spends over 100 hours per year sitting in traffic, costing the driver around $1,400 annually.
Beaudin said that in Southern California, half of all congestion is comprised of recurrent bottlenecks. He said that when a large proportion of drivers simultaneously use routing apps like Google Maps and Waze to escape the bottlenecks, this can actually increase congestion, with multiple drivers trying to get out of the jam via the same suggested routes.
Transportation experts often propose reducing bottlenecks through congestion pricing, via a tax that discourages the use of high-traffic roads by increasing as roads get busier. Congestion pricing uses negative reinforcements to incentivize drivers to leave the most congested roads.
"We were saying, what if you did the opposite of that? What if instead of giving someone negative repercussions, we offered them positive reinforcement to leave traffic?" Beaudin said.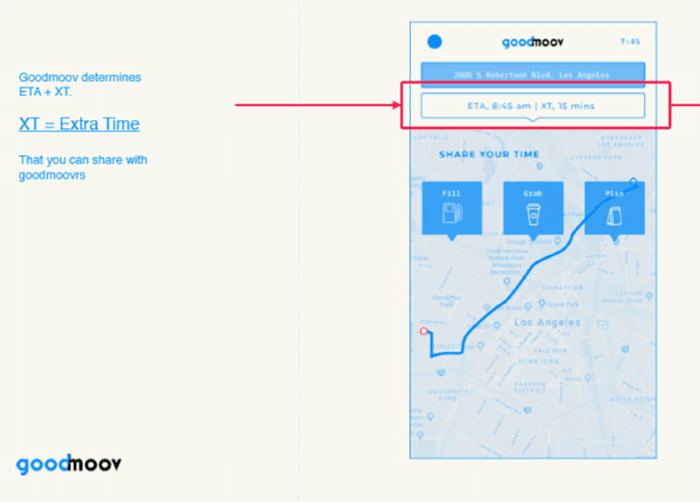 A screenshot from the goodmoov app. The app provides a suggested route for drivers to incentivize them to get out of bottlenecks.
---
The app works by removing a select number of drivers from congestion hotspots by offering them in-app points to take a different route which may be slightly longer. Beaudin said that these points could then be redeemable for a reward. The result is that bottlenecks would start to move more freely.
"One of the positive reinforcements we're suggesting for drivers would be to give them coupons to local businesses that are on the way of the alternative route. That way we are driving people to support local businesses, and people at those businesses would be incentivized provide deals," Beaudin said.
Beaudin had been working with his teammates at the tech incubator Idealab in Pasadena when the HackLA opportunity came about. They came up the concept for goodmoov within 24 hours and claimed top honors in the hackathon.
Beaudin is developing the app's overhead simulation of LA traffic movement to show how the traffic functions at present and to demonstrate with predictive analysis how the app could mitigate the problem areas.
The team has a busy road ahead of them, building out the app in preparation for its showing in Europe this summer for the Tech Open Air conference.
"Now we're working on a more complete app and a more robust stimulation to demonstrate it," Beaudin said.
By Greta Harrison
Student Wins HackLA Mobility with App to Solve LA Traffic Woes  was originally published on the University of Southern California website.