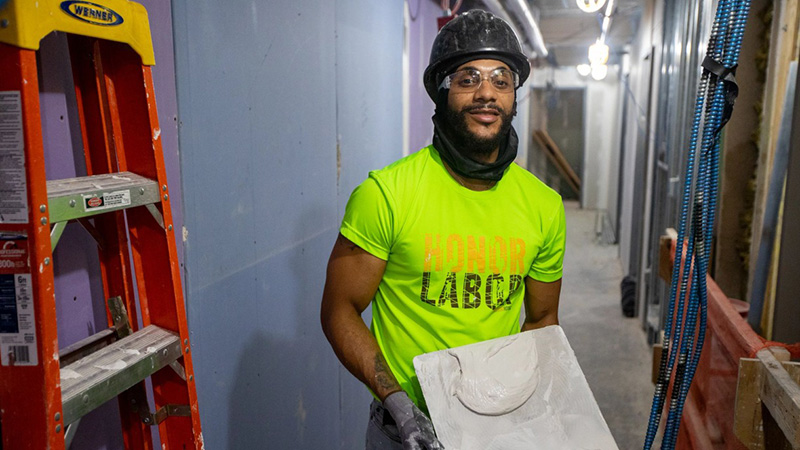 Not long ago, Christian Domenech had a job, but he didn't have a career: "I was a non-union carpenter working for a privately owned business," the Providence resident said. "But what I really wanted was to join a union."
Domenech was one of the 87% of American construction workers who didn't belong to a union, according to federal data. Like many non-union workers, he didn't have a steady stream of guaranteed work, nor did he have comprehensive benefits.
In 2020, when the COVID-19 pandemic halted construction projects across Rhode Island, some permanently, Domenech decided to make a change. He joined the construction pre-apprenticeship program at Building Futures, a Providence nonprofit that allows Rhode Islanders from all backgrounds to learn the fundamentals of a wide variety of construction trades without paying tuition or incurring debt. After five weeks of classroom and hands-on instruction, Domenech went to work as an apprentice carpenter for Sweeney Drywall. A year later, he completed his apprenticeship, joined the local carpenters' union and began to enjoy competitive pay and benefits.
Domenech's workplace since 2020? The site of Brown University's future Performing Arts Center, slated to open in 2023.
While it's no secret that new construction at Brown produces state-of-the-art facilities for students, faculty, staff and visitors, it also plays a role in jumpstarting construction careers for Rhode Islanders. Over the last 15 years, more than 320 apprentices hired by Building Futures have logged upwards of 175,000 hours on dozens of projects at Brown — and 108 of them have completed their apprenticeship programs and progressed into well-paying construction careers. Some have even continued to work on campus after mastering their respective trades.
Building Futures President and Executive Director Andrew Cortés explained that registered apprenticeship programs are a powerful engine of economic mobility because they allow people to learn and earn at the same time. Most educational programs require students to pay tuition, and many are tough to juggle alongside a full-time job — thus making them inaccessible to those with low incomes.
But at Building Futures, apprentices make a living wage from the moment they begin their education, including the weeks they spend in classrooms and other training facilities. Then, after a year or more of hands-on training, apprentices become full-time workers and union members, enjoying competitive pay and benefits.
Cortés said the organization, founded in 2007, attributes much of its success to Brown. Its partnership with the University began in the height of the Great Recession, when most capital improvement projects in Rhode Island ground to a halt. Brown was one of the only entities in the state whose projects carried on, Cortés said. 
"We started this with Brown," Cortés said. "They didn't just invest in this apprentice utilization program for their own purposes — they gave back to the community. That's why this partnership is so near and dear to our hearts."
Inside the construction classroom
At Building Futures headquarters — one corner of a sprawling former mill complex in Providence's Valley neighborhood — students split their time between classroom learning and hands-on training. On a recent spring day, a union insulator stood at the head of a cavernous classroom, teaching 13 students about insulation materials and methods.
"Would any of you turn down a placement at Brown University?" He asked.
The students shook their heads vigorously. One shouted, "No, sir!" 
Most won't have to. Cortés estimates that today, close to two thirds of all Building Futures graduates — many of whom are people from low-income households or residents who were formerly incarcerated — spend at least part of their time as apprentices on projects at Brown. Most recently, apprentices have helped complete Brown's new health and wellness center and residence hall, started work on the in-progress Brook Street residence hall and began to assemble the moveable marvel of a performance space inside the Performing Arts Center. As of March 2022, apprentices had contributed more than 50,000 of the 350,000 worker hours logged at the PAC.
In an adjacent room filled with sandbags, rebar and drywall tools and supplies, Building Futures Training Director Ian Chase prepared to welcome a new wave of students. Chase said the program's five-week training course balances skill training and strength training. Sometimes, Chase's students flip tractor-sized tires, wield sledgehammers and engage in timed tape-measuring exercises, all of which will condition them for the physically demanding work ahead. Other times, they work on longer-term projects that mirror the work they'll carry out at real-life construction sites: building a mat of rebar for a bridge, or constructing, insulating, wiring and painting office walls.
It was in this room that Andrew Ortiz, a recent Building Futures graduate, discovered his specialty of choice: taping. 
"I didn't even know people could get jobs as tapers," Ortiz admitted. But after five weeks spent dabbling in several specialties, he found he most enjoyed preparing unfinished drywall for painting, covering wall edges in tape and later putting the finishing touches on a paint job. 
Before Building Futures, Ortiz laid concrete home foundations for a private contractor and faced the same job security struggles as Domenech. Joining Building Futures' training program, he realized, would allow him to learn a variety of trades at no cost to him, eventually bringing him better job security, higher wages and good benefits. 
"I was searching for a career path," he said. "I joined this program because it will help me get union work in a respected industry."
-ANDREW ORTIZ  Taping Apprentice, Sweeney Drywall
Ortiz now works as an apprentice at the PAC; in less than a year, he'll become a journey worker and join his local painters' union.
Chase said the program's impact can extend well beyond the new skills learned during an apprenticeship, as participants create careers that make a meaningful difference in their lives outside of work.
"A lot of people who come here looking for a shot may not even have a high interest in construction, may not have even played with Legos as kids — but they're struggling to make ends meet, or they're looking to do more with their lives," Chase said. "What we're able to get across to them here can be really transformative. We have graduates who are now running their own projects, delving into local politics, buying their first homes or even second homes. I don't think we really anticipated all that."
Andrew Cortés, right, said he founded Building Futures because it was the pre-apprenticeship program he didn't know he needed as a teen.
Fourteen years and counting
Cortés said Building Futures was the pre-apprenticeship program he didn't know he needed as a teen. He grew up in a low-income household in California's Bay Area and didn't see the relevance of the high school classroom. Cortés dropped out, opting instead to earn his diploma independently at 16. Then, he said, he found himself working in a series of temporary jobs with no potential for growth.
"I was an early high school graduate who was working full-time in dead-end jobs," Cortés said. "There are a lot of people stuck in that type of life who want, who need, a pathway to a middle-class life, but they're broke."
Being accepted into the Carpenters' Union apprenticeship program proved to be Cortés's ticket out of poverty. After earning while learning over his four years of  training, he became a journeyworker. At 19, only halfway through his apprenticeship, he had saved enough money to buy a house . Now, he's facilitating that same path for many others who want stability without a traditional post-secondary education.
"I had a similar upbringing to many of the people I see coming through this program, and yet, I found a way to buy a house as a teenager, in Berkeley, without going to college," he said. "I know the apprenticeship program was what made that possible. Being able to guide others to that path is so gratifying."
When Cortés founded Building Futures, Brown was one of the first institutions he contacted. The University and the nonprofit agreed to try a pilot program, engaging a handful of construction apprentices in a 2008 renovation of what is now Page-Robinson Hall. The pilot was so successful that the two organizations soon signed a memorandum of understanding, agreeing that Building Futures graduates would contribute 15% of the total labor hours on every major campus construction project henceforth.
"It's thanks to Brown's partnership with Building Futures that every investment in our physical campus is also an investment in the Providence community," Brown President Christina H. Paxson said in a visit to the Building Futures site in Spring 2022. "We are proud to play a role in transforming local residents' lives by giving them a path toward a lucrative career."
"Brown and Building Futures share the same goals in creating opportunity and bringing value, skill and talent to the community at large by committing to the long-term promise of continuing success and possibility."
-MICHAEL GUGLIELMO  Vice President of Facilities Management, Brown University
Why does the partnership endure? In short, said Vice President of Facilities Management Michael Guglielmo, because it works. According to Guglielmo, recent studies have shown that Rhode Island's construction labor force is aging, leading to an ever-shrinking pool of qualified tradespeople who are available to work on major construction projects. Because construction is a constant presence on Brown's campus, he said, it is in the University's best interest to invest in building a pipeline of qualified entry-level workers who can one day replace the skilled workers retiring from the field.
"Brown and Building Futures share the same goals in creating opportunity and bringing value, skill and talent to the community at large by committing to the long-term promise of continuing success and possibility," Guglielmo said. "What could be better than seeing an individual enter the Building Futures program as an apprentice, and end up with a full-time position in the trades, sometimes even continuing to work on projects on College Hill?"
Cortés said Brown makes an ideal partner because it takes a longer view than most. For each of its major construction projects, the University lays out multi-year plans in advance, essentially guaranteeing long-term work for hundreds of tradespeople. By contrast, most other major construction projects in Rhode Island and elsewhere are planned in shorter chunks, guaranteeing workers just a few months of pay at a time, because the clients don't often have longer-term funding secured.
"Brown is setting an example for all agencies who purchase construction," Cortés said. "I wish everyone would follow their lead."
Those longer engagements, Chase added, can not only bring security and stability to apprentices' and journey workers' lives but can also help them fine-tune skills. Domenech said the PAC's unique layout has taught him how to build unusually shaped frames and rounded walls, rare expertise he can later tout to future employers. Another Building Futures-educated apprentice, Darrell LaFrance, recently received an Excellence in Apprenticeship award from his local carpenters' union in recognition of his dedication to continual self-improvement at the PAC site.
"It's a type of occupation where, if you show up every day, you work hard and you take it seriously, you can go really far," Chase said. "The sky is the limit."
This story was originally published by Brown University on May 6, 2022