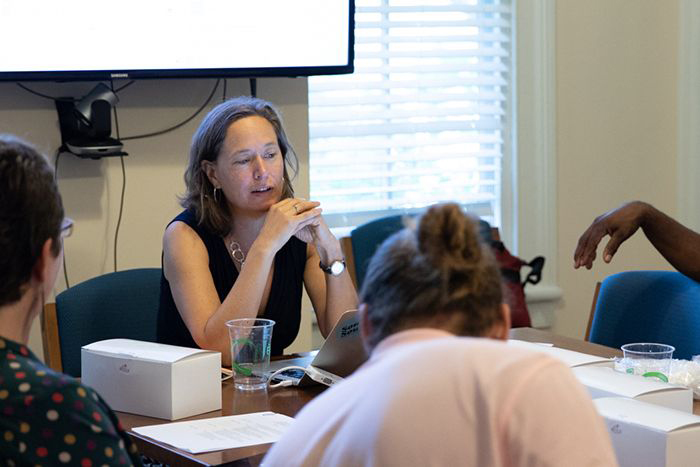 Dr. Cosmos George sat in a room full of researchers working to address infant mortality in North Carolina, wondering whether the researchers had ever stepped foot in a rural community like his.
A researcher from Duke University began presenting his plan to address the issue — he suggested storing the baby formula in the refrigerator. Warming it to feed the child. Having the baby sleep on his or her back.
But George had visited patients without electricity in his hometown of Warrenton. Many families had a one-burner stove — warming the formula meant sacrificing cooking for the entire family. And in Warrenton, four family members often sleep in a bed together, including the baby.
"It's important to visit where your patients come from," George said. "And then you will be able to understand what they're doing, why they're doing it, and to prescribe for that."
As researchers at institutions such as UNC study public health issues facing the state, they often overlook the everyday struggles people face in rural communities. But Stories to Save Lives, a joint effort between the Southern Oral History Project and UNC cardiologists, is hoping to change that.
Researchers conducted 61 oral history interviews with members of four rural counties across North Carolina this past summer, discussing people's life stories and how they interact with the health care system. George was one of those interview subjects. They've also sifted through previous interviews in the Southern Oral History Project's database and pulled out health-related clips.
The project, officially launched last year, was originally intended to help cardiologists understand sudden deaths.
But its founders have a broader vision for how it can inform medical care. Dr. Ross Simpson, a cardiologist and professor in UNC's medical school, said he eventually sees the oral histories being incorporated into the average doctor's office.
"There's no question that just doctors listening to these transcripts has an impact on that doctor," Simpson said. "We know people as patients, which is fine, that's the right way to do it. On the other hand, you also have to know people as people."
'Let's find out'
Simpson began collecting data on sudden deaths — deaths that occur out of hospital and unexpectedly — in 2013. But by 2017, he had hit a brick wall.
He knew that sudden deaths account for about 15 percent of deaths under age 65. He and his team had even started a pilot project in Surry County to help work on disease prevention.
But he knew nothing about how the people he studied had lived.
"We put [the pilot project] on hold because it was more focused on disease, more focused on hypertension or diabetes, and I just lost confidence that that would be enough to have an impact on sudden death," he said.
That's when he reached out to an unusual partner in medical research: an oral historian.
"He asked, could oral history help him," said Rachel Seidman, now the director of the Southern Oral History Program. "Could it help him understand people in rural communities and how they think about their health, how they think about their relationships with doctors?
"And I said, 'I don't know, but let's find out.'"
The pair received a grant from the University for interdisciplinary research, and begun by sifting through the Southern Oral History Program's database of 6,000 interviews. When that wasn't enough, they received another grant to conduct the 61 interviews this past summer in Harnett, Warren, Stanley and Orange counties.
At the same time, Seidman became the director of the Southern Oral History Program, and was charged with developing a research initiative for the program. She decided she would focus the program on Stories to Save Lives.
Now the pair just needed to find the people behind the stories.
'All my children'
George is originally from the Caribbean island of Grenada. He moved to Warrenton in the 1980s after attending medical school at Howard University and practicing medicine in Washington for a few years. He came to escape the bustle of city life for some peace and quiet, but he stayed for the people.
And over the years, as the babies he delivered grew older, he developed a special connection with the community.
"I look around here and so many of the things that are being done here in the county are being done by the babies that I delivered," he said. "These are all my children and all my children are doing something. It makes you feel so much at home."
But he couldn't always operate his practice the way that most doctors do. While Warrenton's poverty rate is 29 percent, the former tobacco town once thrived on farming. As a result, George's patients would often trade hogs, eggs, venison or local artwork for medical care.
"You would (not) necessarily get paid with money, but you would get paid in kind," George said.
George had to compromise between providing the best care and what was affordable for his patients.
Many of his patients left their homes with just enough gas in the car to make to his office and back. That made it difficult when ordering tests.
When patients came to his office for infections, he could have prescribed the newest antibiotic, promising just a twice a day dosage. But if he prescribed Tetracycline, which needs to be taken four times a day and costs significantly less, he knew his patients would actually heal.
"We think, 'well we have to give them the best therapy,'" George said. "The best one is the one the patient will afford and will take. These are some of the decisions based on information that you know about the patient. It takes asking a few more questions so you can get that insight."
These types of stories have helped inform the researchers as they try to draw conclusions from the project.
"This was a preliminary study, but it certainly fits with … an evolving, basic knowledge that poverty is a major, major determinant of health," Simpson said. "And if you can't fix poverty, it's hard to fix health."
More than a lack of access
With doctors like George few and far between in rural counties, he often strayed from his specialty, treating everything from lacerations to performing surgery.
"In a small town, what you find that people look at you as the doctor," he said. "When they give you that designation, you are supposed to treat everything that ails them."
Seventy of North Carolina's 80 rural counties are designated as "medical deserts" due to their lack of primary care availability. The closest hospital to Warrenton is 18 miles away.
Efforts at medical schools like UNC are already in full swing to fulfill this need. The UNC School of Medicine created a Rural Initiative Program in 2017 to recruit and train primary care physicians to serve in rural areas. Multiple state and national programs provide financial incentives to physicians who choose to practice in health professional shortage areas.
But Seidman and Simpson aren't convinced that throwing doctors at the problem is necessarily the answer. In his study, Simpson found that poverty, rather than availability of physicians, was the largest determinant of sudden death.
"That doesn't make me popular in the medical school, I can tell you," he said.
While researchers haven't been able to draw definitive conclusions yet, Simpson said the interviews have disproved some of his assumptions. He thought that social isolation would be a factor in many vulnerable adults in rural counties. But in listening to some of the historical interviews from the Southern Oral History's pre-existing database, he found that communities were tightly knit.
"If we had gone into that without thinking it through we would have made a big mistake," he said.
Seidman believes the questions that her oral historians are asking can help provide some of the context needed for rural providers.
"Some of the people who died from sudden death had gone to the doctor repeated times," she said. "It wasn't lack of access to doctors necessarily. It was, they weren't doing what the doctors told them, or what the doctors told them wasn't best practice. And so, if they weren't doing what the doctor told them, well what was that about?"
Seidman has developed an advisory board for the project with representatives from the medical school, pharmacy school, community members, health providers and more to help determine the project's place in the medical community. She hopes that it could eventually be used as a training tool in medical school, or for incoming doctors to learn about their communities.
Simpson wants to implement a pilot prevention project combining the information from the interviews and his research on sudden deaths.
And for the communities themselves, the project is empowering. It's about more than just the potential for solutions for sudden deaths or other health care issues.
Rural North Carolinians are eager to tell their stories — they just need someone to listen.
"So many times when you read history it's not accurate," George said. "I think that the person who can accurately tell their history would be that individual themselves."
By Danielle Chemtob
Stories to Save Lives: Oral Histories Help Health Providers See Patients as People was originally published on the University of North Carolina at Chapel Hill website.