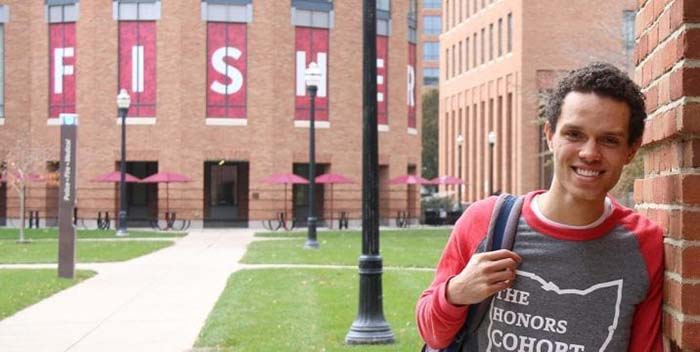 It's hard enough taking an exam at 8 a.m. but it's even harder when President Michael Drake interrupts it, announcing you will receive the highest recognition given to a student by the university.
That's precisely what happened to Christian McGhee, a fourth-year in marketing.
McGhee was a few minutes into a marketing research exam when Drake came into the classroom and began explaining the President's Prize to the entire class.
"When Dr. Drake came into the classroom to give him the award, that's a special moment … and as Dr. Drake is talking to the rest of the class about what's even going on, I saw him just kind of look down and start praying," Ty Shepfer, McGhee's faculty mentor, said. "After he got the award, he came up [and] gave me a hug. That's a special feeling as his faculty adviser for the last two years; you feel like you're part of it."
McGhee was chosen as one of two recipients of the President's Prize. According to the award's website, the prize will provide him with a $50,000 living stipend and up to $50,000 in funding for his project Getting Ready for Opportunities and Work, which aims to support incarcerated youths.
GROW has already provided support to this population through donation drives for Star House — a local homeless youth shelter — as well as visits and providing curriculum for professional development to the Circleville correctional facility. But McGhee said the goal is to have a transition house that enables incarcerated youth to become "thriving" members of society upon their release.
"There's resources available to them but there's this thing called fragmentation where you might have job skill training or professional development, but oftentimes they just simply don't have a home," McGhee said. "As a result of that they re-enter the environments they came from and get involved in a lot of the bad things they dealt with."
McGhee said this project originally started as an honors cohort Impact Challenge. He had prior experience with mentoring middle school students, but had not considered working with incarcerated youth until Susan Colbert at Ohio State Extension — an office at the university that works to connect students with Ohioans — suggested the idea to his cohort group.
Colbert connected the group with Franklin County Court of Common Pleas Judge Terri Jamison, who sat them down in her chambers and explained the struggles these youth face and the help they need.
"It was hard for us to not do anything about it after that," McGhee said, adding that the group was "compelled to really start making a difference in these kids' lives.
"And so with that, we just started putting our hands to the plow and working on helping these kids and turned out to become a nonprofit and something far greater than we ever expected."
The group is working to establish a nonprofit organization and gain 501(c)(3) status, which will allow them to get tax deductions from charitable donations and have a house donated.
"For us to have a house, we really needed the financial backing, the support of the greater university so we knew from the beginning that we were going to be applying [for the President's Prize]," McGhee said.
Although GROW is a team of individuals, Shepfer said that McGhee applied for the prize as an individual because of his leadership role in the organization.
"I think something in general that distinguishes Christian is he knows how to inspire and motivate others and with this project the aspirations are huge, it's not going to be just him and he recognizes that," Shepfer said. "He recognizes that he needs a team behind him and he's good at developing that team and getting the best out of his people."
McGhee's hope for GROW is that it will be able to be replicated and have multiple homes available to a variety of populations that need more support.
As for personal goals, McGhee said that this experience will help him as he pursues ministry.
"It enables me to live out my dream of serving others is really how I describe it. In terms of everything I really wanted to do in life, it's really just making other people's lives better," he said. "Expressing love and giving and supporting everyone I can."
Shepfer said through GROW, McGhee has found a voice and become more culturally aware and sensitive to issues happening in the community.
"When he entered the cohort program, I would say he was someone who was quiet but had a ton of capacity," he said. "Now he is someone who is confident and more than comfortable sharing his views in a respectful way."
And if you're wondering how McGhee did on his exam, no need to worry.
"I was caught off-guard and I could have [retaken] the exam because I couldn't really think straight, and I decided not to," McGhee said. "Thankfully I did alright, but I mean, you know it was really cool."
By Emily Derikito
Ohio State Student Will Support Incarcerated Youths Through President's Prize was originally published by The Lantern, the official, daily student-published university newspaper at The Ohio State University.