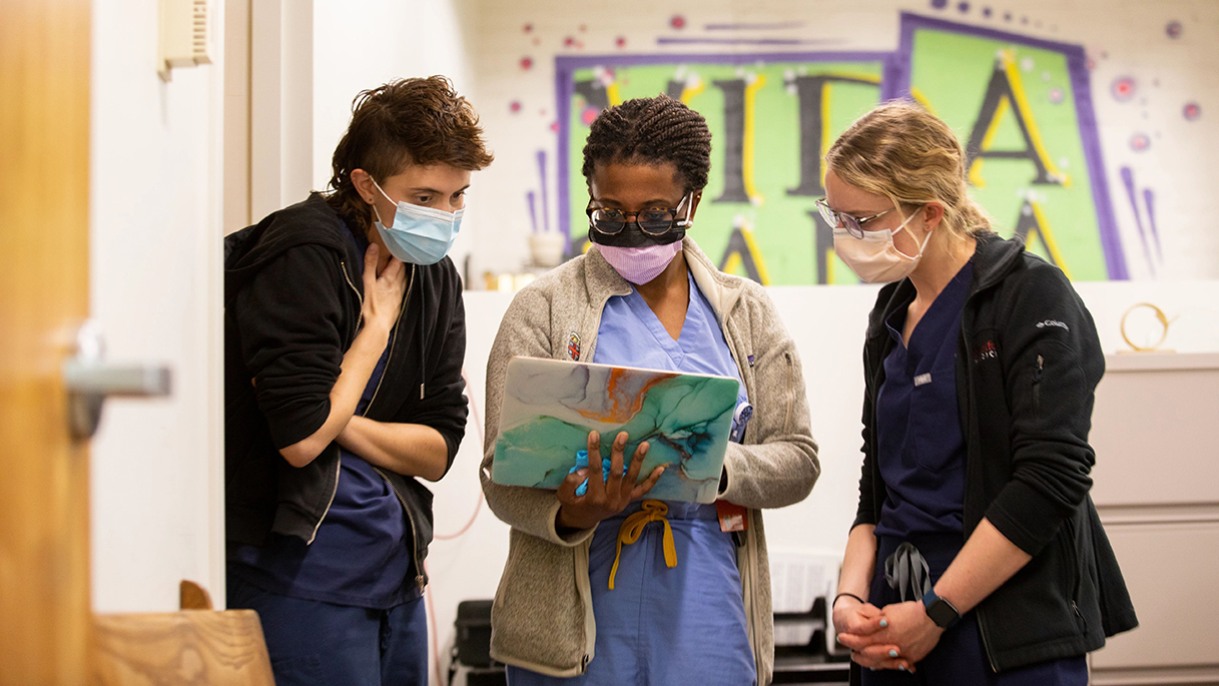 PROVIDENCE, R.I. [Brown University] — As a volunteer with Clínica Esperanza in Providence, Ella Satish, a first-year student at Brown University's Warren Alpert Medical School, was asked to commit to a few hours at least twice a semester. But no measure can truly capture how much time Satish actually spends helping the community health care clinic, which offers free, culturally accustomed and language-specific care to uninsured Rhode Islanders.
Satish first got involved as a Brown undergraduate in 2019. Enrolled in the University's Program for Liberal Medical Education, she'd decided in high school to pursue a career in medicine. She started by helping to develop a patient education project about the importance of cervical cancer screening. Then, Satish worked at the clinic, doing patient intake, interpreting — 85% of the patients speak Spanish, and the other 15% speak English, Portuguese, Haitian Creole or another language — collecting data and sharing it with staff members.
Now, in addition to interpreting Spanish for patients and physicians, helping to manage operations at the women's clinic and connecting staff to resources, Satish is the clinic's first quality improvement and advocacy coordinator. She solicits patient input on ideas to improve women's clinic care, then helps to implement them. In the role, Satish is partnering with a fellow Brown student to launch an education program about sexual and reproductive health, with the goal of empowering patients to make informed decisions about contraception, fertility and family planning, STI prevention and more.
The women's clinic at Clínica Esperanza is held every other Wednesday evening. Satish is there, every time, often staying late to clean up and wipe down exam tables.
"Spending time at the clinic is the highlight of my month," Satish said — even when the atmosphere is busy and bordering on chaotic. "After being there, I feel re-energized. I really do love it."
As part of a service requirement, the Warren Alpert Medical School students asks all first- and second-year students to engage with the community through volunteering for at least four hours during each of their first three semesters. The volunteer programs at Clínica Esperanza, as well as at the Rhode Island Free Clinic, attract between 75 and 100 medical students each year — students like Satish, who far surpass the requirements, put in extra hours (and extra semesters – many volunteers are in their third or fourth year), and expand the parameters of their roles. They bring a collaborative spirit and the energy to catalyze change. They not only want to help care for patients, but to also improve the entire health care system.
The medical students who assist at Clínica Esperanza are referred to by the small staff there as "Clínica friends."
"We also call them 'gold,'" said Morgan Leonard, director of operations at the clinic. "They're priceless. Their altruism is what makes this possible."
Working with the community, for the community
Not far from Clínica Esperanza in the city's Olneyville neighborhood is the Rhode Island Free Clinic, at 655 Broad St., which likewise serves the thousands of low-income patients who are not eligible for any form of health insurance, usually because they do not earn sufficient income to pay for insurance or because of their immigration status. Two evenings a month, the Free Clinic hosts a student clinic—a small, focused clinic-within-a-clinic— staffed and run by Warren Alpert Medical School students. Their home base is a community resource room, but student volunteers are granted full use of the expansive facilities.
During clinic hours, visitors arrive at the third floor, get a temperature check and COVID-19 screening, and check in with a receptionist. The waiting room is spacious and quiet, and the halls that lead to private exam rooms are decorated with colorful art. On a nearby wall hang files for diagnostic tests: mammograms, echocardiograms, ultrasounds, stress tests — the clinic provides these at no cost to patients. The medical students who volunteer have access to comprehensive patient services, which means they can refer patients for over 26 types of specialty care, and also recommend diagnostic tests and review results.
One of the only indications that this is a medical student volunteer clinic is a glass-walled conference room inside which students can be seen conferring with a preceptor, who is a Brown-affiliated attending physician and faculty member.During a recent student clinic, the M.D. reviewed the chart of a patient, emphasizing to students the importance of taking a thoughtful, patient-centric approach to laboratory tests.
"It looks like the lab has ordered a bunch of tests that may or may not be relevant to this particular patient," she said. "As physicians, we must always be thinking about what screening we're ordering and why we're ordering it: What will it tell us about the patient, and how can we use that information?"
Another sign: Exam rooms are filled with conversation. Each patient is seen by a pair of medical students — a pre-clinical student plus a student in their third or fourth year of medical school — who are doctors-in-training, sometimes with the help of a language interpreter. Appointments often last as long as an hour and a half.
Comprehensive appointments are key to the clinic's approach to clinical training, said Marvin Ronning, deputy director of the Rhode Island Free Clinic.
"The students listen to the patients, and the patients listen to the students," he said. "The learning and exchange of information goes both ways."
About 40 medical students from Brown volunteer each semester, according to Ronning. He said the experience helps to prepare them how to care for underserved, low-income and minority populations that may have a greater number of wide-ranging issues than patients with health insurance.
"The amount of time the medical students spend on each case allows them to get to know their patients as people instead of as problems," Ronning said. "There is time for them to engage."
A single patient is the team's sole focus for their shift, said Ingrid Mader, a second-year Brown medical student who has volunteered for the past three years. "It's not like a typical primary care appointment where the doctor is thinking, 'There's another appointment scheduled in 15 minutes, so we've got to keep on track," she said.
Mader explained that the volunteer medical providers are able to go through a long checklist with the patients as part of a thorough health assessment.
"Sometimes things come up — like about nutrition, or sexual health — that never have before, because no one has ever asked about them," Mader said. "I've heard comments from patients that they enjoy having such a dedicated deep dive into their health."
Mader signed up to help because of the clinic's dedicated connection to the local community. "I've always felt that medicine needs to be community-based in order to function well," she said.
Initially, she volunteered at the Rhode Island Free Clinic as a Spanish interpreter. This year, in addition to interpreting, providing support for clinic programs, helping with medical scribing and facilitating connections with other organizations, Mader served as the liaison between the student volunteers and the student executive board that manages the partnership with the clinic. The board handles administrative needs like managing finances and scheduling, and continuously looks for creative ways to better serve patients.
For example, Rhode Island Free Clinic patients, who are all low-income or no-income, often have to contend with challenges like food or housing insecurity, addiction or domestic violence that make it difficult for them to take care of their health. To address that, members of the student executive board are creating an app that allows volunteer medical providers to easily locate nearby nonprofits, programs and resources to address needs. A provider at the clinic can search an issue, find local resources, pull up a QR code for more information and share that with the patient during the appointment. The medical school students spearheading the project, Aneeqah Naeem and Kevin Chen, are prioritizing resources that will be particularly useful to members of the clinic's community, like legal representation for refugees and undocumented immigrants. 
Another project inspired by community need is a new training process for the patient interpreters. The majority of patients who receive care speak Spanish, Jane Chen explained, but not all of the medical providers do, so there must be an interpreter present during most interactions.
"We wanted to make sure that the interpreter services we're providing are consistent, culturally attuned and high-quality, since that's the main way that many of us are communicating with our patients," Jane Chen said.
The relationship between the Warren Alpert Medical School and the Rhode Island Free Clinic dates back more than 20 years, said clinic CEO Marie Ghazal, and it keeps getting stronger. "We feel so lucky because we feel like the medical students who volunteer here are the best of the best," she said.
Ghazal said a common misperception of free clinics is that patients risk receiving sub-par health care.
"At our clinic, it's just the opposite" Ghazal said. "The patients are seen by students that really want to be here, as well as talented, dedicated, top-of-their class doctors working as preceptors, with tremendous resources for patients to receive comprehensive care. Rhode Island Free Clinic patients know they're getting nothing less than excellent care."
Building on success
Similarly, the student clinics at Clínica Esperanza cannot be held without the participation of an attending physician. Students are responsible for recruiting licensed family medicine doctors, obstetrician/gynecologists and residents, ensuring that a shift's worth of appointments won't need to be canceled or rescheduled.
On a chilly Wednesday evening in March, Olivia Cummings, a third-year medical student managing the shift's operational flow, notes that one scheduled supervising physician would not be present. A few minutes later, word arrives that another can't make it. This is not uncommon: physicians are frequently medical residents, who work around the clock at the hospitals while completing their training.
However, the doctor is in. Dr. Andrea Arena, a Brown associate professor of family medicine, is the faculty advisor to the Brown students who run the women's clinic at Clínica Esperanza, and very often serves as the attending physician on duty. She stressed that her role is one of a clinician educator rather than boss.
"It's not like I'm running this clinic where the residents and the students just come in and learn," Arena said. "They're doing the organizing, the scheduling, and helping with patients. This truly wouldn't happen without them."
Leonard, the director of operations, said that students make sure their patients can make it to the clinic, even as nearly three-quarters of Clínica Esperanza patients report a household income of less than $15,000 per year.
"If a patient doesn't have a ride, I've seen medical students find ways to get them money for an Uber," she said.  
The students find more sustainable avenues to fund other clinic essentials, as well, Leonard noted.
Katherine Barry, a third-year student at the Warren Alpert Medical School, recently secured a $25,000 grant for the clinic from the American Academy of Family Physicians. The grant was used to buy a new autoclave to sterilize metal medical instruments and a butterfly ultrasound device that allows doctors to see and interpret ultrasound images during an office visit. It also helped pay for Pap/STI testing kits, gynecologic exam lights, and personal protective equipment like gowns, masks and gloves.
Some of the money, Barry noted, will be used to purchase needed equipment, such as blood analysis cartridges and cancer screening kits, for Clínica's primary care clinic.
Barry has volunteered at Clínica Esperanza since she was a Brown undergraduate. As a neuroscience concentrator, she considered focusing on lab research, but her volunteer experience motivated her to apply to medical school.
"Working at Clínica and seeing the relationships you can build and the ways you can get involved with the community got me really excited to become a doctor," Barry said.
Barry still helps at the clinic several times a semester. "As medical students, there are actually a lot of other places we can go to get clinical experience," she said. "But here we learn how set up, manage and successfully run a clinic. That really enhanced my understanding of how the medical system works."
More important, Barry said, is the positive impact that future doctors can make on the lives of individual patients.
"You can see the impact of your efforts and time on people's faces," she said, recalling a patient she diagnosed with cervical cancer but was then able to connect to Women & Infants Hospital for emergency treatment. "Those are the times when you wonder, 'What would have happened if we hadn't been able to provide that service to someone? What would have happened if we weren't able to help?'"
Still short on supervisory help on the same Wednesday evening, the first patient is about to arrive at the women's clinic. At the last minute, a resident with the Kent Hospital / Brown University internal medicine program enters the conference room, eager to help out. She and an interpreter from Providence College join the Brown team around a table: two pre-clinical students who will handle intake and administration, the flow manger and her trainee, Dr. Arena and the two clinical students who will examine patients.
And Satish, of course, who will be there to turn out the lights.
This story was originally published by Brown University.