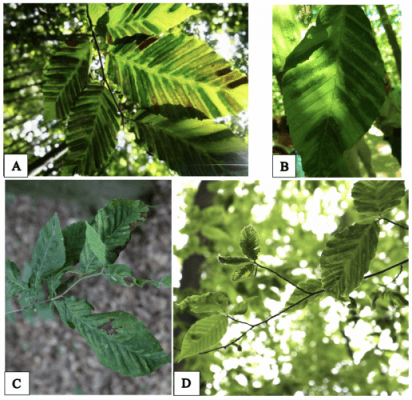 "It's hard at this point to say where this disease will go, but it has all the hallmarks of something like emerald ash borer or sudden oak death, threats to trees that start slowly and quickly pick up speed. We seem to be in that rapid expansion phase right now," said senior researcher Pierluigi "Enrico" Bonello, an Ohio State professor of plant pathology.
From 2012 to 2016, the disease spread in one Ohio county at almost 1,250 acres a year. The threat is significant in Ohio and throughout more than 30 states in the eastern U.S., where beech trees are common and serve as habitats for a variety of animal species and as food for woodland birds and mammals, including squirrels and bears.
If just half of American beech trees in Ohio were lost, it would come at environmental costs of approximately $225 million, according to an estimate in the new paper that takes into account various factors, including the trees' role in removing carbon from the atmosphere, maintaining biodiversity, furnishing habitat for wildlife, aiding in water purification, providing aesthetic and recreational value as well as other ecosystem services.
Scientists can't be sure yet what is causing beech leaf disease, but researchers at Ohio State think that the symptoms point to a microbe rather than an insect. Based on that theory, work is underway to look for an explanation by comparing DNA and RNA found on diseased tree leaves to that found on healthy trees.