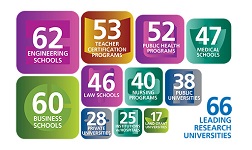 Updated Data Show the Value of America's Leading Research Universities
AAU recently updated "AAU by the Numbers," a resource that provides concrete data about how America's leading research universities boost the nation's economy, conduct the majority of our nation's most critical research, and provide tremendous value to students.
The numbers show that, in 2019, AAU member universities were responsible for 49% of all research doctoral degrees and 20% of all undergraduate degrees in STEM and the social sciences awarded in the United States. Students at AAU universities received 74% of their financial aid from their institutions and defaulted on loans at lower rates than students at other colleges and universities. AAU universities also received 62% of the federal funding allocated for basic research that year and produced innovative technologies that led to more than 5,000 patents and 668 start-ups. AAU member institutions transform lives through education, research, and innovation – and the numbers prove it.
---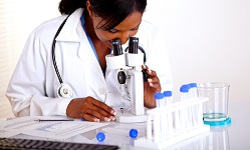 OSTP Seeks Ideas on How to Advance Equity in Science and Technology
The White House Office of Science and Technology Policy is seeking ideas from the American public on how it can guarantee that "all Americans can fully participate in, and contribute to, science and technology." Americans can visit challenge.gov and, until November 19, pitch ideas for reshaping how science is done and share examples of programs and initiatives that are succeeding in advancing equity in science and technology. "We need everybody to be able to participate in and contribute to science and technology because different experiences and perspectives are the bedrock of new scientific and technological insights, because having everybody on the team is essential to America's global competitiveness in the 21st century, and, because it's the right thing to do," said OSTP Director Eric Lander in a press release about the challenge.
The #SciEquityChallenge is the second phase of OSTP's "The Time Is Now: Advancing Equity in Science and Technology" initiative. In the first phase, OSTP conducted five roundtables on themes related to science and technology equity. More information about the roundtables can be found here.
---
President Biden Issues Executive Order to Advance Educational Equity and Economic Opportunity for Black Americans
Earlier this week, President Biden issued an executive order establishing an initiative and a presidential advisory commission within the Department of Education to improve educational outcomes and create economic opportunities for Black Americans.
The White House Initiative on Advancing Educational Equity, Excellence, and Economic Opportunity for Black Americans will focus on advancing policies that would address entrenched disparities in America's education system that prevent Black students from achieving their full potential. It would also work to ensure that Black communities have access to resources for economic success. As part of the initiative, federal agencies will participate in an interagency working group and develop plans outlining "measurable actions" that would advance educational equity and economic opportunity for Black Americans. The executive order also creates a Presidential Advisory Commission on Advancing Education Equity, Excellence, and Economic Opportunity for Black Americans.
---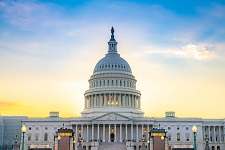 Hill Update: Democrats Continue Negotiations to Downsize Reconciliation Package; Senate Appropriations Committee Releases Appropriations Bills
Democrats continue negotiations on the FY22 reconciliation bill; reports indicate that the package is likely to be trimmed down to $1.5-$2 trillion. House Majority Leader Steny Hoyer (D-MD) told CNBC today that Democrats are aiming to agree to a framework for the final package by Monday. Earlier this week, AAU joined ACE and 63 other higher education associations in sending a letter to House Speaker Nancy Pelosi (D-CA) and Senate Majority Leader Chuck Schumer (D-NY) urging them to retain robust funding in higher education and key tax provisions provided in the Build Back Better Act as it moves through negotiations. "Federal investment in student aid and higher education are a proven pathway to economic mobility and it is essential to repairing the economic damage done by the pandemic and improving the lives of all Americans," the letter stated.
On Monday, the Senate Appropriations Committee released its remaining nine FY22 appropriations bills, including the Commerce-Justice-Science, Defense, Interior-Environment, Labor-HHS-Education, and Transportation-HUD bills. The committee has already approved the Agriculture-FDA, Energy-Water, and Military Construction-VA measures. According to the committee's press statement, the 12 appropriations bills provide a 13% increase for non-defense discretionary programs and a 5% increase for defense programs compared to last year. The texts along with explanatory statements and summaries can be found here.
The bills increase funding for several student aid, higher education, and research programs, including: a 12% increase for the National Institutes of Health, with $2.4 billion in new funding for the proposed Advanced Research Projects Agency for Health (ARPA-H); a 12% increase for the National Science Foundation; a 7% increase for the Department of Energy Office of Science; and a 9% increase for the National Endowment for the Humanities. The Pell Grant maximum award would also be increased by $400.
FEATURED RESOURCE: AAU FY22 Funding Priorities Table
---
Submit Nominations for the 2022 Golden Goose Award
The 2022 Golden Goose Award call for nominations is now open. The Golden Goose Award honors federally funded researchers whose work may sound silly, odd, obscure, wasteful of taxpayer funding, or serendipitous, but which has had a major positive impact on society. Learn more about the previous awardees here. Submit nominations by December 17, 2021, to be considered for the 2022 award. For more information about the Golden Goose Award, please visit: www.goldengooseaward.org.
---
News of Interest
 
Chronicle of Higher Education: The Damaging Myth of the Natural Teacher – Universities and professors are moving away from the notion that "good teaching is a personal matter" and focusing more on teacher training and finding better ways to evaluate good teaching. AAU is among those seeking to create institutional change through its project on finding better methods to evaluate teaching in university undergraduate STEM departments. The project is part of AAU's larger undergraduate STEM teaching initiative.
Inside Higher Ed: 'We Are Indispensable to Democracy Flourishing' – Johns Hopkins University President Ronald J. Daniels discusses a wide range of topics, from the role of universities in fostering citizenship and democracy to conservatism and free speech on campus to increasing diversity in admissions and encouraging interactions among students from diverse backgrounds once they're on campus.
Time: MIT Reckons with Early Leader's Role in Forced Removal of Native American Tribes – Francis Amasa Walker, the third president of the Massachusetts Institute of Technology, played a significant role in shaping policies that led to the removal of Native Americans from their lands to reservations. Now the university is reckoning with this difficult history.
ABC News: UNC May Keep Affirmative Action in Admissions, Judge Says – A federal judge has ruled that the University of North Carolina at Chapel Hill can continue to consider an applicant's ethnic background as a factor in its undergraduate admissions.
Politico: Biden Quietly Deciding How to Restart Student Loan Payments – The Biden administration is developing plans for how to restart federal loan repayments early next year without creating a surge in delinquencies.
Inside Higher Ed: Colleges with Federal Contracts Consider Biden Vaccine Order – Universities are trying to determine next steps as they seek to comply with President Biden's executive order on mandating vaccinations for federal contractors. This week, Pennsylvania State University announced that it will require all its employees to submit proof of vaccination as a result of the order.
---
Featured Research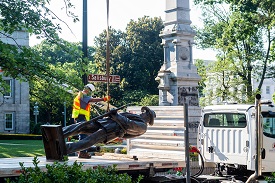 New UVA Study Finds Correlation Between Lynchings and Confederate Monuments
University of Virginia researchers merged county-level data on lynchings with data on confederate memorializations and found that "the number of lynchings was a 'significant predictor' of the number of monuments in a given area."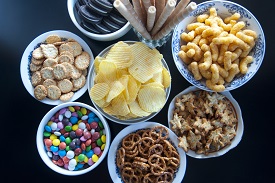 How Highly Processed Foods Harm Memory in the Aging Brain
Ohio State University investigators found that just four weeks of eating highly processed foods led to "behavioral signs of memory loss" as well as "a strong inflammatory response in the brains of aging rats."
---
Past Events
 
AAU Vice President for Science Policy and Global Affairs Tobin Smith recently participated in a webinar hosted by the Journal of Science Policy & Governance and Sigma Xi on "Higher Education for a 21st Century STEM Workforce." A recording of the webinar is now available on YouTube.