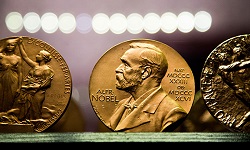 Five Researchers at Four AAU Institutions Honored with Nobel Prizes
Five faculty members at four AAU schools have been awarded Nobel Prizes this year. Princeton University's James S. McDonnell Distinguished University Professor of Chemistry David W.C. MacMillan shared the Nobel Prize in Chemistry for developing a new tool to build molecules. Syukuro Manabe, a senior meteorologist in the Atmospheric and Oceanic Sciences Program at Princeton, shared the Nobel Prize in Physics for his work on climate change. Finally, University of California, Berkeley Class of 1950 Professor of Economics David Card; Massachusetts Institute of Technology Professor of Economics Joshua D. Angrist; and Stanford University Applied Econometrics Professor and Professor of Economics Guido W. Imbens shared the Nobel Prize in Economic Sciences for providing new insights about the labor market and contributing to the analysis of causal relationships.
---
Departments of Education and Justice Release Resource on Supporting Students at Risk of Self-Harm
The Departments of Education and Justice released a fact sheet this week on how K-12 schools and postsecondary institutions can support and protect the rights of students at risk of self-harm. The fact sheet notes that students with conditions such as anxiety, depression, or substance-use disorders can have a mental health disability and are protected by federal civil rights laws.
Studies have shown that students' mental health has worsened during the COVID-19 pandemic – 83% of students surveyed by a Boston University researcher during fall 2020 said that their mental health had negatively affected their academic performance; half of all students surveyed also screened positive for depression or anxiety. This Tuesday, the University of North Carolina at Chapel Hill canceled classes for a "wellness day" following the death of a student by suicide and another attempted suicide. In a message to the campus community, UNC Chancellor Kevin Guskiewicz said: "We are in the middle of a mental health crisis, both on our campus and across our nation, and we are aware that college-aged students carry an increased risk of suicide."
The fact sheet reminds institutions of their obligations to students with mental health disabilities under the law; provides examples of violations that could prompt federal investigation; suggests steps that institutions can take to create a supportive environment for students; and offers a list of resources. Read more about the fact sheet in this press release from the Justice Department.
---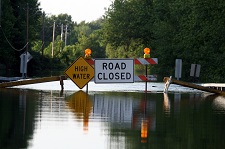 Federal Agencies Release Climate Adaptation and Resilience Plans
Last week, more than 20 federal agencies released climate adaptation and resilience plans that outline how climate change will affect each agency and how each agency plans to become more climate resilient. According to a White House fact sheet, "Agencies face a multitude of risks caused by climate change, including rising costs to maintain and repair damaged infrastructure from more frequent and extreme weather events, challenges to program effectiveness and readiness, and health and safety risks to federal employees who work outside." The Department of Defense, Department of Energy, and Department of Agriculture were among the agencies that released plans for what they're doing to prepare for climate change.
The plans were created in response to an executive order issued earlier this year by President Biden that directed federal agencies to implement a "government-wide" approach to limit climate pollution and increase resilience to the impacts of climate change.
---
Hill Update: Democrats Continue Discussions on Reconciliation; Slow Progress on FY22 Appropriations
Democrats are continuing to negotiate a deal on the topline figure for the FY22 reconciliation package. Recent reports suggest that the cost of the social spending plan is likely to come down to $2 trillion after negotiations. Speaker Nancy Pelosi (D-CA) said earlier this week in a "Dear Colleague" letter that, "in order to pass both the Build Back Better Act and the Bipartisan Infrastructure Bill on time, it is essential that difficult decisions must be made very soon." Pelosi noted that the guidance she is receiving from members is to "do fewer things well." In an interview with KQED in San Francisco, Pelosi indicated that Democrats are leaning toward fully funding their priorities, but for a shorter timeframe. Democrats have a self-imposed deadline of October 31 to pass the reconciliation bill as well as the infrastructure bill.
Late last month, Congress gave itself more time to complete the FY22 appropriations process by passing a continuing resolution that keeps the government funded through December 3. Congress has made little progress since then, however. The Senate Appropriations Committee has approved only three of its 12 bills and is yet to release the text of its remaining bills. Meanwhile, the House Appropriations Committee has approved all 12 appropriations measures, nine of which have been approved by the full House. Proposed funding levels for AAU's student aid and research priorities can be found here.

ICYMI: AAU Offers Recommendations to Congress on the Build Back Better Act
---
News of Interest
 
The Atlantic: Should Princeton Exist? – Princeton University President Christopher Eisgruber discusses a range of topics with staff reporter Emma Green, including whether elite universities like Princeton should exist, Princeton's problematic history with regard to racism, and academic freedom.
The Chronicle of Higher Education: Abolish Legacy Admissions Now – Johns Hopkins University President Ronald J. Daniels argues that legacy preference in university admissions embodies "inherited privilege in higher education" and should be ended.
The Los Angeles Times: USC to Apologize for WWII Actions That Derailed Education of Japanese American Students – University of Southern California President Carol Folt will award honorary degrees and publicly apologize to former Japanese American students whose education was hindered by the university during World War II.
Forbes: Ten Ways U.S. Doctoral Degrees Have Changed in the Past 20 Years – The new Survey of Earned Doctorates reveals insights into what has changed over the years with regard to how many doctoral degrees are granted in the United States, which institutions grant them, and who earns them.
Yale News: Yale Astronomy Professor Named Director of National Science Foundation's Division of Astronomical Sciences – In her new role, Yale University's Eugene Higgins Professor of Astronomy and former Dean of Academic Affairs Debra Fischer will be responsible for "overseeing new research projects in astronomy and enhancing opportunities for astronomers in the field."
---
Featured Research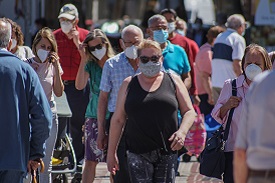 Widespread Masking Encourages Others to Wear Masks
A new study co-authored by Yale and Columbia University researchers concludes that seeing others wearing face masks in public encourages people to follow social norms and mask up themselves.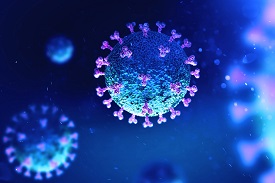 Scientists Target Next Pandemic with 'Map' to Victory over Viruses
A University of Virginia researcher has collaborated with an international team of scientists to create a database that contains extensive information on more than 800 virus strains. The resource will help scientists battle future pandemics.
---