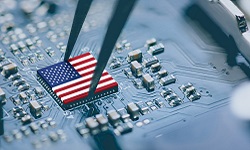 Commerce Secretary Lays Out Administration's Vision for CHIPS Implementation
Last month, in a speech at Georgetown University, Commerce Secretary Gina Raimondo laid out the Biden administration's ambitious plan to implement the "CHIPS" portion of the CHIPS and Science Act, which Congress passed last summer. The administration opened the first of three funding opportunities last week for semiconductor companies to "construct, expand, or modernize commercial facilities for the production of leading-edge, current-generation, and mature-node semiconductors." The administration plans to provide up to $39 billion in manufacturing incentives and has set aside an additional $11 billion to support advanced semiconductor research and development.
In her speech, Raimondo noted the significant national security threat posed by the decline in United States-based chip manufacturing. Semiconductors are used in everything from cars to medical devices to defense technologies, and the COVID-19 pandemic laid bare U.S. vulnerabilities to international supply chain disruptions. Raimondo said that, by 2030, the administration plans for the United States to lead in the design and production of chips as well as to have two large clusters of commercial fabrication facilities.
Raimondo also heavily emphasized the importance of workforce development to ensure the long-term success of the administration's vision. She asked colleges and universities to partner with industries to ensure students have practical skills upon graduation and for semiconductor companies to work with high schools and community colleges to train new technicians. She also encouraged chip companies to increase the hiring of women and underrepresented groups. To support workforce development, the department's new funding requirements are asking companies to outline their engagement with workforce education programs and, for companies receiving more than $150 million, to commit to providing onsite childcare to workers.
---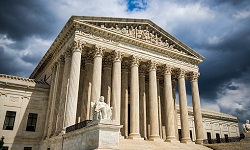 Supreme Court Hears Arguments on Biden's Student Loan Forgiveness Plan
Last week, the Supreme Court heard oral arguments in two cases challenging the Biden administration's student loan forgiveness plan, which proposes to cancel up to $20,000 in debt for borrowers who received Pell Grants in college and up to $10,000 in debt for borrowers who did not receive Pell Grants. The program is expected to cost up to $400 billion and cancel student loan debt for up to 43 million Americans.
The plaintiffs in the two cases are six Republican-led states and an advocacy group named Job Creators Network Foundation. Both cases hinge, in large part, upon the question of whether the Biden administration has the legal authority to cancel student loan debt. According to The New York Times, the Supreme Court's conservative majority "seemed deeply skeptical" of the legality of the debt forgiveness plan.
The Supreme Court is expected to announce its decision in the cases at the end of its current term, in late June or early July.
---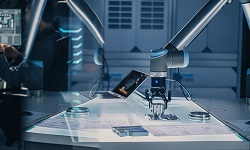 New Report Says China Leads U.S. in Key Emerging Technology Areas
A new study by the Australian Strategic Policy Institute shows that China now leads the United States in 37 out of 44 key emerging technologies that it is tracking in defense, space, robotics, biotechnology, quantum, and other areas. The institute's tracker shows that, "for some technologies, all the world's top 10 leading research institutions are based in China and are collectively generating nine times more high-impact research papers than the second-ranked country (most often the US)." The report, which was partially funded by the U.S. State Department, demonstrates the significant need for Congress to bolster its support for the U.S. research enterprise in order to make it more globally competitive in critical science and technology areas.
Lawmakers are already aware of the significant challenges this competition poses for U.S. leadership on a global stage. Last week, the House Science Committee held a hearing on how the United States can build a national science and technology strategy to compete with China. At the hearing, lawmakers expressed "discomfort about China's centrality in global supply chains in advanced industries" and an interest in how Congress can promote regional innovation across the country. Witnesses at the hearing noted that one of the best ways the United States can fuel the engine of innovation is through research and development. The House Select Committee on the Chinese Communist Party also held its first hearing last week. Parts of that hearing also focused on how the United States can boost funding to compete with China's domestic investments in technology and scientific research.
---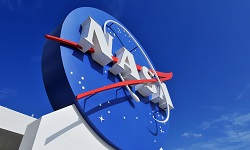 NASA Announces New Head of Science Mission Directorate
Last week, NASA Administrator Bill Nelson announced the selection of Nicola Fox as the next leader of the agency's Science Mission Directorate.
Fox was previously director of NASA's Heliophysics Division, which she joined in 2018. She has worked at the Johns Hopkins University Applied Physics Laboratory and has a doctorate in space and atmospheric physics from Imperial College London. At NASA Science, she will be responsible for "more than 100 NASA missions to explore the secrets of the universe" as well as "for fostering an inclusive, welcoming atmosphere and supporting a diverse team of scientists and engineers around the country at all stages of their careers."
---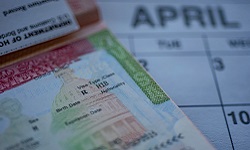 USCIS Opens FY24 Registration Period for Skilled-Worker H-1B Visas
Last week, U.S. Citizenship and Immigration Services began accepting registrations for the FY24 H-1B lottery. H-1B petitions are filed by employers seeking skilled nonimmigrant workers who hold at least a bachelor's degree. The total number of available H-1B visas for any given fiscal year is capped at 85,000. (Workers at nonprofit entities are not subject to the cap.)
Because demand for H-1B visas far outstrips availability, USCIS has instituted a yearly H-1B lottery. To enter the lottery, employers must first register with USCIS; if their registration is selected, they can then file an H-1B petition on behalf of the foreign national they wish to hire. Last year, USCIS received a record 483,927 H-1B registrations for 85,000 cap-subject H-1B visas – a 57% increase from FY22. Based on those numbers, last year, approximately six registrations were submitted for each available cap-subject visa and an H-1B registration had a 17% chance of being selected.
Every year, many international graduates of AAU universities seek H-1B status through their employers. These students, scientists, and engineers help drive cutting-edge research and development and contribute their highly sought-after technological and scientific skills to business enterprises in our nation. As AAU noted in its joint report with the Business Roundtable last year, "increasing the number of H-1B visas available and exempting from the annual cap H-1B professionals with advanced degrees in STEM fields from accredited U.S. universities or foreign degree equivalents" is key to ensuring that our country continues to attract and retain the world's best and brightest talent.
The FY24 H-1B registration period will run through 12:00 p.m. ET on March 17. If USCIS receives enough registrations by March 17, it will randomly select registrations and send selection notices via users' myUSCIS accounts. If it does not receive enough registrations, all properly submitted registrations will be selected. USCIS expects to notify users by March 31.
---
News of Interest
 
Inside Higher Ed: The Kids Aren't All Right – But Hope Can Help – Barnard College President and Dartmouth College President-elect Sian Beilock wrote an opinion piece about how colleges can help students cultivate hope and improve their mental health. Young people today, Beilock noted, face "historic rates of depression, anxiety and also hopelessness." The absence of hope, she wrote, "can deeply impact areas like academic achievement, success at work, the quality of one's relationship and even health outcomes." Colleges can help students, Beilock argued, "by teaching them to see themselves as capable agents of change."
Columbia Daily Tribune: Mizzou Celebrates Record Research Spending in 2022, Topping $432 Million – The University of Missouri spent more than $432 million on research in FY22, a new record for the institution. "Research expenditures correlate with important outcomes of scholarship including citations, books published, highly-prestigious recognition of faculty to conferral of doctoral degrees," said Missouri Chancellor Mun Choi.
Higher Ed Dive: Columbia University Becomes First Ivy League Institution to Go Permanently Test-Optional – Last week, Columbia University announced that it is permanently dropping the requirement for applicants to provide ACT or SAT scores for undergraduate admissions. The university said that students can still provide test scores but that "the submission of test results will be viewed only as one additional piece of information among the many factors that we will consider in our continued practice of a holistic and contextual review process."
The Register-Guard: University of Oregon's Launch Oregon Promises Big Entrepreneurship Opportunities – The University of Oregon has created a new program to help faculty and student researchers at the university turn their innovative ideas into successful startups. Launch Oregon takes inspiration from similar initiatives at the University of California, Los Angeles and Georgia Institute of Technology and will be the first program of its kind in Oregon.
Chicago Tribune: Group Founded by Mark Zuckerberg to Spend $250 Million on New Chicago Biotech Hub, with Researchers from Northwestern, UChicago and UIUC – The Chan Zuckerberg Initiative is investing $250 million to create Chan Zuckerberg Biohub Chicago, which will bring researchers from Northwestern University, the University of Chicago, and the University of Illinois Urbana-Champaign to study the connections between the immune system and inflammation. Northwestern Vice President for Research Milan Mrksich said that the biohub would be a "real boost" to Chicago's "biotech ecosystem."
---
Featured Research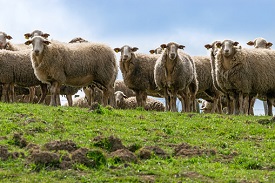 Surprising Benefits of
Using Sheep as
Lawn Mowers
Sheep can help cut both grass and stress, according to new research at the University of California, Davis. Sheep left to nibble on campus lawns, researchers found, both fertilized and improved urban landscapes and helped improve students' mental health and well-being.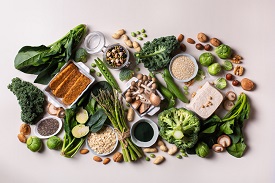 Keto vs Vegan: Study of Popular Diets Finds Over Fourfold Difference in Carbon Footprints
Scientists at Tulane University compared popular food diets and found that keto and paleo diets have the highest carbon footprints while also being the most nutritionally deficient. The study found vegan diets to have the lowest carbon footprint and pescatarian diets to have the highest nutritional value.
---
Upcoming Events
 
The White House Office of Science and Technology Policy is hosting a virtual forum on "Campus and Community-Scale Climate Change Solutions" on Wednesday, March 8, from 1:00 – 3:30 p.m. ET.
The forum, organized with OSTP by the University of Washington, the Massachusetts Institute of Technology, and other universities, will bring together college and university leaders and educators from across the country as well as federal agency leaders to discuss how colleges are working innovatively to make campuses more sustainable and resilient while supporting climate change mitigation efforts in the surrounding local, state, and indigenous communities.
---
From Our Feeds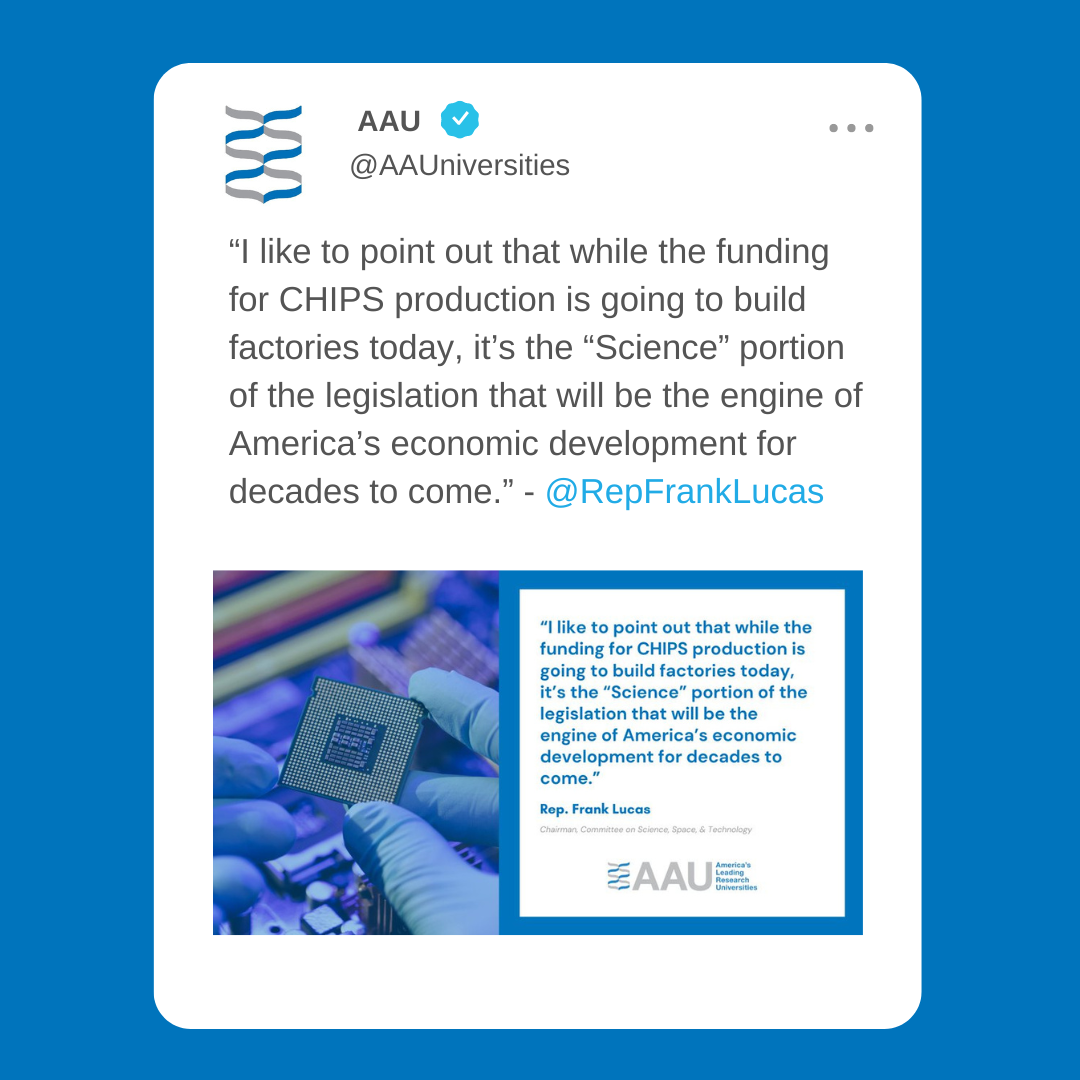 Last week, the House Science Committee held a hearing on how the United States can remain competitive against China and build a national science and technology strategy. "I like to point out that while the funding for CHIPS production is going to build factories today, it's the 'Science' portion of the legislation that will be the engine of America's economic development for decades to come," said Chair Frank Lucas (R-OK) in his opening statement at the hearing.