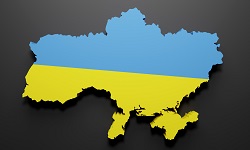 Homeland Security Secretary Mayorkas Extends Temporary Protected Status to Ukrainians in the United States
Yesterday, the Department of Homeland Security announced that Homeland Security Secretary Alejandro Mayorkas has extended Temporary Protected Status to eligible Ukrainians in the United States for 18 months. TPS is a benefit that protects beneficiaries from deportation and allows them to live and work in the United States and to apply for travel authorization. It does not, however, provide a path to obtaining a green card or U.S. citizenship.
TPS is usually granted to individuals from countries that are facing ongoing armed conflict, environmental disasters, or extraordinary and temporary conditions. To be eligible for TPS, Ukrainian nationals, including Ukrainian students and individuals with no nationality who last habitually lived in Ukraine, must have continuously resided in the United States since March 1, 2022. Applicants must also meet other eligibility requirements and undergo security and background checks. More information about how to apply for TPS and eligibility requirements will be published by DHS in the Federal Register.
AAU is closely monitoring the impact of the Russian invasion on higher education and university research. Earlier this week, AAU President Barbara R. Snyder issued a statement condemning the Russian attack on Ukraine and urging the State Department and DHS to do everything they can do to accommodate the special needs of Ukrainian students and scholars studying and working in the United States. AAU also joined ACE and 11 other higher education associations in sending a letter urging the two agencies to "provide as much flexibility and support as possible for Ukrainian students and scholars currently in the United States, and for students and scholars seeking to leave Ukraine during the current crisis."
As the letter noted, the higher education community has always stood by displaced international students and scholars, whether during the pandemic or previous political upheavals and military conflicts across the globe. AAU stands ready again to support Ukrainian students and to ensure that their anguish and uncertainty over the fate of their homeland and loved ones does not get compounded by personal uncertainty over their own legal status in the United States.
---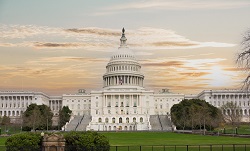 Hill Update: Lawmakers Continue Negotiations on Appropriations; President Biden Calls for Action on Competitiveness Legislation in State of the Union Address
Roll Call reports that a White House request for $32.5 billion in supplemental aid for Ukraine and pandemic relief is complicating negotiations over the FY22 omnibus spending bill. In addition, negotiators are also working through a long list of policy riders. The current deadline to pass a spending bill to avoid a government shutdown is March 11. Senate Appropriations Ranking Member Richard C. Shelby (R-AL) noted that, to meet that deadline, lawmakers would need to get a final deal by Tuesday. Punchbowl News reports, however, that it is increasingly likely that Congress will need to pass an additional continuing resolution to fund the government past March 11 and to give lawmakers more time to finish putting the $1.5 trillion funding package together.
In other congressional news, on Tuesday, President Biden addressed the nation in his first State of the Union message since taking office. He spoke about a range of issues, including the Russian invasion of Ukraine, the need to invest in American manufacturing and innovation; his plan to fight inflation; and more. He also mentioned several AAU priorities and called on Congress to pass pending competitiveness legislation; to increase Pell Grants and support for HBCUs; and to fund ARPA-H, the Advanced Research Projects Agency for Health.
Noting that the United States no longer spends as much on research and development as China does, the president asked Congress to pass the bipartisan innovation act "that will make record investments in emerging technologies and American manufacturing." President Biden was referring to the pending conference agreement between the House-passed America COMPETES Act and the Senate-passed U.S. Innovation and Competition Act. "To compete for the jobs of the future, we also need to level the playing field with China and other competitors," he said.
AAU tweeted about the president's comments and noted how passing the COMPETES Act would help bolster U.S. competitiveness and help us win in the 21st-century economy. Earlier this week, AAU also sent a letter to congressional leaders outlining our research and higher education priorities for the pending competitiveness legislation. The letter urged House and Senate leaders to prioritize provisions in the bills that would bolster and sustain the United States' leadership in global science and innovation and to eliminate provisions that would impede our ability to accomplish that goal. AAU also asked Congress to reach a bipartisan agreement quickly and to provide the requisite appropriations to effectuate the policies and programs authorized in the final legislation.

The president also called on Congress to "increase Pell grants and increase our historic support for HBCUs." AAU commended the president's proposal on Twitter and noted that Congress should go further and #DoublePell. In renewing his call for Congress to fund ARPA-H, President Biden said, "ARPA-H will have a singular purpose – to drive breakthroughs in cancer, Alzheimer's, diabetes, and more."
---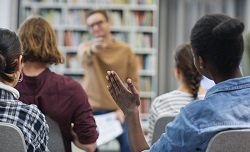 AAU, Associations Issue Statement on the Importance of Free and Open Academic Inquiry and Debate on Our Campuses
AAU joined 92 other higher education associations in issuing a statement on the importance of open academic inquiry and debate on campus. "To best serve American society, higher education institutions are committed to transparent intellectual inquiry and academic excellence, free speech, and civil discourse," the statement noted.
The statement pointed out that recent efforts to "suppress inquiry, curb discussion, and limit what can be studied violate the basic principles of free speech" and foreclose the "evaluation of complex and challenging ideas." Such measures, the statement said, "undermine the very purpose of higher education." The statement continued: "Outside a few narrow exceptions, proposals to ban speech based on the idea expressed are not only constitutionally suspect but fundamentally at odds with the values of a free and open society."
The statement emphasized that even though "controversial and contentious topics deserve a place in the curriculum," classroom discussions and campus speech should be respectful and must not violate the law or threaten violence. "Open academic inquiry and vigorous debate are core values of higher education, and America generally, and we must never waiver in our commitment to these vital principles," the statement concluded.
---
AAU, Associations Submit Comments on State Department's Proposal to Increase Visa Fees
AAU joined ACE and 23 other higher education associations in submitting a comment letter in response to the State Department's proposal to increase visa application processing fees for several nonimmigrant visas, including F-1 student visas and J-1 exchange visitor visas. Under the proposed rule, fees for F, M, and J visas would go up by 53%, from $160 to $245 per application; the application fee for waiving the two-year residency requirement for J-1 exchange visitors would increase to $510, up 325% from the current fee of $120; and fees for H and L visas for employment in the United States would rise by 63%, from $190 to $310. According to the department, the increases would ensure that the fees better align with the costs of providing consular services.
The letter expressed concern that the considerable fee increases would come at a "precarious time when U.S. colleges and universities are working hard to return international student enrollments to pre-COVID levels" and when "the numbers of international students and scholars has started to drop following a decade-long historic growth." The letter acknowledged the State Department's rationale for seeking the fee increases but asked the agency to proceed "in a thoughtful manner" and to ensure that fee increases are coupled with quicker processing of applications. "An expectation of predictability and efficient visa processing is essential as we continue to seek to encourage international students to enroll and study at U.S. institutions of higher education," the letter noted.
The Compete America coalition, of which AAU is a member, also submitted a comment letter in response to the State Department's proposal. Compete America expressed support for the agency's "full cost recovery" goal and asked the State Department to use the funds to improve consular services, address visa consular processing backlogs, and process J-1 waiver determinations in a streamlined manner.
---
News of Interest
 
Bangor Daily News: MIT Severs Ties with Russian School After Ukraine Invasion – Citing Russia's "unacceptable military actions" in Ukraine, the Massachusetts Institute of Technology severed ties with the Skolkovo Institute of Science and Technology in Moscow last Friday. The Skolkovo Institute was established in 2011 by MIT in partnership with the Skolkovo Foundation as part of a Russian government effort to advance scientific and technological innovation in Russia.
The Washington Post: On College Campuses, Invasion of Ukraine Sparks Protests, Other Acts of Solidarity – College students across the United States are organizing protests, fundraisers, and panel discussions in response to the Russian invasion of Ukraine. Students have held demonstrations at Columbia University, Stanford University, Pennsylvania State University, the University of Wisconsin–Madison, and elsewhere to show solidarity with Ukraine.
The Cedar Rapids Gazette: University of Iowa Formally Installs President Barbara Wilson – Barbara Wilson was officially installed as the University of Iowa's 22nd president last week during a celebration of the university's 175th anniversary. She's the third woman to lead the university.
Politico: UC Berkeley Prepares to Slash Enrollment After California Supreme Court Ruling – The California Supreme Court rejected an application from the University of California, Berkeley to stay a lower court ruling to cap future enrollment at 2020-21 levels. The university said that the mandated enrollment freeze will result in 5,100 fewer offers of admission this fall.
The Register-Guard: University of Oregon to Create New Institute for Behavioral Health with $425 Million Gift – The University of Oregon announced Tuesday that it is establishing a new institute focused on children's behavioral and mental health with the help of a $425 million gift from Connie and Steve Ballmer. The Ballmer Institute for Children's Behavioral Health will be based in Portland and will offer a yearlong certificate program later this year followed by a bachelor's program in fall 2023.
TribLive: Eric Barron: University Innovation, Investment Keys to Pa. Growth – Pennsylvania State University President Eric Barron writes about how colleges and universities can incubate entrepreneurism and innovation in local communities. For example, Invent Penn State, "a commonwealth-wide initiative to spur economic development, job creation and student career success," provides entrepreneurial services and resources across Pennsylvania. Barron calls Invent Penn State a "stellar example of how public universities in partnership with their states, outside investors, and others can boost their state's economic position and create a cascading effect that stimulates invention, supports new ventures, creates jobs, and advances the workforce." He urges governors and state legislatures across the country to make similar investments and to use higher education to catalyze economic change.
The Hill: America's Competitive Edge Is Shrinking – Congress Can Reverse the Trend – Norman R. Augustine, retired chairman and CEO of Lockheed Martin and former undersecretary of the Army, urges Congress to pass pending competitiveness legislation and to provide the research investments it calls for. Without increased federal funding in the nation's scientific and research enterprise, Augustine writes, America will "awaken one day in the not too distant future to find itself a formerly competitive nation."
---
Featured Research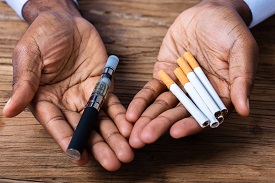 Evidence Grows for Vaping's Role in Gum Disease
Researchers at the New York University College of Dentistry have found that e-cigarettes alter oral health and may contribute to gum disease. The research showed that e-cigarette users had a different oral microbiome than nonsmokers and cigarette smokers.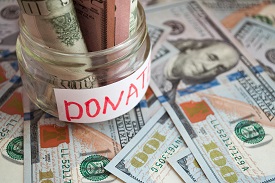 For the Uninsured, Crowdfunding Provides Little Help in Paying for Health Care and Deepens Inequity
University of Washington researchers analyzed campaigns on GoFundMe and found that crowdfunding for medical costs is the least successful in states that are under-insured and where people hold the highest medical debt.