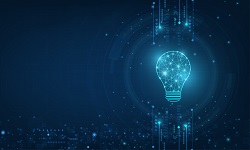 NSF Establishes New Directorate to Expedite Technological Development
Earlier this week, the National Science Foundation announced that it has established a new directorate – the first time in 30 years the agency has done so – to accelerate the development of breakthrough technologies and products and to help bring them to market faster. According to the NSF, the Technology, Innovation and Partnerships (TIP) directorate will benefit the lives of all Americans through technological advancement, strengthen U.S. competitiveness, grow the economy, and help cultivate a workforce for the future.
A key component of TIP is its Lab-to-Market Platform, which will "provide pathways for researchers, startups, small businesses and aspiring entrepreneurs to move their ideas from the lab to society while gaining access to a range of NSF resources." The Lab-to-Market Platform includes the Innovation Corps, Convergence Accelerator, Partnerships for Innovation, and America's Seed Fund programs at the NSF.
Over time, TIP will establish regional "innovation engines" throughout the country to help advance technological research and development at a regional level. TIP will also collaborate with higher education, industry, and other community partners to establish education pathways that would enable all Americans to pursue educational and career opportunities in science and technology. The NSF has selected Erwin Gianchandani to lead the new directorate.  
---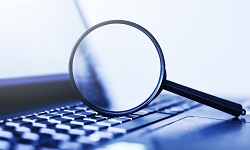 AAU, APLU, AGU Host Workshop on the Role of Universities and Disciplinary Societies in Accelerating Public Access to Research Data
The Association of American Universities, the Association of Public and Land-grant Universities, and the American Geophysical Union are hosting a workshop this week to explore what universities and disciplinary societies can do to accelerate public access to data from federally funded research. The workshop builds on the AAU and APLU Accelerating Public Access to Research Data project and the AGU We Share Data project, both funded by the National Science Foundation.
The Accelerating Public Access to Research Data project aims to broaden the sharing of research data and results because doing so contributes to good science. Easy access to research findings allows scientists to build on previous work and helps accelerate scientific progress and innovation. In 2017, AAU and APLU issued a report with a series of recommendations on how universities can increase public access to research data and how they could collaborate with one another to advance these efforts. The report also included recommendations on how federal agencies could help facilitate data sharing at universities. Since then, AAU and APLU have hosted a series of conferences and workshops to discuss challenges as well as successes in making research data publicly available. In 2021, the two associations published a guide with recommendations to help universities create robust systems for ensuring effective public access to high-quality research data.
The workshop taking place this week brings representatives from professional and disciplinary societies into the conversation and provides a space for participants to identify how universities, disciplinary societies, and federal agencies can collaborate to support data access. Conversations at the workshop will help inform next steps for the project and our efforts to engage a broader community of faculty members and relevant organizations on this ongoing important issue.
---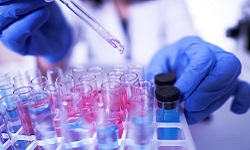 Senate HELP Committee Passes PREVENT Pandemics Act Authorizing ARPA-H
Earlier this week, the Senate Health, Education, Labor and Pensions Committee voted 20-2 to advance the Prepare for and Respond to Existing Viruses, Emerging New Threats, and Pandemics Act (PREVENT Pandemics Act, S. 3799). The bill contains language authorizing the creation of the Advanced Research Projects Agency for Health (ARPA-H). In addition, yesterday, the House Energy and Commerce Committee's Health Subcommittee held a mark-up hearing on two bills, the Advanced Research Project Agency–Health Act (H.R. 5585) and the Cures 2.0 Act (H.R. 6000); both measures contain language authorizing ARPA-H. It is unclear how the different ARPA-H provisions contained in the three House and Senate bills will be reconciled – H.R. 5585 focuses solely on ARPA-H, but H.R. 6000 and S. 3799 are larger, more sweeping measures that do not currently have direct companion bills in the opposite chamber.
President Biden proposed the creation of ARPA-H in 2021 to streamline and accelerate research in biomedical and health sciences to fight against diseases such as cancer and Alzheimer's and to improve the health of all Americans. The agency is modeled after the famed Defense Advanced Research Projects Agency (DARPA), which funds emerging technologies for use by the military. The FY22 spending bill contains $1 billion for the agency once it is authorized.
---
News of Interest
 
Dallas Morning News: Texas A&M Recognized as a Hispanic-Serving Institution – The federal Department of Education officially designated Texas A&M University as a Hispanic-serving institution this month. Hispanics must constitute at least 25% of an institution's full-time, enrolled undergraduate population in order for it to be granted HSI status. The designation will allow Texas A&M to access federal funds to help students succeed and to expand educational opportunities.
Los Angeles Times: Amid Student Housing Crisis, UCLA Becomes First UC Campus with Four-Year Room Guarantee – With the openings of two new apartment buildings this fall, the University of California, Los Angeles will become the first University of California school to guarantee four years of below market-rate on-campus housing to first-year students. Research shows that on-campus living has multiple benefits for students, including higher grade-point averages, increased engagement and social belonging, and faster graduation times.
The Sacramento Bee: Gavin Newsom Signs California Law to Override Court Decision Capping UC Berkeley Enrollment – Earlier this week, the California legislature unanimously passed a bill overriding the California Supreme Court's decision to freeze enrollment at the University of California, Berkeley. The passage of the bill allows the university to restore thousands of admission slots for incoming students.
Forbes: MIT Receives $100 Million Gift to Form New Multidisciplinary Design Center – The Massachusetts Institute of Technology will use a $100 million gift from the Morningside Foundation to establish the MIT Morningside Academy for Design, "a multidisciplinary center intended to serve as a focal point for design research, education, and entrepreneurship."
The Chronicle of Higher Education: U. of Missouri Commits $500 Million to Faculty and Staff Raises – University of Missouri President Mun Y. Choi announced recently that he is committing $500 million toward performance-based salary increases for faculty and staff at the Columbia campus. The increases are part of MizzouForward, a $1.5 billion, 10-year campaign to foster research and innovation at the University of Missouri.
CBS Chicago: University of Chicago to Begin Offering Full-Tuition Scholarships to Undergrads Affected by Ukraine War – The University of Chicago announced earlier this week that it will offer full-tuition scholarships to undergraduate students affected by the war in Ukraine. The university will also expand "programming in college readiness and college application preparation for students from Ukraine."
The New York Times: Inside the High-Stakes Race to Test the Covid Tests – Over the past two years, researchers from Emory University, Georgia Institute of Technology, and other Atlanta institutions have been working with the National Institutes of Health and the Food and Drug Administration to speed up the development of new COVID tests and to ensure their accuracy and efficacy. The team's work has led to FDA authorizations of dozens of tests, including several over-the-counter products.
---
Featured Research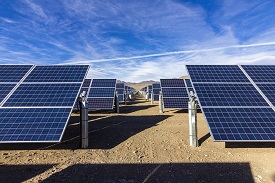 How to Clean
Solar Panels
Without Water
Dust accumulation on solar panels can cause significant reduction in output, but cleaning them wastes valuable drinking water. Now, researchers from the Massachusetts Institute of Technology have developed a waterless system to automatically clean solar panels. The new system both improves the efficiency of solar installations and reduces operational costs.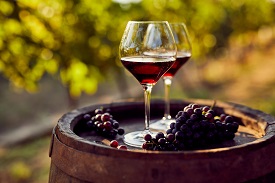 Chemical Analysis Reveals Effects of Wildfire Smoke on Grapes and Wines
Grapes can absorb volatile compounds in wildfire smoke to produce an unpleasant taste in wine known as "smoke taint." Scientists at the University of California, Santa Cruz collected hundreds of grape and wine samples from California and Oregon and used them to analyze the compounds that cause smoke taint. They also developed procedures that winemakers can use to determine whether their grapes and wines have been affected.