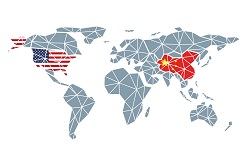 New Congress, New Reports Bring Heightened Scrutiny of U.S.-China Research Collaborations
While the advancement of scientific research requires both open international collaboration and safeguarding proprietary information, America's leading research universities are preparing for increased scrutiny from Congress and other bodies seeking to reduce undue influence from competitor nations like China. In one of its first actions earlier this month, the House voted 365-65 to form a new bipartisan committee focused on assessing the economic and competitive threats China poses to the United States. The committee will have the power to open investigations, hold public hearings, and make policy recommendations on U.S.-China matters. The panel's formation signals Congress's increased appetite for monitoring China's influence on the nation's scientific research and innovation enterprise.
Two reports issued recently also focus on U.S.-China collaborations, particularly in the area of scientific research. The newly formed Center for Research Security and Integrity released a report earlier this month focusing on the scale of existing scientific research collaborations with China. The report argues that research collaborations with China can contribute to that nation's efforts to modernize its military and can undermine U.S. economic competitiveness in critical technological areas. The report recommends that the U.S. scientific establishment undertake proper risk assessments and restrict research collaborations with certain Chinese entities. A summary of the report's findings is available here. 
Also last week, the National Academies of Sciences, Engineering, and Medicine (NASEM) Committee on Confucius Institutes at U.S. Institutions of Higher Education, chaired by Dartmouth College President Philip J. Hanlon, released a report proposing a set of criteria that the Department of Defense could use to develop a waiver process for institutions that maintain Confucius Institutes and apply for DoD research funding.
Confucius Institutes usually support Chinese language instruction and also offer cultural events on college campuses. The institutes have come under increased scrutiny from Congress in recent years because they receive funds directly from the Chinese government. A majority of Confucius Institutes have closed in the past few years and only a handful still remain.
Many leaders in the scientific community are concerned that ever-more-stringent security measures to prevent the theft of scientific research by foreign entities are threatening scientific openness and international collaboration among researchers. At a NASEM workshop held last November, AAU Senior Vice President for Science Policy and Global Affairs Toby Smith cautioned against going too far when it comes to research security. "Our very job at universities is to disseminate knowledge," he said.
America's leading research universities are committed to working with governments, research funding agencies, and others to mitigate threats from foreign entities while ensuring that those efforts do not undermine the spirit of collaboration and openness that drive scientific innovation and progress.
---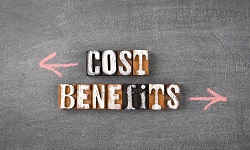 Education Department Proposes Plan to Publish Annual List of Higher Education Programs Whose Costs Exceed Their Benefits
Earlier this month, the Department of Education issued a request for information on how best to identify "low-financial-value" postsecondary programs that cost a lot but do not provide adequate financial returns for students or prepare them sufficiently for the workforce.
According to the agency, students who borrow loans to enroll in "low-financial-value" programs often struggle to repay their debts. It hopes that publishing an annual list of such programs would improve awareness and shield students from the negative consequences of borrowing loans to enroll in them. Right now, the agency is seeking input on what "measures and metrics" it can use to determine which programs would meet the "low-financial-value" definition. The public can comment on this request until February 10. AAU is currently discussing joining other higher education organizations to submit potential comments on this request.
---
President Biden Announces National Science Board Appointments
Last week, President Biden announced that he is appointing eight individuals to the National Science Board, which establishes policies for the National Science Foundation and advises the president and Congress on issues related to science and engineering. The board consists of 25 members appointed by the president.
Four of the eight new appointees are affiliated with AAU member institutions:
Deborah Loewenberg Ball, University of Michigan
Dorota A. Grejner-Brzezinska, The Ohio State University
Keivan Stassun, Vanderbilt University
Wanda E. Ward, University of Illinois Urbana-Champaign
White House Office of Science and Technology Policy Director Arati Prabhakar and NSF Director Sethuraman Panchanathan released statements applauding the announcement. "I am delighted that President Biden has appointed these world-class scientific and engineering leaders to the National Science Board," said Prabhakar. "I am especially proud that the president's appointments will make this the most diverse National Science Board in history, working to deliver results for every American," she added.
---
News of Interest
 
NPR: Nemat Shafik Is Named the First Woman to Be President at Columbia University – Columbia University announced that London School of Economics President Nemat "Minouche" Shafik will serve as its next president. The economist will be the first woman to lead Columbia and will replace current president Lee Bollinger in July.
The Hill: Harvard Medical School Announces Withdrawal from U.S. News & World Report Rankings – Harvard University Medical School announced that it is withdrawing from the annual U.S. News & World Report's rankings of top medical schools. Dean George Daley took issue with the rankings' methodology and noted that rankings "cannot meaningfully reflect the high aspirations for educational excellence, graduate preparedness, and compassionate and equitable patient care that we strive to foster in our medical education programs." The move comes after several top law schools, including Harvard Law and Yale Law, also announced their withdrawal from the rankings.
The Texas Tribune: Texas Universities Block Access to TikTok on Campus Wi-Fi Networks – Texas public universities, including the University of Texas at Austin and Texas A&M University, have blocked access to TikTok on their campus Wi-Fi and wired networks in response to a directive from Texas Governor Greg Abbott. The directive cites TikTok's collection of user data and connection to the Chinese government as reasons for restricting access to the app.
The New York Times: Alarmed by A.I. Chatbots, Universities Start Revamping How They Teach – ChatGPT uses an advanced form of artificial intelligence to generate text in response to user prompts. Teachers, concerned with how students might be misusing the chatbot to write essays and complete assignments, are changing how they teach and the nature of the work they assign to students. Universities are also taking steps to educate students about academic integrity and to implement the use of programs that can easily identify AI-generated text.
CNN: Federal Student Loan Office Has Lots to Do but No New Money to Do It – The Federal Student Aid Office did not receive any funding increases in the FY23 spending bill. Now, with a flat budget, the office is preparing for potential student loan forgiveness; the end of the pause on student loan repayments; a rehaul of many student loan repayment plans, including the public service loan forgiveness program and the income-driven repayment program; and updates to the federal student aid application form known as FAFSA.
---
Featured Research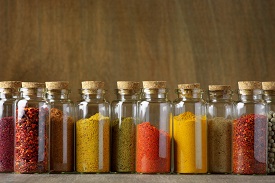 Spice Containers Pose Contamination Risk During Food Preparation
A new study by researchers at Rutgers University and North Carolina State University finds that, during food preparation, spice containers can become easily cross-contaminated with microorganisms from raw meat or poultry products that are capable of causing foodborne illnesses. The researchers found that the most frequently contaminated objects in the kitchen are spice containers, followed by cutting boards and trash can lids.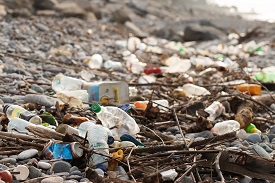 Do Voluntary Corporate Pledges Help Reduce Plastic Pollution?
Duke University researchers examined corporate pledges to reduce plastic pollution and found that only a few corporations have prioritized "reducing their use of virgin plastic" or reducing their net plastic usage. The researchers also found that most commitments included "no timelines, no deadlines, [and] no quantifiable ways of assessing if progress was being made." According to the researchers, global plastics production is expected to double by 2040.
---
Stat of the Week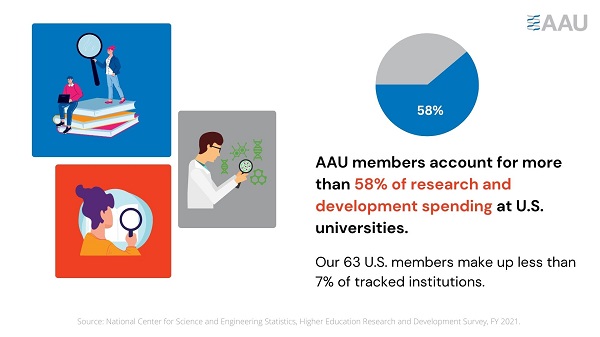 AAU Members Responsible for More than Half of R&D Spending at U.S. Universities
AAU's 63 members in the United States account for more than 58% of all research and development spending at U.S. universities, according to the FY21 Higher Education Research and Development survey conducted by the National Science Foundation. AAU members composed only 7% of the 910 U.S. institutions the NSF tracked for this survey, which included institutions that award bachelor's degrees and spent at least $150,000 on R&D. The survey underscores the outsized role America's leading research universities play in innovating for the future and in improving the health and well-being of all Americans.