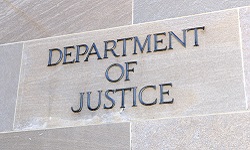 DOJ Ends Controversial China Initiative and Broadens Strategy for Countering Nation-State Threats
Earlier this week, Assistant Attorney General Matthew Olsen announced that the Department of Justice is launching a new strategy for countering nation-state threats that ends its controversial and country-specific "China Initiative." The new strategy, Olsen said, will take a "comprehensive approach that draws on the full extent of our tools and authorities to address the alarming rise in illegal activity from hostile nations."
Unveiled by the Justice Department in 2018, the China Initiative sought to crack down on Chinese economic espionage in the United States and theft of trade secrets from American research labs and universities. The initiative drew criticism for targeting researchers of Chinese heritage and for having a negative effect on the research environment and on international collaboration between researchers. Olsen acknowledged that DOJ had heard concerns from both the civil rights community that the initiative was fueling "a narrative of intolerance and bias" and from the academic and scientific community that it was creating a "chilling atmosphere for scientists and scholars" that was damaging the American scientific enterprise. Grouping cases under the China Initiative, Olsen acknowledged, "helped give rise to a harmful perception that the department applies a lower standard to investigate and prosecute criminal conduct related to that country or that we in some way view people with racial, ethnic or familial ties to China differently."
AAU welcomes DOJ's announcement that it will take a holistic approach to its strategy for countering such threats going forward. As we noted on Twitter, our institutions take seriously the need to secure the research we conduct from foreign threats. To continue to be the global leader in science and innovation, we cannot discriminate against individuals based on their background or national origin, nor can we target them with unwarranted scrutiny. AAU looks forward to working with DOJ to continue to secure our national research enterprise from all foreign threats while at the same time honoring the need for continued scientific openness and international collaboration.
---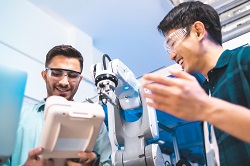 NSB Releases Data on State of Higher Education in Science and Engineering
Earlier this week, the National Science Board released a new report on the state of higher education in science and engineering. The report shows that the pandemic had a significant effect overall on the U.S. higher education system – undergraduate enrollment declined by 3.6% in fall 2020 while the number of international students declined by almost 23% compared to the previous year.
The report also shows that the total number of science and engineering degrees increased at all educational levels from 2000 to 2019. Science and engineering degrees also formed a greater share of the total number of all degrees awarded. The report shows, however, that many Americans remain underrepresented in STEM. While women are approaching parity with men overall and earn almost two-thirds of degrees awarded in certain fields, "long-standing differences persist, especially in engineering, computer sciences, and mathematics and statistics." The NSB also finds that "Blacks are underrepresented at all degree levels, while Hispanics and American Indians or Alaska Natives are underrepresented at all but the associate's level."
The report shows that while China and India produce more bachelor's equivalent degrees in science and engineering (mostly due to their larger overall population), the United States awards the largest number of science and engineering degrees at the doctoral level. China, however, produces more doctoral degrees in certain fields such as the natural sciences and engineering. The report finds that a small number of higher education institutions in the United States awarded three-quarters of doctorates, more than half of master's degrees, and nearly 45% of bachelor's degrees in science and engineering fields in 2019. The NSB notes that most university research is also performed at these institutions.
---
AAU, Associations Urge Congress to Increase Research Investments in USDA
AAU joined 50 other associations in sending a letter encouraging members of the Agriculture Subcommittees of the House and Senate Appropriations Committees to support "increased investments to advance agricultural research in the U.S. Department of Agriculture (USDA)" in the FY22 agriculture appropriations bill. "Federal investments in the broad suite of research, education, and extension programs within USDA is critical to ensuring agricultural resilience, nutrition security, and food systems sustainability," the letter stated.
The letter asks lawmakers to provide $450 million in funding for the Agriculture and Food Research Initiative, which supports research to "address challenges in public health, food production, national security, and global competitiveness." The letter also asks for $2 million in funding for the Agriculture Advanced Research and Development Authority, which supports "transformational, high-risk, high-reward agricultural research and development within USDA." With the American food and agricultural enterprise facing "unprecedented challenges" due to climate change and threats from pests and diseases, investments in USDA research and education programs will be crucial to "developing the scientific outcomes and workforce urgently needed to meet identified and as-yet unknown challenges in the future," the letter said.
---
News of Interest
 
AP News: Tufts University President Announces Plans to Step Down – Earlier this month, Tufts University President Anthony Monaco announced that he plans to step down as president in summer 2023. "After 12 years the time will be right for the community to welcome a new leader, one with a bold vision and fresh energy who can steer Tufts to seize every opportunity it deserves," said President Monaco in a letter to the Tufts campus community.
The Dallas Morning News: UT President Defends Tenure After Lt. Gov. Dan Patrick Seeks to End It at Texas Universities – Last week, Texas Lieutenant Governor Dan Patrick said that he intends to end tenure for Texas state colleges and universities. In a message to faculty members following Patrick's announcement, University of Texas at Austin President Jay Hartzell strongly defended tenure, noting: "Removing tenure would not only cripple Texas' ability to recruit and retain great faculty members, it would also hurt Texas students, who would not be able to stay in state knowing that they will be learning from the very best in the country."
Los Angeles Times: Newsom Urges State High Court to Avert Looming Cut of 3,050 Students at UC Berkeley – California Governor Gavin Newsom submitted a friend-of-the-court letter urging the state's Supreme Court to block a lower court's order that would force the University of California, Berkeley to cap its enrollment at 2020-21 levels. "I urge the Supreme Court to step in to ensure we are expanding access to higher education and opportunity, not blocking it," said Newsom.
The Mercury News: More College Freshmen Want to Attend University of California Schools – The University of California system announced yesterday that it received a record-breaking number of applications for first-year admissions for the upcoming fall semester. The University of California, Los Angeles drew the largest number of applications. The University of California, Berkeley saw the biggest increase in the number of applications, receiving 15,372 more applications compared to last year. The University of California, Irvine and the University of California, San Diego also saw large increases.
Forbes: Johns Hopkins Tops List of Leading Universities for NIH Funding in 2021 – Johns Hopkins University received more than $820 million in funding from the National Institutes of Health in FY21 to support critical medical research, teaching, and clinical projects. Seven of the top 10 institutions to receive the most NIH funding were AAU member institutions.
The Michigan Daily: Rackham Graduate School to Discontinue GRE Test Requirement for All Ph.D. Programs – The University of Michigan announced earlier this week that its Rackham Graduate School will discontinue the use of GRE test scores in doctoral admissions. Rackham Dean Mike Solomon said that removing the GRE requirement would make the application process more equitable and would improve access to doctoral education.
---
Featured Research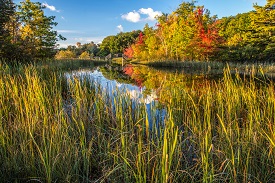 California Needs a New Water Supply. Could Wetlands Be an Answer?
Recycling wastewater into drinking water can help California meet its water needs. But water recycling creates a byproduct full of salts and organic nutrients that is difficult to dispose. Now University of California, Berkeley engineers are testing whether human-constructed wetlands can treat this byproduct and make water recycling a possibility everywhere.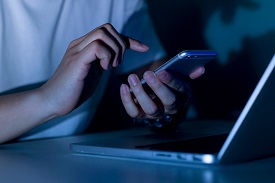 Researchers Aim to Prevent Use of Technology as Tool of Domestic Abuse
Researchers at Cornell Tech's Clinic to End Tech Abuse, in partnership with New York City's Mayor's Office to End Domestic and Gender-Based Violence, are developing new approaches to helping survivors of domestic violence stop assailants from using technology and social media as tools of harassment.
---
Upcoming Events
 
The Center for Innovation Policy at Duke University School of Law is hosting a free virtual conference on "The Evolving Role of Universities in the American Innovation System" from March 3-4. The conference will feature several panel discussions on how universities can help maintain American leadership in science, technology, and innovation in the face of complex challenges arising from national security concerns or immigration policies.
A panel on March 3, from 2:45-4:15 p.m. ET, on "The Future of the University in the U.S. Research and Innovation Ecosystem" will feature University of Wisconsin-Madison Chancellor Rebecca Blank, Carnegie Mellon University President Farnam Jahanian, Duke University President Vincent Price, Rensselaer Polytechnic Institute President Shirley Ann Jackson, and Duke Law School Dean Kerry Abrams.