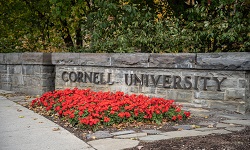 AAU Members Respond to Omicron Threat
In the last few days, several AAU institutions have seen a rise in COVID-19 cases on their campuses. In response, they've taken swift measures to prevent the further spread of the virus and to protect the health and safety of their students, employees, and surrounding communities.
At Cornell University, surveillance testing recently identified a significant uptick in COVID-19 cases on campus. To limit further spread, Cornell University President Martha E. Pollack announced that final exams will move online and that most university activities, including the commencement ceremony for December graduates, are canceled. President Pollack noted that testing has identified the omicron variant's hallmarks "in a substantial number of virus samples" collected on campus. She also affirmed the university's commitment to reducing the spread of the disease to the broader community and explained why the university was taking such drastic steps to limit transmission even though none of the infected students are showing signs of severe illness.
Other AAU members are also being proactive in the face of the new omicron variant. Stanford University announced yesterday that it will begin the winter quarter with two weeks of online instruction. Stanford is also asking students to take a COVID-19 test before traveling back to campus from winter break and encouraging them to obtain a COVID-19 vaccine booster. New York University and Princeton University have moved final exams online and canceled events and gatherings. The University of Maryland at College Park has also canceled all winter commencement activities and transitioned all campus dining services to grab-and-go options only.
America's leading research universities have been on the front line, working meticulously to fight against COVID-19, since the very beginning of the pandemic. With the omicron variant now on our doorsteps, they will continue to remain proactive and vigilant.
---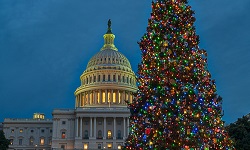 Hill Update: Build Back Better Act on Hold
Senate Democrats conceded yesterday that they will not meet their self-imposed Christmas deadline to pass the Build Back Better Act. President Biden released a statement indicating that he's having "ongoing discussions" with Sen. Joe Manchin (D-WV) and that it would take time to "finalize these agreements, prepare the legislative changes, and finish all the parliamentary and procedural steps." "Leader Schumer and I are determined to see the bill successfully on the floor as early as possible," he added.
In another setback for Democrats, the Senate parliamentarian rejected their third attempt to include certain immigration provisions in the Build Back Better Act. According to CNN, the provisions would have provided "temporary protection from deportation and work permits to undocumented immigrants who entered the US prior to January 2011 and meet a certain set of criteria."
Meanwhile, Senate committees have continued to release legislative texts and Congressional Budget Office scores for their portions of the Build Back Better Act. The Senate Energy and Natural Resources Committee has yet to officially release its bill text, but Politico obtained a draft version (subscription reqired) this week. The Senate committee's bill is substantially different and larger than the House version and would provide $5 billion for science and laboratory infrastructure, including $866 million for research and development at the Department of Energy's Office of Science and $4.1 billion for Office of Science national laboratory infrastructure.
With the Build Back Better Act shelved until next year, President Biden is calling for a push on voting rights legislation. The legislation would, however, require 60 votes in the Senate to overcome a Republican filibuster and lacks a clear path forward unless Democrats agree to change the Senate's filibuster rule.
---
Senate Passes FY22 NDAA
Earlier this week, the Senate voted 88-11 to pass the FY22 National Defense Authorization Act (S. 1605). The bill authorizes $768 billion in funding, including $740 billion for the Department of Defense and $27.8 billion for the Department of Energy. The total authorization level is $25 billion more than President Biden's budget request.
FEATURED RESOURCE: AAU Analysis of the Final FY22 NDAA
---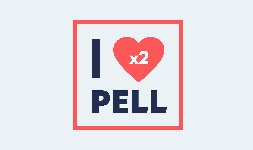 Survey Shows Strong Bipartisan Support for Increasing Pell Grants
The National Association of Independent Colleges and Universities has released a national survey of registered voters showing strong, bipartisan support for the Pell Grant program. Introduced nearly 50 years ago, the federal program has helped millions of low- and middle-income Americans afford a college education.
In the NAICU survey, both Democrats and Republicans expressed strong familiarity with the program and supported expanding or doubling it. In a split test sample, where half of the respondents were asked if they would support increasing Pell and the other half was asked if they would support doubling it, 82% expressed support for "expanding" and 75% expressed support for "doubling" the grant. For Republicans, the split was 77% (expand) and 66% (double), while for Democrats the split was 91% (expand) and 88% (double).
Both NAICU and AAU are part of the Double Pell Alliance, which is leading a national campaign to #DoublePell. Doubling the award to $13,000 will increase its purchasing power, reduce student debt, and help more students earn a degree.

ICYMI: From Barbara's Blog: It's Time to #DoublePell
---
Leading Research Universities Report to Go on Winter Break, Return on Friday, January 7
Leading Research Universities Report is taking a break from publication the next two weeks. The next edition will be released on Friday, January 7. Happy holidays!
---
News of Interest
 
The Washington Post: More Colleges Rethink Student Loans as Debate Over Debt Cancellation Rages On – In a bid to make the cost of education more affordable and to attract students, institutions like Ohio State University are putting in place programs that would enable students to graduate debt-free.
Inside Higher Ed: Growing Cyberthreats, Surging Insurance Costs – Ransomware poses an increasing threat to higher education institutions – yet many places remain uninsured or underinsured and face rapidly rising costs of cybersecurity insurance.
CNN: NASA's Parker Solar Probe Becomes First Spacecraft to 'Touch' the Sun – NASA's Parker Solar Probe, three years following its launch, became the first spacecraft to fly through the sun's corona, or upper atmosphere. The probe will provide insights to scientists about the sun's evolution and its atmosphere.
NPR: Southeast Asians Are Underrepresented in STEM. The Label 'Asian' Boxes Them Out More – The inclusion of Hmong, Vietnamese, Filipino, Laotian, and Cambodian Americans in the broader category of Asian American alongside Indian, Japanese, Chinese, and Korean Americans often masks significant differences between the subgroups. The former face lower levels of educational attainment compared to the latter and to Americans in general, yet are often unable to access opportunities in STEM because federal agencies like the National Institutes of Health do not identify Asian Americans as underrepresented.
The Hill: First Woman, Person of Color Hired as President of Penn State – Pennsylvania State University has named Neeli Bendapudi as its next president; she will be the first woman and the first person of color to serve in that role. Bendapudi is president of the University of Louisville and will succeed current Penn State President Eric Barron in spring 2022.
Brooklyn Daily Eagle: Martin Scorsese Institute to Be Established by NYU – Thanks to a large donation from the Hobson/Lucas Family Foundation, New York University's Tisch School of the Arts is establishing the Martin Scorsese Institute of Global Cinematic Arts. Set to launch at the end of next year, the institute will include the Martin Scorsese Department of Cinema Studies and a virtual production center. The institute will also provide student scholarships.
Politico: Biden Administration Expects to Unveil Title IX Proposals in April – The Department of Education announced last week that it anticipates releasing new Title IX rules, which dictate how universities must respond to sexual harassment and assault, in April 2022. The rules would significantly rewrite regulations issued under the Trump administration.
---
Featured Research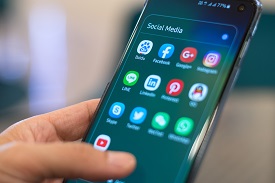 Study Suggests New Strategy to Detect Social Bots
A new study by researchers from Stony Brook University and the University of Pennsylvania has identified key traits of social media bots that mimic humans and spread misinformation online. The study could make it easier to detect bots with greater accuracy.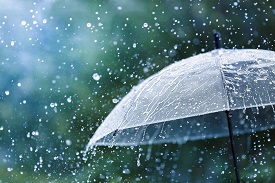 Climate of Chaos: Stanford Researchers Show Why Heat May Make Weather Less Predictable
New research out of Stanford University shows that rising temperatures may make it harder for scientists to predict the weather. Even a few degrees of warming can negatively affect the reliability of 10-day temperature, wind, and rainfall forecasts.
---