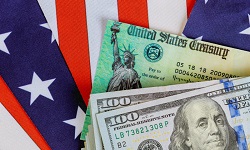 AAU President Commends President Biden's FY23 Budget for Continued Investments in American Science and Innovation
On Monday, President Biden released his FY23 budget proposal. The president's budget proposes $5.79 trillion in overall funding, including $1.61 trillion in total discretionary spending. The latter includes $769 billion in non-defense spending and $813 billion in defense spending. According to a White House fact sheet, the president's FY23 budget makes "targeted investments" to "promote job creation and expand the productive capacity of our economy; improve our public health infrastructure; ensure America leads the world in combatting the climate crisis; and advance equity and opportunity for all."
AAU President Barbara R. Snyder released a statement praising the budget proposal for including significant new investments in the nation's economic, scientific, and innovation enterprise. President Snyder especially commended a provision that would double the annual maximum Pell Grant award by FY29 and increase it by $1,775 for the 2023-24 school year. She also expressed support for the president's request to make strategic investments in key scientific agencies, climate-related research, and biomedical research and healthcare innovation.
AAU has prepared a summary of proposed allocations to student aid and higher education as well as research and development in the president's budget request. We've also created tables showing AAU's funding recommendations for key federal science agencies and programs. AAU will be sharing additional FY23 appropriations resources in the coming weeks.
---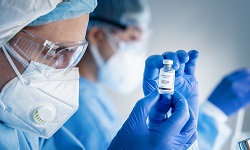 ARPA-H to Be Housed Within NIH
Yesterday, Stat reported (subscription required) that President Biden's proposed medical health research agency, the Advanced Research Projects Agency for Health or ARPA-H, will be housed within the National Institutes of Health. The president proposed the creation of ARPA-H in 2021 to streamline and accelerate research in biomedical and health sciences to fight against diseases such as cancer, diabetes, and Alzheimer's. The agency is modeled after the famed Defense Advanced Research Projects Agency (DARPA), which funds emerging technologies for use by the military. The Consolidated Appropriations Act, 2022 (H.R. 2471) set aside $1 billion for ARPA-H and gave authority to the Health and Human Services secretary to place ARPA-H in any agency or office of the Department of Health and Human Services, including the NIH.
While the agency's basic office functions will be managed by the NIH, the ARPA-H director (who has yet to be named) will report directly to HHS Secretary Xavier Becerra instead of the director of the NIH. During a House Appropriations Subcommittee on Labor, Health and Human Services, Education and Related Agencies hearing yesterday, Secretary Becerra said allowing the APRA-H director to focus on pursuing innovative science, rather than processing personnel forms, will speed up the agency's launch.
---
News of Interest
 
The Texas Tribune: Texas A&M to Grant Free Tuition, Room and Board to Its Ukrainian Students – Texas A&M University System Chancellor John Sharp announced that Ukrainian students across the university system's 11 campuses and research centers will receive grants to cover tuition, fees, and certain living expenses starting next semester. Funds for the initiative will come from a university system program designed to help students who have been through a disaster.
The Baltimore Sun: Johns Hopkins Scientists Join Others to Complete the Human Genome, Expanding Potential for Better Health Care – A group of researchers from institutions including Johns Hopkins University, the National Institutes of Health's National Human Genome Research Institute, the University of Washington, and the University of California Santa Cruz have completed a map of the human genome. The map adds "the last and most confounding 8% of genes" that were missing from the previous blueprint. The complete map will allow scientists to understand how diseases develop and find potential new treatments.
Pittsburgh Post-Gazette: Carnegie Mellon Is Going to the Moon and Will Have Its Own 'Mission Control Center' – A team of students and scientists from Carnegie Mellon University are sending two rovers to the moon. According to the university, Iris will be "the smallest, first American, first university-built and first student-built rover on the moon." Another rover, the MoonRanger, will be the first to search for evidence of water on the lunar surface. A crew of undergraduate and graduate students will be involved in operating the rovers after launch.  
The Verge: MIT Is Reinstating SAT and ACT Requirements for Incoming Students – MIT will require students to provide SAT or ACT scores for future admissions cycles. In a blog post, MIT Dean of Admissions and Student Financial Services Stu Schmill wrote: "Our research shows standardized tests help us better assess the academic preparedness of all applicants, and also help us identify socioeconomically disadvantaged students who lack access to advanced coursework or other enrichment opportunities that would otherwise demonstrate their readiness for MIT."
Diverse Issues in Higher Education: UCSD Hires New Faculty Bridging Black Studies and STEM – The University of California, San Diego is hiring 13 new faculty members "who are connecting Black Studies with science, technology, engineering, and health subjects across eight divisions and schools." The cluster hire is part of an effort to diversify the university's faculty and to bring multidisciplinary perspectives together to improve teaching and learning for students.
The Washington Post: New Title IX Rules Set to Assert Rights of Transgender Students – The Department of Education is expected to release new Title IX regulations in the coming weeks that would make discrimination against transgender students a violation of federal civil rights law. The regulations would also rewrite "complex rules for universities and K-12 schools in adjudicating allegations of sexual harassment and assault."
---
Featured Research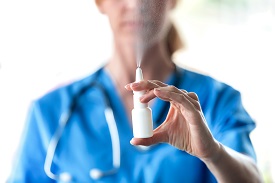 Promising Nose Spray
Could Prevent and
Treat COVID-19
Cornell University researchers have discovered a new molecule that could be sprayed into the nose to prevent COVID-19 prior to exposure and reduce the severity of the disease after infection.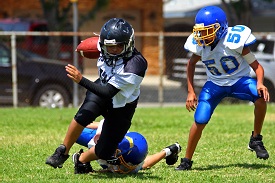 Americans Love Football,
But Differ on Whether
Kids Should Play
Sociologists at The Ohio State University have found that Americans are divided on whether tackle football is an appropriate sport for kids. The researchers found that factors such as race, class, and gender were all linked to Americans' support for kids playing football.