How AAU universities are working to ensure all students can succeed in STEM

To enrich and advance the modern economy will require that all students have high-quality and effective educational experiences.  The American Academy of Arts & Sciences report, The Future of Undergraduate Education, The Future of America, calls for a recommitment to the promise of education and strengthening American undergraduate education. 
 
I am proud to report that AAU and its member universities are promoting excellence in undergraduate education and are working to fulfill our collective mission to ensure that all students have the maximum opportunity to succeed. 
Today, we better understand how students learn and what teaching approaches are most effective in facilitating learning. This is due in large part to the merging of educational psychology, cognitive science, and growing evidence of effective teaching practices. Our knowledge is based upon extensive research, much of which was and continues to be done by faculty members on AAU member campuses. 
In spite of clear evidence for effective teaching practices, convincing faculty to adopt new teaching methods remains a challenge, especially in science, technology, engineering, and math (STEM) courses at research universities. In these disciplines, faculty members are primarily rewarded for research efforts, rarely receive instructional training, and have little time to learn new pedagogical methods. Lowering barriers for busy faculty members to implement teaching innovations that fundamentally alter department culture is critical. 
Through the Undergraduate STEM Education Initiative, AAU universities are addressing these cultural and institutional barriers. 
At Brown University, classroom problem-solving sessions focus on discussion, teamwork, and challenging students in a supportive, facilitated environment. During the average problem-solving session, students work through conceptual problems that encourage conversation and exploration in teams, while undergraduate and graduate learning assistants circulate within the room to provide guidance and help students through challenging material. Participation in collaborative learning experiences like these was also found to disproportionately benefit the performance of female students and students from historically under-represented groups.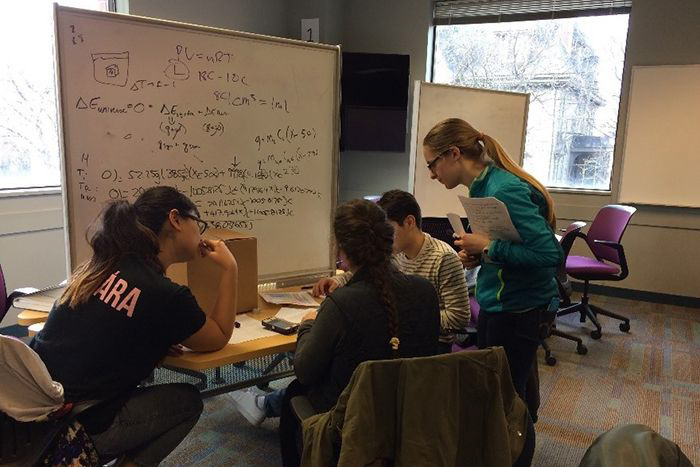 ---
At the University of North Carolina at Chapel Hill, early career and senior faculty members mentor one another to use highly structured, active learning teaching techniques to ensure student learning outcomes are achieved. All students learn more through this approach, but those in the bottom quartile experience the greatest improvements. Preliminary results indicate 13 percent higher normalized learning gains among students engaged in active learning classes at Chapel Hill compared to those in traditional classes. Students are also much more positive about the learning environment of the active learning courses with 72 percent reporting that participating in the course increased their interest in the subject overall.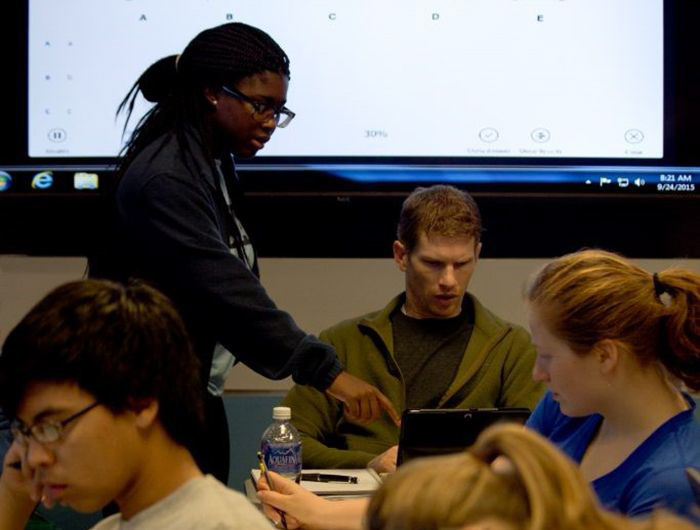 ---
These results from Brown and Chapel Hill do not stand alone. By successfully implementing these and other strategies to achieve long-lasting improvements in science education, especially in first- and second-year courses, many AAU academic departments are narrowing achievement gaps especially for first-generation college students, women, and under-represented minorities. Faculty members are documenting improved learning gains, and decreased failure rates in their courses. Much of this progress is catalogued in AAU's Progress Toward Achieving Systemic Change: A Five-Year Status Report on the AAU Undergraduate STEM Initiative. Last year – with support from the Northrup Grumman Foundation – AAU awarded 12 mini-grants to AAU campuses to help further improve the quality of undergraduate STEM teaching and learning. This fall, we will award 12 more mini-grants. These funds will help continue our collective efforts to better teach the next generation of leaders and ensure AAU universities are excellent in both research and teaching.