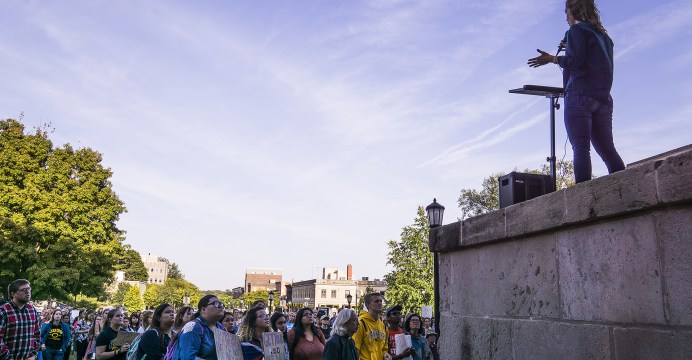 The administration recently chose to ignore a commitment to nearly 800,000 young people, many of whom are students, servicemen and women, friends, and neighbors. By terminating the Deferred Action for Childhood Arrivals (DACA) program, the administration has turned its back, forcing many to remain in the shadows.
In 2012, the U.S. promised these young people temporary protection from deportation until Congress and the administration could enact permanent immigration reform. Brought to this country as children through no decision or fault of their own, DACA participants, often called "Dreamers," grew up in our communities, played in our little leagues, attended our schools, and universities. To many, our country is their only home.
Their immigration status, which grants work permits, allows each participant to contribute to our society and economy. They pay taxes and buy homes, cars, and other consumer products just like you and me. A Center for American Progress study found that ending DACA could take $460 billion out of the national GDP over the next decade and eliminate approximately 685,000 workers. A separate study from the Cato Institute estimates a $60 billion reduction in tax revenue and $280 billion lost in economic output over the next ten years.
Even though they are ineligible for Pell Grants or federal student loans, many are students at our nation's leading universities, with career ambitions in medicine, science, law, business, and the arts. These young people are not a burden to society, but rather a key component of our dynamic 21st century economy.
More important, however, is the human cost of ending DACA. The U.S. has long stood as a beacon of hope, freedom, and economic prosperity. We are a bastion against civil injustice, welcoming hard work, innovation, and ambition, regardless of one's background. Drawn by the hope for a better life, many parents risked everything to bring their children to our country. Their spirit, hopes, aspirations, and faith – not their birthplace – are what make this country great. Condemning Dreamers back to a life of uncertainty is an assault on our long-held values of justice and inclusion.
Now, we must rely on Congress to step up and ensure that these extraordinary young people can stay in the only country they call home. Fifty-seven AAU presidents and chancellors have joined our call to Congress to respond quickly and compassionately.
Those enrolled in the DACA program made a choice to step forward and trust that the federal government would protect them, so long as they remained law-abiding, productive members of society. These bright and talented young people deserve a bit of good faith in return. I strongly urge Congress to do what is right and pass pending bipartisan legislation to protect these young men and women from deportation, and provide a path to legal citizenship.