Colleagues,
Thank you again for joining the webinar today; during these difficult times I'm grateful that the AAU can still serve as convener and source of assistance for our members. I'd like to repeat my thanks to our board for their hard work in helping us set the agenda for the webinar and working with the breakout groups. I'd also like to extend my sincere thanks to AAU's staff, in particular our meetings and IT team for their hard work in making sure our transition to online meetings has gone without a hitch.
As we discussed, here is the draft statement that we'd like to issue addressing our collective thanks. Our hope is to use this on social media to help remind Americans of the leading role our institutions and our colleagues have played in this fight against COVID-19. We plan to use it on social media and ask that your institutions support that as well. I've also included a link to the slides that Pedro presented, since several of you asked for them. Please keep in mind that a more robust and in depth memo is coming your way shortly. Pedro and Ken will be hosting a presidents' and chancellors' only webinar next week on the latest findings. If you have any concerns or comments on either the statement or the survey work, please feel free to contact Pedro directly.
I've included a link to a document that Ron Daniels from Johns Hopkins mentioned during our discussion. They have been using this piece to guide their initial discussions on reopening. I think you'll find it to be a thoughtful and helpful addition to the discussion we had today. Lastly, we've also included a link to the slides that Sam Stanley from Michigan State presented as well.
Again, thank you for your participation and support.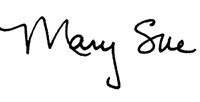 Mary Sue Coleman
AAU President